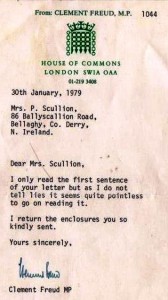 The death occurred in London last week of Clement Freud, the former Northern Ireland Liberal Party spokesperson (and grandson of psychoanalyst Sigmund Freud) who once visited the H-Blocks either during the blanket protest or hunger strike – former prisoners are not quite sure.
What they are sure about is that he showed no sympathy to their plight. Indeed, this can be gleaned from a letter he wrote to the mother of one blanket man, Colm Scullion from Bellaghy, from where hunger strikers Francis Hughes and Thomas McElwee both hailed.
As part of a concerted campaign in the late 1970s and early 1980s prisoners' relatives wrote to personalities and political figures across the world describing the beatings that were taking place and the horrific conditions in the H-Blocks. Mrs Scullion wrote about what her son and his comrades were going through. In his reply to Mrs Scullion, Clement Freud wrote: "I only read the first sentence of your letter but as I do not tell lies it seems quite pointless to go on reading it."
His reply was dismissive and effectively contemptuous.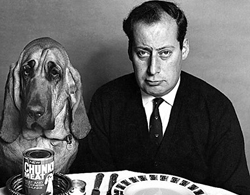 Many of the prisoners would have been off a generation that remembered Freud's first claim to fame in his idiosyncratic pet food commercials in the 1960s with his dog Henry – feeding him Chunky Meat – before his political career began in 1973 – at a time when men and women were interned without charge or trial in Long Kesh and Armagh Prison.
Interestingly, although Freud made no public protest about conditions in the H-Blocks, a writer to the website of the whistle-blower and former diplomat, Craig Murray, wrote last week: "My third memory is of his arriving just before a [Liberal Party] meeting and – without the usual pleasantries – blurting out to me, 'Hello, Gerard. I've just spent a fact-finding day at the Maze Prison and I'm in a state of complete shock. It's absolutely horrific. The prisoners – both Loyalist and Republican- are all sane. It's the guards who are mad."
Perhaps this was a Freudian slip?
During the Second World War Freud joined the Royal Ulster Rifles and acted as an aide to Field Marshal Montgomery. According to Wikepedia he worked at the Nuremburg Trials and later married June Flewett (the inspiration for Lucy Pevensie in C. S. Lewis's children's series the Chronicles of Narnia).
Clement Freud's brother, the artist Lucien Freud, refused to speak to Clement for over fifty years. In an interview with The Sunday Telegraph he said: "I was offered a knighthood, but turned it down. My younger brother has one of those. That's all that needs to be said on the matter."
Lucien went on: "Why on earth would I want to speak to him or see him again? Do you know, Clement put it about years ago that I was illegitimate, which is a bit odd as I was the middle child."