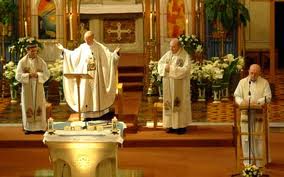 It has been announced that Mass in memory of the 1981 hunger strikers and for their families will be celebrated in Clonard Monastery, West Belfast, on Sunday, 13th February at 4pm.
Afterwards, refreshments will be served in Clonard Hall where there will be a photographic exhibition on display.
Clonard Monastery and the Redemptorist Community based there have played an important role in peace and reconciliation, featured as a centre for mediation during early republican feuding, a meeting place for loyalists and republicans and a place where politicians involved in conflict resolution could meet in confidence.
The 'hunger strike' Mass will be one of the final events before the closure of the historic building for necessary renovations which begin in late February and are scheduled to last a year.
For more information on Clonard Church and the fund-raising programme in support of the renovation please click here.