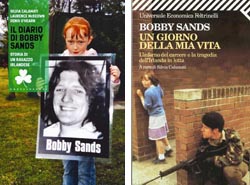 This week sees the launch in Italy of a new book about Bobby Sands. Silvia Calamati, a journalist and a writer, has translated 'I arose this morning…A Biography of Bobby Sands for Younger Readers' by Denis O'Hearn and Laurence McKeown which was published a few years ago.
She was in Belfast last week – on the anniversaries of the death of Bobby Sands and Francis Hughes – to speak about her latest translation 'Il diario di Bobby Sands. Storia di un ragazzo irlandese', published by Castelvecchi, Rome.
Since 1982 Silvia has been interested in the Irish question and has lived in Dublin and Belfast for considerable periods of her time. From 1990 until 1995 she wrote for the Italian weekly magazine 'Avvenimenti'.
Since 1999 she has been working as a free-lance journalist for many Italian radio stations, in particular with RAI NEWS 24 and RAI-Radiotelevisione Italiana, reporting on the main events throughout the Irish conflict.
Previously, she has translated 'One day in my life' by Bobby Sands ( 'Un giorno della mia vita', Feltrinelli, Milan, 1996), and 'Renewing the Irish Church' by Joseph McVeigh,  ('Guerra e liberazione in Irlanda. La Chiesa del conflitto', Edizioni della Battaglia, Palermo 1998). She is the author of 'Irlanda del Nord. Una colonia in Europa' (Edizioni Associate, 2005) ('Northern Ireland. A Colony in Europe').
In 2001 she published 'Figlie di Erin. Voci di donne dell'Irlanda del Nord' (Edizioni Associate). In 2002 this book was released in Belfast in English, with the title 'Women's Stories from the North of Ireland' (Beyond the Pale Publications). In 2006 Icaria (Barcelona) published it in Spanish, with the title 'Hijas de Erin. Voces de Mujeres de Irlanda del Norte'. In 2007 this book won two important awards in Italy: 'Concorso Internazionale 'Storie di Donne' (Salerno) and 'Premio 'Il Paese delle Donne', awarded by the International Women's Centre in Rome.
In 2008 she published 'Qui Belfast. 20 anni di cronache dall'Irlanda di Bobby Sands e Pat Finucane' ('News from Belfast. 20 years of articles from the country of Bobby Sands and Pat Finucane').
The book, a collection of articles written mostly by Silvia Calamati from 1984 to 2004, covers the most important political and social events which resulted in the outcome by the Northern Ireland political parties signing the historical Good Friday Agreement in April 1998. In 2002 she was awarded the TOM COX AWARD at the West Belfast Festival for her commitment as a writer and a journalist.
ITALIAN VERSION
Silvvia Calamati
Figlie di Erin. Voci di donne dell'Irlanda del Nord
Edizioni Associate, Roma, 2001
ISBN  8826704139
ENGLISH VERSION
Silvia Calamati
Women's Stories from the North of Ireland
Beyond the Pale, Belfast, 2002
SPANISH VERSION
Silvia Calamati
Hijas de Erin – Voces de Mujeres de Irlanda del Norte
Icaria, Barcelona, 2006
See also –