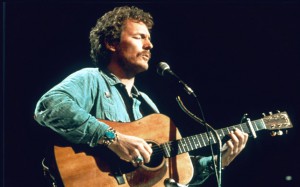 While on the blanket protest Bobby Sands wrote a song, I Wish I Was Back Home In Derry, which he sang out his cell door to the air of Gordon Lightfoot's song, The Wreck of the Edmund Fitzgerald.
Bobby's song has been recorded many times, most famously by Christy Moore. In May 2012 Gordon Lightfoot was asked, in an interview by the writer George Lenker, about the parallels between his composition The Wreck of the Edmund Fitzgerald and Bobby Sands' song. Here is Lenker's interview:
Although it's not a raging controversy among the general populace, there has been a decades-old debate about the origins of Gordon Lightfoot's well-known song, "The Wreck of the Edmund Fitzgerald."
Many folk music fans have long noted an almost note-for-note similarity between Lightfoot's tune and "Back Home in Derry" — an Irish song made famous by Christy Moore and written by Irish rebel Bobby Sands, famous for his death by hunger strike in protest of British policies in Northern Ireland. There are entire Internet threads debating which song came first and who borrowed or stole from whom.
Lightfoot's song was recorded first, but that doesn't mean it was written first. But it seems no one ever has asked Lightfoot about it—until now.
"Oh, 'Back Home in Derry.' Is that the name of it?" he said during a telephone interview in advance of his show at Northampton's Calvin Theatre on May 18. "I've heard about it, but I didn't know much about the similarity until it was pointed out to me by a couple of Irishmen."
When told his version came first and asked why, if he wrote it, he didn't pursue copyright infringement, Lightfoot just chuckled.
"I think the melody is actually just an old Irish folk song; an old Irish dirge," he said. I think I took it from that. It's all folk music and it's all out there for everyone to enjoy."
And that generous, casual attitude perfectly fits Lightfoot's personality, and with good reason: It's hard to get too worked up over small things when you have been in a coma one year, and then heard of your own death on the radio a few years later.
"I was in my car and they were playing 'If You Could Read My Mind' (Lightfoot's 1970 hit) and then they were reading my obituary," he said about the 2010 rumor. "So I put my foot on the gas and got to my office to correct them. I used the old Mark Twain line, 'Reports of my death have been greatly exaggerated.' We had some fun with it, but to this day, I have no idea where (the rumor) came from."
Of course, Lightfoot actually had a close call with death eight years earlier, in 2002. An aneurism put the Canadian folk legend into a coma for six weeks.
"I'm fine now, but I had hearing problems at first," he said. "It took five or six months to know if I could even sing again."
It's a good thing he can, because one of Lighfoot's trademarks is his rich baritone voice, which stands in stark contrast to many singers of his era, and even of today.
"I was never that aware of my voice being different than most because I came from the folk tradition," he said. "But I write in all these keys that fit my voice, so it's a good thing I have a great band that can play in all these keys."
Along with "Wreck of the Edmund Fitzgerald," which reached No. 2 on the Billboard charts in 1978, Lightfoot is best known for his 1974 No 1 hit, "Sundown." He said the song hit everyone as a potential hit almost immediately.
"We had a feeling at time, that it was best one for a single. Sometimes you get the feeling," he said. "It also helped that we used the title as the name of the album. That was the only time I did that. It's also the only song we play every night."