Mickey Devine was the last man—the tenth—to die on the epic 1981 hunger strike. Today is the fortieth anniversary of his death and it is a death, along with that of his nine comrades, that still resonates and impacts to this day with huge inspirational significance for the struggle for independence.
The Devine family experienced poverty and discrimination at first hand but what awoke and politicised young Michael at the age of fourteen was the Duke Street civil rights march in Derry in October 1968 which was baton-charged by the RUC.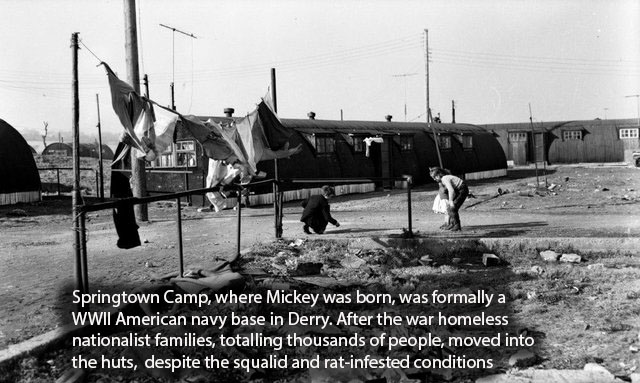 At seventeen he joined the 'Official IRA' but, disillusioned with that organisation, he joined the newly formed Irish Republican Socialist Party and became a founder member of the PLA (People's Liberation Army), and in early 1975, the INLA (Irish National Liberation Army).
In September 1976 Mickey was arrested (his comrade Patsy O'Hara escaped) after an arms raid earlier that day, in Lifford, County Donegal, from which the INLA commandeered several rifles and shotguns, and three thousand rounds of ammunition.
Mickey was arrested in Derry and was sentenced to twelve years' imprisonment in June 1977.
On Sunday, June 21, 1981, he completed his fourth year on the blanket, and the following day he joined the hunger-strike.
He was to die at 7.50 am on Thursday, August 20, as nationalist voters in Fermanagh/South Tyrone were beginning to make their way to the polling booths for the second time in four months. The number one issue was the hunger strike. After the election of Bobby Sands in April Thatcher had hurriedly amended the law to ban prisoners from contesting elections. That was the reason why Bobby's election agent Owen Carron was put forward on a H-Block/Armagh political status ticket, supporting the prisoners' demands, and was elected MP.
There have been many tributes paid to Mickey Devine. In the recently published book, The Comrades, former hunger striker Laurence McKeown said:
'Regardless of our individual pasts, family histories, and the various routes we took that eventually led us to the H-Blocks, we became a 'family' in prison. A family of blanket men. We didn't identify those on hunger strike as being either IRA Volunteers or INLA Volunteers. It didn't matter who they were, what organisation they belonged to, what part of the country they were from, what they were charged with, or how long they were serving. They were blanket men. They were friends. They were brothers. They were, Bobby, Frank, Patsy, Raymond, Joe, Martin, Kevin, Kieran, Tom, and Mickey.'
Included in The Comrades is this poem, Red Mick, by Laurence from his book, Threads, which was published by Salmon Poetry in 2018, and which begins:
The day I first met you
(to speak to that is)
you were slowly dying.
Not something which was immediately noticeable on your face
but then you had only begun to die and
that was why we were together in that room
because some thought they could stop that death
stop it by appealing to those they saw as the
weaker element in the fight.
Two days later we realized they consisted of
a small degree of sincerity
a large amount of naivety, and
had loyalty to political and ecclesiastical masters
rather than to the dying.
Former blanket man Eoghan 'Gino' Mac Cormaic in this podcast, part of the Guthanna '81/Voices of '81 series, pays tribute to Mickey Devine.
Another indication of how the hunger strike from forty years ago can influence contemporary writers and artists is the following powerful and moving poem by Emma Ireland.
Emma was born and brought up in Derby in the East Midlands and is a writer and performance poet. She writes mainly about politics and social issues from a working-class perspective and performs regularly at spoken word nights around the British Midlands, as well as political and solidarity rallies around Britain. She only began to learn about 1981 several months ago and was deeply affected by the plight of the hunger strikers and the wider struggle. As she explains in her introduction, she wrote 60 Days in honour of Mickey Devine and as a statement of solidarity with oppressed people around the world.