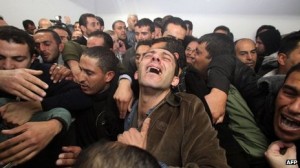 The Israeli army has stepped up its attacks on the non-violent demonstrations being held outside Israeli prisons in support of the Palestinian hunger strikers. Tear gas, baton rounds and live ammunition have been used to disperse the crowds, with reports of Palestinian casualties. Two events during the past week have further contributed to feelings of outrage in the Palestinian community: Israeli settler attacks on the West Bank village of Qasra and the death in custody of a Palestinian.
Arafat Jaradat, a 30 year old father of two, died in the Israeli Megiddo prison on Saturday 23rd  February. According to news reports he was arrested a week ago for allegedly throwing a rock at an Israeli settler in the West Bank last November. The Israeli Prison Service claims that he died of a 'heart attack' but given that torture of Palestinian detainees is customary in Israeli prisons – as are ill-treatment and medical neglect of prisoners – there has been widespread speculation, now confirmed by the autopsy report, that Jaradat succumbed to torture.
Palestinian prisoners in the jails have responded en masse to these events by initiating hunger strikes. Meanwhile pressure is mounting on the Palestinian Authority to take Israel to the International Criminal Court for breaches to the 3rd and 4th Geneva Conventions regarding the treatment of prisoners.