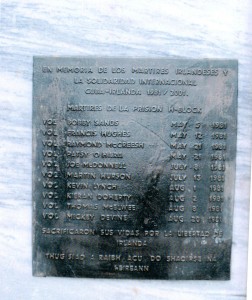 Thirty-two years after the hunger strikes of 1981, visitors to Cuba continue to pay homage to the ten men who died in the H-Blocks fighting for political status. The memorial to the men in Parque Víctor Hugo (author of Les Miserables), Vedado, Havana, was unveiled by Sinn Féin President Gerry Adams on the twentieth anniversary of the hunger strike, and for many years, on the anniversary of Bobby Sands' death, 5th May, there is a vigil held at the monument. Before he met Fidel Castro in 2001 Gerry Adams described what the hunger strike was about.
"They were of course about the prison conditions inArmaghwomen's prison and the H Block of Long Kesh. They were about the denial of human rights to those prisoners and their families and friends and of course those are important fundamental issues. But mostly what the hunger strike was about can only be understood in the context of understanding the human spirit, about how the human spirit when taken by an ideal or idea or objective can rise above itself and how the human spirit in raising itself can do mighty, unimaginable and courageous things."
The memorial tablet includes a quote from a speech by Fidel Castro during the 1981 hunger strike condemning  British "stubbornness… intransigence… cruelty and insensitivity."
The Bobby Sands Trust would like to thank Alan Louth who sent us these photographs.