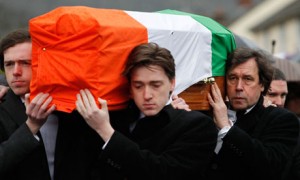 The funeral took place today in West Belfast of veteran republican and former IRA hunger striker Dolours Price (62) who was found dead in her home in Malahide, Dublin, last Wednesday. Former women comrades from jail flanked the Tricolour-draped coffin throughout the funeral procession.
Large numbers of local people and former prisoners lined the route from St Agnes Chapel where former Armagh Prison chaplain, Fr Raymond Murray, celebrated Requiem Mass. In his homily he said: "Dolours's family can relate her nature and her talent, both of which is outside the knowledge and understanding of those who did not know her personally. She was clever and witty, full of fun and held people enthralled by her conversation.
"She was very devoted to her parents. Her mother, Chrissie, died on February 1st, 1975. Their mother never saw Dolours or Marian back in Ireland. They did not get compassionate leave from prison in England to attend her funeral. A week afterwards they were repatriated to Ireland but that grief of not seeing her mother meant she never found closure."
Many had travelled from the USA, England and across Ireland to pay their respects to Dolours who in 1973, at the age of almost 22, was sentenced to life imprisonment for several bomb attacks on London. Of her co-accused, Dolours and her younger sister Marian, Gerry Kelly (now a Sinn Féin MLA) and Hugh Feeney went on hunger strike demanding to be repatriated to Ireland. They were cruelly force-fed for over 200 days and in 1975 were sent back to Armagh Prison and Long Kesh (from where Kelly eventually escaped).
The deleterious effects of their hunger strike on Dolours and Marian were profound. Both were grievously ill in prison and eventually they were released under Royal Prerogative within two years of each other in the early 1980s. Dolours later married the actor Stephen Rea with whom she has two sons, Danny and Oscar.
Two years ago, Marian was arrested on several political charges and although granted bail had her licence revoked by the then British Secretary of State, Owen Patterson. Despite intense lobbying she was only granted several hours' compassionate parole to visit the family home and wake house on Sunday morning and say her goodbyes to her sister with whom she was extremely close.
At the graveside in Milltown Cemetery veteran activists Eamonn McCann and Bernadette McAliskey paid tribute to Dolours, her life and unwavering political commitments.