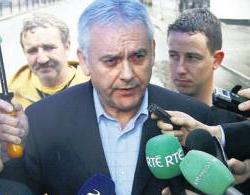 Brendan 'Bik' McFarlane, a member of the Bobby Sands Trust, will be speaking in the Phoenix Cinema, 52 High Road, East Finchley, N2 9PJ after a special-screening of the film 'Hunger' on Sunday 17th May at 2pm. For tickets telephone 020 8444 6789 or email – www.phoenixcinema.co.uk
In a press release the organisers write: "Turner Prize-winning artist Steve McQueen directs a powerful and compelling account of the 1981 hunger strike of Bobby Sands in Belfast's Long Kesh Prison. With a devastating performance by Michael Fassbender, this key moment in recent history proved a turning point in the political struggle and is recreated in a visually striking film of awesome power. This award winning film has put the issues surrounding the Hunger Strike back on the political agenda, and provoked renewed debate and interest in the lessons of that period for today.
"Brendan 'Bik' McFarlane was the leader of republican political prisoners in the H-Blocks of Long Kesh prison during the 1981 hunger strikes. He succeeded Bobby Sands in this role when he commenced hunger strike on 1 March.
"In 1983 he was one of the key people involved in crucial roles in a mass jail escape, when 38 republican prisoners broke out of what was the highest security jail in Western Europe. Recaptured in 1986, he spent over 20 years in jail until his release in 1998.
"A strong participant in the development of the peace process, he currently works for Sinn Féin and is a vocal supporter of the continued political direction." 
Special screening and discussion
HUNGER (15) 2.00
(UK/Ireland 2008)
dir. Steve McQueen, 90m.
£6/£5 concessions
Michael Fassbender, Liam Cunningham,
Stuart Graham, Brian Milligan, Liam
McMahon
VENUE — PHOENIX CINEMA
.
co.uk