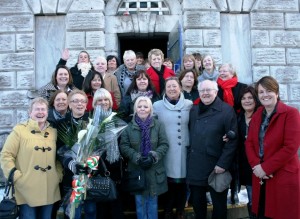 Last December 1st, on the 30th anniversary of the hunger strike by three women in Armagh Gaol, the majority of the women who had participated in the no-work and no-wash protests there gathered for a special reunion and commemoration.
The women came from north, east and west Belfast, Derry City, County Derry, Newry, Downpatrick and Craigavon and travelled by bus from Tar Anal to the prison where they met with Monsignor Raymond Murray, who had been chaplain to Armagh Gaol until it closed in 1986, and Michelle Gildernew, MP for Fermanagh and South Tyrone, the seat formerly held by Bobby Sands.
Some time was spent touring 'A' Wing, where the women had endured the no-wash protest for a year, from February 1980 until March 1981. For some this was the first time in thirty years or more since they had seen the inside of the prison. Many of the women were shocked to see again the cells where they had been kept locked up for 23 hours a day; and wondered how two beds had fitted into those narrow spaces. Many stories were recounted of those times; the behaviour of the screws and governor, their pettiness, the beatings and degradations; and many, many more tales were told of the 'good' times and the craic, the comradeship and the perseverance of the republican women.
The tour then moved to 'B' Wing, where the women had first been forced onto the no-wash after a wing search and attacks by male prison officers who had been brought to the prison from the H-Blocks of Long Kesh.
Here, ex-POW and West Belfast MLA Jennifer McCann spoke of the hardships of that time and of the comradeships and friendships forged in that awful place, and of the three women who spent 19 days on hunger strike for the prisoners' demands – Mairéad Farrell, Mary Doyle and Margaret Nugent.
Jennifer reminded those assembled that three of their comrades had since died. Three lilies were laid on the windowsill of 'B' Wing in remembrance of Volunteer Mairéad Farrell, Rose McAdorey and Christine Beattie.
Monsignor Murray ended the visit by reading a letter he had received from Mairéad in 1986, written after Armagh Prison closed and the POWs had been moved to Maghaberry. That letter was full of Mairéad's spirit and her distinct sense of humour; and it lifted the spirits of those gathered there. A fitting end to a memorable visit.
A reunion like this will probably never happen again, but each woman took away her own memories and a pride in what she had achieved and of the part she had played during those dark days of the struggle within the prisons.