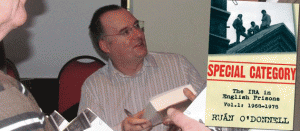 Former republican prisoner Jim Gibney here reviews and praises a new book about the struggle waged by Irish prisoners incarcerated in British jails throughout the recent conflict:
When the Balcombe Street men walked into the 1998 Sinn Féin Ard Fheis, they were cheered from the rafters. They received a prolonged ovation, a homecoming from people representing republican Ireland for four ex-prisoners who had spent 23 years in English jails and were representative of a republican constituency of prisoners long, long admired.
The Ard Fheis was elated.
The British government buried the Balcombe Street men and many other republican prisoners in prison cells, under life sentences, never to be heard of again, never to be released. Throughout the long years of armed struggle, in this and other phases, Irish political prisoners have featured prominently. In jails in Ireland they were never too far away from the public's mind and their treatment by the British and Irish governments very often placed them centre stage as happened during the prison protests for political status leading to the 1981 hunger strike when ten prisoners died.
It was not easy being an IRA activist in Ireland or being a political prisoner. It was infinitely more difficult being an IRA activist on the streets of Britain or being a republican prisoner in a British prison.
Many books, films and dramas have recorded the experiences of republican prisoners in Ireland. Little has been published recording in detail the experiences of republican prisoners behind bars in England.
Until now that is.
The historian and author Ruan O'Donnell, in his book 'Special Category: The IRA in English Prisons, Volume 1: 1968-1978', has produced a book that forensically records that decade of life inside English prisons for republicans, their families and their supporters. The book is replete with microscopic detail about the arrest in Britain – I would hazard a guess – of every single person connected to the political conflict in Ireland since 1968.
The attention to detail is incredible, reflecting the mind of the historian at work, as he weaves war-related events in Ireland into the narrative and the impact of those events, firstly on the Irish in Britain and then on the IRA in Ireland and its intentions to open up Britain as a theatre in its war of freedom.
For example, O'Donnell offers us this sad little vignette. Two days before he died Frank Stagg, on his second and now fatal hunger strike for repatriation, asked his visitor Frank Maguire MP (Fermanagh/South Tyrone) to sing for him the song 'Help Me Make it Through the Night'.
The author estimates some 200 republicans, men and women, were held inside Britain's maximum-security jails. The book records the day-to-day guerrilla warfare tactics adopted by prisoners who battled with the prison warders on the prison landings, in the cells and on prison rooftops to assert their right to be treated as prisoners of war.
Other tactics included hunger strikes, refusal to wear prison uniforms and blanket and towel protests. In many instances republican prisoners acted alone or in small groups to challenge the prison system. To do so required individual strength and bravery.
The book records the methods used by the prison authorities to demoralise republican prisoners: closed visits, moving prisoners ('ghosting') to another jail on the eve of a visit, strip-searching, isolation, solitary confinement, bread-and-water diets, brutality, denial of repatriation (available to British soldiers when they were rarely convicted in Ireland) and the refusal of parole.
Michael Gaughan and Frank Stagg died on hunger strike in 1974 and 1976, respectively, campaigning to be moved to a jail in Ireland. Noel Jenkinson died in prison in 1976 because the authorities refused him urgent medical attention. Also recorded are the miscarriages of justice, such as the cases of the Birmingham Six, the Guildford Four, Giuseppe Conlon and the Maguire family.
While the prisoners battled on the inside there were very brave people who stood with them on the outside: Sister Sarah Clarke, Maureen Maguire, Jackie Kay, MPs Bernadette McAliskey and Frank Maguire and several left-wing Labour MPs, civil liberty organisations, an Cumann Cabhrac and left-wing groups.
This is a long-awaited, untold and riveting story about a group of republicans who lived and died in the lion's den, like O'Donovan Rossa and Tom Clarke before them in the cause of Irish Freedom.
'Special Category: The IRA in English Prisons Vol 1: 1968-1978' by Ruán O'Donnell. Irish Academic Press, Dublin, hardback £45 / paperback £19.95