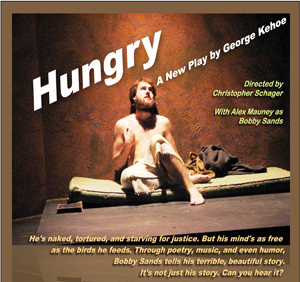 A new play about the life and death of Bobby Sands will be performed as part of the 13th annual New York International Fringe Festival. Adapted and written by George Kehoe, 'Hungry' blends original writing with excerpts from Bobby Sands' prison writings. "It is an episode in a timeless story, self-sacrifice for a greater cause," Kehoe said. "How does a 27-year-old man come to believe that his only choice is to hunger strike and see it through to the end? What is his justification? His motivation?"
"His story dramatizes the lengths to which humanity will go to justify, inflict, and endure suffering for political goals – as well as the hopeful possibilities of that suffering," said Christopher Schager, director of the 90-minute show.
The play features the young actor Alex Mauney as Sands. A recent graduate of the University of Mississippi with a B.F.A. degree in Theatre Arts, Mauney employs music, mime, and poetry in bringing Sands' vision of a united Ireland to life.
The play will have five performances Aug. 21-25 at the Manhattan Theater Source at 177 MacDougal St. For more information see here.