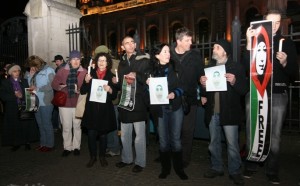 A vigil was held in recent days in Belfast in support of Palestinian hunger striker, Hanan al-Shalabi, whose condition has rapidly deteriorated. Amnesty International has expressed concern for Hana al-Shalabi, a young Palestinian woman, who is being held on Administrative Detention in Israel's Hasharon Prison and who is now on the 35th day of her hunger strike.
At dawn, on February 16th, fifty Israeli soldiers, together with attack dogs, raided her family home in Jenin. She was arrested without warrant or charge, beaten and humiliated. Upon arrival at the prison she was forcibly strip-searched by a male soldier. She immediately began a hunger strike demanding her release, for which she was punished with solitary confinement. She has already served a thirty-month period of Administrative Detention for which she was never charged or brought to trial.  For more information see here.
Last month another Palestinian prisoner, Khader Adnan,ended his 66-day hunger strike against his imprisonment in a deal that will see him released on April 17th.