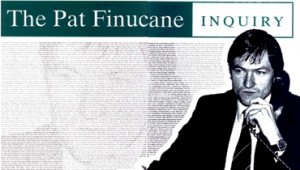 A new mural was unveiled on the barracks site, Andersonstown, on Tuesday, 10th February, to murdered human rights lawyer Pat Finucane. This Thursday, 12th February, marks the 20th anniversary of his assassination by agents of the British state. Pat had been Bobby Sands' solicitor and sat as a legal advisor to the Bobby Sands Trust when it was first established in 1981/82.
His murder was carried out by UDA agents, planned by the British army's Force Research Unit, upon the British government's direction.
The speakers at today's unveiling included Pat's brother Seamus, Gerry Adams MP and Mark Thompson of the Relatives for Justice. Earlier, in a statement the RFJ said: "There have been government appointed investigations including those by John Stevens and Judge Peter Corry which all justify the Finucane family's conviction that state sponsored collusion was the director and executor of Patrick Finucane. Despite the unquestionable evidence and assurances at varying stages of political negotiations the British government has refused to comply with its obligations to provide a full independent international public inquiry into the murder of this human rights solicitor.
"Patrick Finucane was a son, a husband, a father of three and a brother who is dearly missed by his family. He was a pioneer in human rights advocacy and his legacy lives on through the new generation of human rights lawyers who carried on his work and succeeded him. He represented those most dispossessed, censored and marginalized during the conflict, and is remembered for his vigour and commitment to cases which hitherto had seemed hopeless. It was this dedication which led to him being targeted and executed.
"In his memory and in order to highlight the burning demand for truth around his death Relatives for Justice will be organizing two events on the day of Pat Finucane's anniversary."
On Wednesday, 11th February, beginning at 12.30pm, the Italian journalist Silvia Calamati will speak at an event in the University of Ulster, Belfast Campus, on 'Qui Belfast – An Italian Witness', which will include a showing of  the film 'An Fhirinne – In Search for the Truth'.
On Thursday 12th February at 12.30pm there will be a vigil of remembrance at the High Court, Chichester Street, Belfast. Mike Ritchie Director of the Committee on the Administration of Justice and Monsignor Raymond Murray, friend of Pat Finucane and founder member of Relatives for Justice, will be speaking. On Thursday night at 7pm in St Mary's College Falls Road there will be a Public Meeting – 'Pat Finucane: Time for Truth.' This public meeting will be addressed by Seamus Finucane (brother of Pat), Peter Madden (Pat's law practice partner), Jim McCabe (husband of Nora McCabe, whom Pat Finucane represented), and Alex Maskey MLA (who was targeted by UDA agent Brian Nelson and subsequently shot and injured). The event will be chaired by Relatives for Justice chairperson and friend of Pat Finucane Clara Reilly.
Another major event, sponsored by The Finucane Family and British Irish Human Rights Watch, and endorsed by the U.S. Brehon Law Society, will be held in Dublin on 12th, 13th, and 14th February. Among the speakers will be Pat's widow, Geraldine Finucane, the lawyer Michael Mansfield, the journalist John Ware, Param Cumaraswamy (human rights lawyer and former UN Special Rapporteur) and Judge Peter Cory (former Justice Supreme Court of Canada who presided over a collusion inquiry into the murders of Pat Finucane and others.