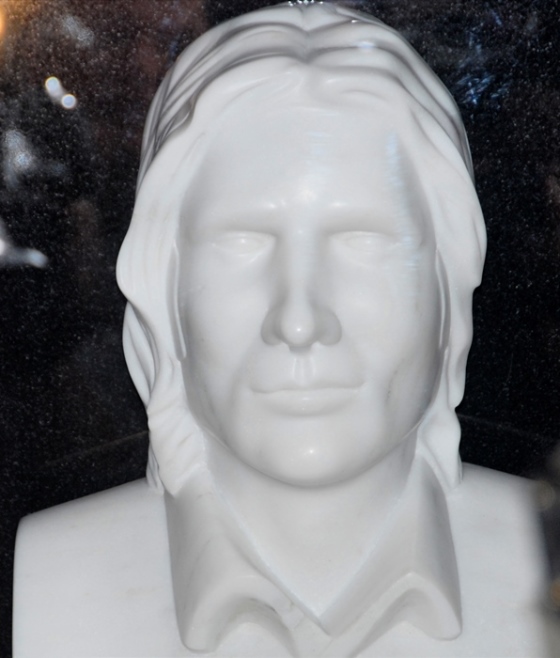 Last Friday, 1st August, in the Felons Club, West Belfast, a marble bust of Bobby Sands made by a young Irish sculptor, Paraic Casey, was unveiled in the foyer of the club by former prisoners, Sinead Moore and Jimmy Burns. Síle Darragh, Bobby Sands Trust, chaired the proceedings at which Paraic Casey spoke of his admiration of Bobby Sands and the hunger strikers and about the nature of his craft. Gerry Adams TD, President of Sinn Féin, gave the main address and spoke about the day being the anniversary of the death of Kevin Lynch, the seventh prisoner to die during those long, seven months of 1981.
Gerry Adams also spoke about meeting Bobby Sands in Long Kesh when they were both sentenced prisoners. He also spoke about what was happening at this time to the Palestinians of Gaza and of how Bobby Sands' internationalism was particularly reflected in his poem 'The Rhythm of Time' where Bobby paid tribute to the noble struggles of the oppressed throughout history.
In her address Sile Darragh expressed her thanks to the Felons Club and JJ Bradley for all the work they did in creating a perpetual display for the marble bust, and to Tony Currie, the stone mason who designed the plinth for the sculpture.
A few years ago the Trust had been contacted by Dr Catherine O'Lochainn, a retired physician on the Greek island of Thassos who was the project manager of a white marble sculpture park which commemorates human right defenders and victims of human right abuses. She had selected Paraic Casey, a young emerging sculptor from Miltown Malbay, Co Clare, to come to the island to sculpt a 'story-sculpture'.
Catherine was looking for some financial help to sponsor the project and the Bobby Sands Trust made a modest contribution to help offset some of the costs. The project took longer than expected, not least because Paraic's visit also coincided with the collapse of the Greek economy. Nevertheless, he supported himself and finished his work on the bust which he generously agreed to locate in the Felons Club which this year celebrated the fiftieth anniversary of its founding, a club dedicated to political prisoners, a club in the heart of West Belfast, where Bobby Sands lived and is buried.
The  bust was hand-carved by Paraic from a block of marble one and a half foot squared. It weights around 100 Kilo and stands at 60cm in height by 50cm in length and 35cm in width. It is a beautiful addition to the club's portraits and artefacts. The Felons is frequented by republican supporters and solidarity groups, foreign dignatories and visitors and journalists, and already hundreds of people have had their photograph taken beside it, this tribute in white marble to the memory of Bobby Sands and his comrades.