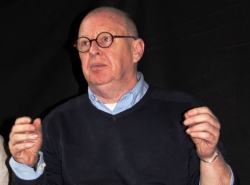 At the recent Anti-Colonial Week held in La Bellevilloise, Paris, an event was organised to commemorate Bobby Sands and the 1981 hunger strikers. Among the guest speakers were Julie Duchatel (translator of Bobby Sands, jusqu'au bout, by Denis O'Hearn), Francis Wurtz (former European MEP, French Communist Party) and Belfast's Joe Austin (left, representing Sinn Fein). The meeting was chaired by Alain Frilet.
Alain Frilet asked Julie Duchatel, who was very young at the time of Bobby Sands' death, what motivated her to do the translation. Julie, who undertook the task without remuneration, said that the O'Hearn book was much more than a mere biography. The subject was intriguing and the book was very impressive, movingly dealing with the transformation of one young Irish boy (Bobby Sands) interested in music, girls and sport who became, at the end of his short life a worldwide recognized revolutionary icon. One couldn't help but admire the hunger strikers, the unimaginable conditions they suffered, and what they ultimately were to accomplish.
Many French people, she said, were interested in Irish history and had been involved in anti-imperialist struggles and in acts of solidarity.
"It was my way of paying respect to these Irish freedom fighters, to all of the staunch republicans, these sons and daughters of Erin, who devoted their life to their cause. This story took place more than thirty years ago, but the dimension of the struggle led by Bobby Sands knows no borders, is ageless. Bobby Sands and his comrades left all activists with many legacies… still to be fully evaluated.
"The struggle against criminalisation that these brave volunteers led still echoes nowadays for many social movements all around the world. The story of Bobby Sands introduces you to Irish history and the Irish struggle and is a story that leads to human advancement. It will make you go even further – and fall in love with Ireland, a beautiful country, and its people. Reading this book is also a good introduction to the Irish history because Bobby Sands encapsulates the whole struggle in Ireland and many historical figures, and it will get, for sure, people to go further on and to fall in love with Ireland, which is a beautiful country, and with its people."
Julie also marked her thanks to Philippe Paraire for his valuable and essential collaboration to the translation.
Alain Frilet then turned to Francis Wurtz and asked him why the French Communist Party decided to support Irish political prisoners. Francis described in detail why he attended Bobby Sands' funeral and how he got there, as well as his feelings that came across him during that special time. It was very difficult to get left-oriented political parties involved or to take a stance on the Irish issue. To him, the French Communist Party did its best. Francis emphasised that even if he was opposed to the means the IRA used to pursue its goals, he supported the Irish republican struggle.This opinion raised most of the questions from the audience during the debate.
Joe Austin was the next speaker and said that the biography of Bobby Sands is compulsory reading for anyone who wants to understand the meaning of struggle: all types of struggle, about women being exploited, about immigrants being exploited, about speechless and repressed trade unionists.
"The core of the involvement in struggle is motivated by one universal reason, the one Bobby Sands expressed beautifully in his famous poem The Rhythm of Time:
"It lights the dark of this prison cell,
It thunders forth its might,
It is 'the undauntable thought', my friend,
That thought that says 'I'm right!'"
Joe reminded the audience that hunger strike as a weapon of passive resistance has a long history in Ireland.
"What Bobby Sands and his comrades accomplished, stands for the whole republican history in Ireland. The British misunderstood the strength and determination of the Irish republican men and women and found tough adversaries. But the fact that Bobby Sands and his comrade's claims were merely ignored by Thatcher and the British authorities in 1981, and who bear responsibility for their deaths, was of ill omen, announcing to the world the next crushing of the English miners and workers into the 1980s. Such violence had not been fully perceived and did not raise at that time the degree of resistance necessary to fight back. Sinn Féin understood the need to build bridges between the Irish and the British working class, and, for instance, raised a lot of money in Ireland to support the miners' strike."
In conclusion, Joe said: "We cannot have a free Ireland without a free Palestine, or a free Ireland without the liberation of women or the liberation of workers. All struggles leading to progressive societies are linked, the struggle is international and there are many ways of expressing solidarity. Let us remember what Bobby used to say: 'Everyone, republican or otherwise, has their own particular part to play. No part is too great or too small. No one is too old or too young to do something'."
Julie Duchatel (below, translator of Bobby Sands, jusqu'au bout, by Denis O'Hearn, ed. CETIM and l'Epervier) – see here for more details