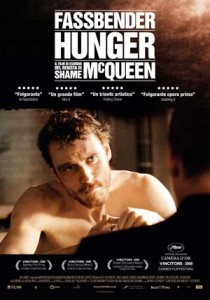 Four years after its release the award-winning film 'Hunger', an account of the last days in the life of Bobby Sands, is to be shown in Italy (in Italian). It is being released by BIM Distribuzione, the leading company which deals in high-level arthouse films. 'Hunger' garnered praise for its director Steve McQueen and Michael Fassbinder in the lead role as Bobby Sands. Its numerous awards include: the prestigious Caméra d'Or at Cannes in 2008; Gucci Group Award – Mostra del Cinema di Venezia 2008; Discovery Award – Toronto International Film Festival 2008; the Sydney Film Prize; best picture from the Evening Standard British Film Awards, receiving two BAFTA nominations, winning one; and winning six out of eight awards at the 2009 Irish Film and Television Awards.
A trailer for the film can be watched here.
Silvia Calamati, the journalist and writer who brought Bobby Sands' story to Italy through her writings and translations was interviewed on the mainstream arts station, RAI's Radio 3 which can be accessed here.