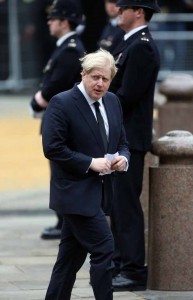 Boris Johnson, interviewed on BBC Radio 4's World At One today recalled the 1981 hunger strike and at first he was frank – but then you can hear his big 'But' come in to correct and qualify what he was thinking.
He was asked was he always a fan of Margaret Thatcher.
"She came to power when I was pretty young. I do remember being sometimes, sometimes a bit sort of stunned. I thought the business with the IRA hunger strikers was very, very tough and I remember thinking, what would I do if I was in government at the time. This was an incredibly harsh thing, it seemed to me, to allow people to die in that way.
"But on the other hand, you could not fault her logic, you could not fault her consistency, and that point, that you shouldn't give in to terror is a powerful one and one that is still relevant today."