Long before Björn Ulvaeus founded ABBA in 1972, along with Agnetha Fältskog, Benny Andersson and Anni-Frid Lyngstad, the young student lawyer played in an enormously popular Scandinavian group, the Hootenanny Singers.
Among the songs Björn composed and recorded in 1964 for the Hootenanny Singers was a version of Kevin Barry (Berry) which first appeared on the group's Frogg album before being re-released on their album International two years later. We have no other details about why Björn chose to write a song about Kevin Barry or what influenced him.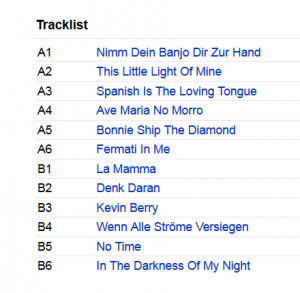 But there is no doubt that the story of Kevin Barry's arrest and execution has left a lasting impression on many artistes over the decades, including Paul Robeson, Leonard Cohen, Lonnie Donegan and the Wolfe Tones, who have all recorded versions of the ballad with the original lyrics. These lyrics are thought to date from shortly after Barry's death. According to some reports Barry's family attempted but failed to learn the anonymous author of the ballad, though it was suggested that it was penned by an Irish emigrant living in Glasgow. We'll never know.
Below are the lyrics of Björn Ulvaeus's Kevin Barry as best we can translate them from the song because we have been unable to find a complete version.
Have you heard of Kevin Barry
…..  …..  ….. …..  …..  …..
How he lived to free his country
How he died for Ireland.
Back in '21 they caught him
And they brought him to his cell
There they tied him and they beat him
And they tried to make him tell
Chorus
"Tell the names of your companions
And then we will set you free
Tell the names of your companions
And you'll have your liberty"
Though they tortured Kevin Barry
In that dirty dungeon cell
Kevin Barry was no traitor
Kevin Barry did not tell
Us in Dublin we remember
On that cold December day
How he faced the British hangman
How he heard the hangman say
"Tell the names of your companions
And then we will set you free
Tell the names of your companions
And you'll have your liberty"
So they say that they have killed him
Kevin Barry ….. ….. ….. …..
Don't they know that he's still living
In the hearts of all free men