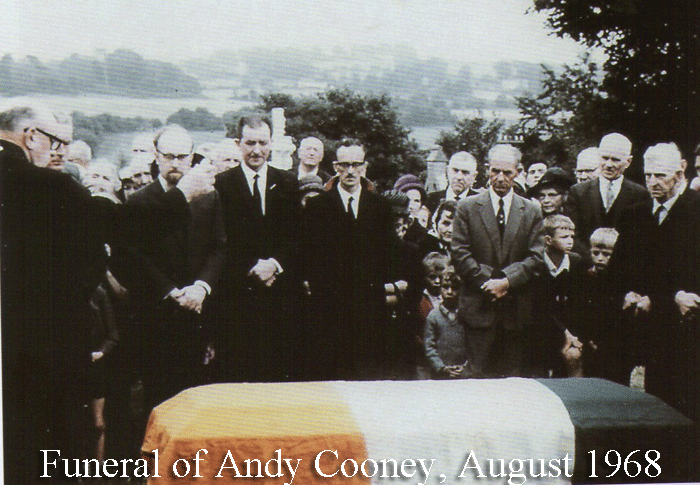 "Every now and then a rare book of quality drops on my desk," writes our regular guest reviewer, veteran republican Gerry O'Hare. "You pick it up to scan it and an hour later it is still in your hands, every detail being absorbed. Such a book is 'A Splendid Resistance – The Life of IRA Chief of Staff Dr. Andy Cooney', written by Michael MacEvilly, with a foreword from Kerry Republican, Sean O'Mahony."
Gerry's review continues:
Dr Cooney would not be a name easily familiar to modern day physical force republicans but in his lifetime his exploits and service to the cause for freedom shines up there among the few.
Appointed in 1925, whilst still a medical student, was the highlight of his military career which began in 1917 and carried on till 1944. He rose through the ranks as a volunteer, GHQ Officer, Brigade Commander and Divisional Commander before being appointed to the IRA General Staff with the rank of Quartermaster-General in 1924 and Chief of Staff in 1925. He was also elected as Chairman of the IRA Executive. Positions he held until 1927. Afterwards he remained close to GHQ until he emigrated to the USA where he continued to assist the Republican Movement.
While the few paragraphs above tells summarises his life it is impossible to try and do justice to this book such is the detail and research.
The book is a valuable piece of a jigsaw on the history of the IRA that later historians will thank the author for.
Born in Ballyphillip, Nenagh, County Tipperarry in 1897, we are told that during his schooling he never stood out nor showed any of the academic ability so evident during his medical studies. Reading about his early education we get an insight into his character when he is severely punished by a Christian Brother for a mild misdemeanour and he promptly "thumps" the brother back! An incident that is never mentioned again.
His time as a medical student overlaps with his involvement in joining the Irish Volunteer movement through a friend, Joe Keane, who shared his boarding house.
Interestingly, from today's perspective, Joe, speaking of Sinn Fein, at that time said, "We had no use for Sinn Fein or anything that savoured of politics."
Despite Joe's views, Cooney volunteers to do "police work" at a by-election in south Armagh in February 1918. Sinn Fein was defeated, losing to the Irish Parliamentary Party.
His first taste of jail came about when he and several others were arrested whilst drilling in Dublin. They were taken to the Bridewell then to court next morning where they were released until their trial in August. In August they were sentenced to two months and transferred to the Crumlin Jail in Belfast. Here he was to meet Terence MacSwiney, Frank Thornton, Earnán de Blaghd, Kevin Higgins and the jail OC, Austin Stack.
Not for the first time he was to miss his exams and so anther year on the road to medicine was lost.
On release he went home and although attached to the Dublin Brigade he was encouraged by the North Tipperary battalion to "give a hand". He threw himself into the work of the IRA and its organisational progress. His IRA activities left him no time at all for his studies and sadly but inevitably he failed his finals…for another year! A medical student whose republicanism got in the way of his exams several times over the years. He was militant, vocal in his thoughts and impatient where he saw leaders who he deemed not suitable for battle.
He was prone to act without their permission and regularly suffered their wrath.
He associated with several figures who became icons, among them Tom Barry and Ernie O'Malley.
He took an active part in the executions of British Intelligence agents (the Cairo Gang) and he graphically describes their killings. Later that day he attend Croke Park and witnessed the carnage of revenge on innocent civilians by murderous British troops.
Andy Cooney was born in 1897 in Ballyphilip, Lisenhal, Nenagh, County Tipperary. His grandfather Patrick Cooney came from the shores of Lough Derg, was a member of  the Irish Republican Brotherhood and played an active role in Land League activities. Cooney's early boyhood and education was average and he eventually did sufficiently well enough to enrol as a medical student in Trinity before becoming involved with like-minded republicans and militant students.
Republican leaders recognised his qualities and he was entrusted to key positions and was always anxious to take part in the action.
We learn, however, of his dislike for incompetence, given his own high standards, and regularly he would be rebuked for being overzealous. He never shirked from orders and his exploits caught the attention of the leaders. His courage brought a reluctant admiration that overcame others' misgivings.
After the treaty, which he opposed, he studied hard to be a doctor and after some time he finally qualified in 1928.
In 1929 he married Frances Brady, a Belfast woman. He visited America on many occasions seeking aid and support and opposing De Valera and Fianna Fail stalwarts.
A book in itself!
The lead-up period to Cooney becoming Chief of Staff is fascinating reading and again the author is to be congratulated for his narrative and for giving us the full details.  After an Executive Council meeting on 18th November 1925 a new Army Council was formed who immediately elected Cooney as COS. He remained in this post until Maurice Twomey, his adjutant, was persuaded to take over. Cooney headed to America on a tour to explain the republican position. His path crossed many of the leading figures on both sides of the Treaty and Anti-Treaty forces. The names are a Who's Who of Republican History.
Disillusionment and a broken marriage and in need of a livelihood led him back to America in 1950 where he was befriended by many who knew intimately of his past.
The chapters dealing with his search for work and sustenance makes sad reading.
Although he kept active and spoke at many meetings in favour of the fifties campaign one senses a man who went to his grave regretting what might have been.
He died in 1968 in Maryland and his remains were brought back to Ireland where he was buried at Youghalarra, near the shores of Lough Derg. A few days after his burial a unit of the local IRA paid him the final salute with a volley of shots fired over his grave.
It is impossible for this reviewer to encapsulate his whole life in such short space.
However, this is a mighty book and should be read by republicans of whatever hue.
I particularly want to quote one thing he said in reference to the sacrifices and disappointments of struggle. He noted "…that these sacrifices were dissipated by trickery and treachery (and) are causes for deep regret and national shame; that the gallant efforts of  Cathal Brugha, Liam Mellows, Liam Lynch and still later those of Sean Russell, Patrick McGrath, Sean McCaughey and Charlie Kerins to halt the stampede and reorient the nation to its only and logical course of undoing the conquest have not yet proved successful is cause for great and profound sorrow. They are a few of our many heroes… and they represent the men who never heard of constitutional or any other difficulties in their country's onward march to unfettered and undivided freedom."
This was an obvious criticism of De Valera and Fianna Fail. There are some who might say it has relevance today as former comrades of the latest campaign take different sides on the way forward.
A good topic for a healthy debate perhaps?
Readers will take what they want and some will put their own slant on Cooney. Despite that this is a book that will enhance any republican's collection.
Only 1000 copies were printed. And, sadly, the author Michael MacEvilly died in 2009 and never saw his book in print.
'A Splendid Resistant – The Life of IRA Chief of Staff Dr Andy Cooney' by Michael MacEvilly, published by Edmund Burke, Cloonagashel, 27 Priory Drive, Blackrock, County Dublin