San Diego Next Sunday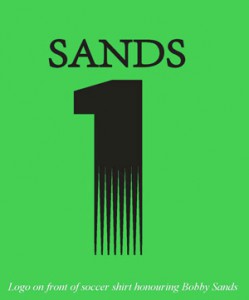 Last Sunday by visiting his grave, by commenting on social media such as Facebook and Twitter, many people marked the 60th anniversary of the birth of Bobby Sands. In the run-up to Bobby's anniversary he and his fellow hunger strikers were recalled at events in Geneva, Switzerland, and Vincenza, Italy. Last Sunday, within the space of a few hours, over four thousand people visited our website.The Bobby Sands Trust is proud to record all events, large or small, which honours our brave comrade.
So with this in mind, if you live in San Diego, California, then feel free to go along this Sunday where people who were not even born when Bobby died will be wearing jerseys bearing his name at a 6v6 Indoor game. Organiser Janice Jordan says: "If you have any extended family or friends in San Diego, please let them know they are welcome to come to our game. We shall be honoring Bobby Sands at our 6v6 Indoor game.The lads will be wearing the name Sands on their jerseys. The game is on Sunday, the 16th of March at 6.45pm. The address is: 2720 Howard Avenue, San Diego, California, 92104 in the North Park area of San Diego. FREE ADMISSION!
Janice Jordan, The Und1sputed Ones, California Wellness, LLC
http://www.undisputedusa.com/NorthPark/ud1soccer.html
http://www.youtube.com/user/Und1sputedOnes
http://www.facebook.com/Und1sputedones