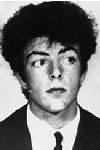 Just before Christmas we received the sad news of the sudden death of former IRA Volunteer Sean McKenna at his home in Dundalk. Sean never fully recovered from his ordeal on the first H-Block hunger strike in 1980 which lasted for fifty three days. Sean was buried on Monday, 22nd December, in Calvary cemetery, Ravensdale, County Louth, after Requiem Mass in nearby St Mary's Church.
Republicans from across Ireland, including many former prisoners and surviving hunger strikers, attended the funeral.
Sean had been illegally arrested, along with his father, and hundreds of others, by the British army on 9th August, 1971. His father was one of the 'hooded men' and died whilst in his early forties as a result of being tortured. Father and son were both interned in Long Kesh. After his release Sean returned to active service but lived in County Louth at Edentubber. On 12th March 1976 members of an SAS undercover team crossed the border and abducted Sean, again illegally, without any protest from the Dublin government at the breach of its sovereignty. Sean was sentenced in a Diplock Court and was on the blanket for several years prior to the hunger strike.
The Bobby Sands Trust was represented at his funeral by Gerry Adams, Jim Gibney and Danny Morrison.