Many commemorations were held across Ireland to mark the centenary of the death of Thomas Ashe, who died as a result of force-feeding five days into a hunger strike in Mountjoy Jail in 1917. There was a march last Saturday from the GPO in O'Connell Street, Dublin, to Ashe's grave in Glasnevin Cemetery, at which Sinn Féin's Mary Lou McDonald TD spoke. The following day there was a march and rally at the Ballymurphy Memorial Garden which was addressed by Sinn Féin President Gerry Adams.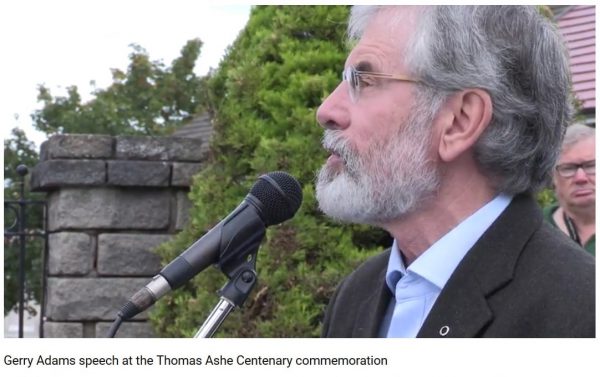 The latest commemoration was held in Clonakilty, County Cork, last Monday evening. It was jointly organised by the Easter Commemoration Committee and Hunger Strike Commemoration Committee and paraded from Ashe Street to Asna Square for a commemoration ceremony.
In Asna Square, Sinn Féin Councillor Paul Hayes chaired proceedings.
Ashe Street resident Pat Flynn laid a wreath and this was followed by a lament on the pipes.
Fionnuala Ní Chonchubhair, a native of Lispool, west Kerry, where Thomas Ashe hailed from, read the patriot's famous poem Let Me Carry Your Cross for Ireland, Lord.
Cionnaith Ó Súilleabháin recalled the life of Thomas Ashe from his native Kerry to school principal in Lusk, to Irish Volunteer and leader during the 1916 Rising, and to his imprisonment in the summer of 1917 which led him to go on hunger strike, when he died after five days as a result of force-feeding.
Thirty thousand people attended Ashe's funeral in Glasnevin at which Clonakilty's Michael Collins delivered the graveside oration.
At Monday night's event, Michael O'Donovan read the names, dates of death and number of days on hunger strike of the other 21 Irish republicans who have died while on hunger strike up to 1981.
The ceremony concluded with Amhrán na bhFiann played by the piper.