Two veteran republicans who were involved in the secret re-interment of Frank Stagg's body in 1977 from a concrete Free State tomb to the Republican Plot in Leigue Cemetery, Ballina, have just finished a headstone and had the last word on the empty grave. The fitting postscript will stand forever as a pledge of brotherly love and loyalty and an indictment of the cruelty of the Fine Gael/Labour Coalition Government in 1976 which hijacked hunger striker Frank Stagg's body to prevent him being given a republican funeral and being buried with his comrade and fellow Mayo hunger striker Michael Gaughan who died in June 1974.
The new stone says: 'To prevent Frank's reburial State agents poured several feet of concrete into his grave. However, on the night of 5th November 1977, six volunteers silently dug down and tunnelled under the concrete and soon recovered his remains. The volunteers then carried him to the Republican Plot where Frank was buried in dignity among his IRA comrades where he continues to rest in peace.'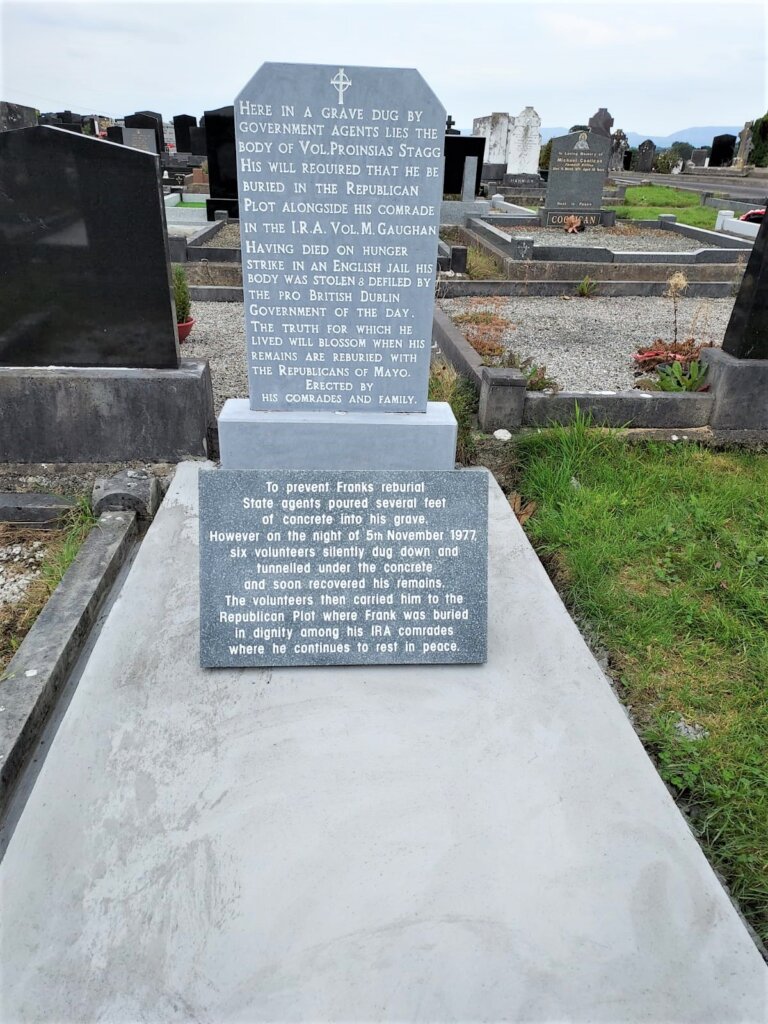 Gerry Ginty was the caretaker of the cemetery and a Sinn Féin councillor in 1976. Gerry's mother Jane, who also worked in admin at the cemetery, told Frank Stagg's brother George that the Free State government had not paid for Frank's grave and suggested he buy it.
'Why?' he asked.
'In case you ever have to dig down,' she said, enigmatically.
So George bought the grave and erected a headstone which read: 'Here in a grave dug by government agents lies the body of Vol. Proinsias Stagg. His will required that he be buried in the Republican Plot alongside his comrade in the IRA Vol. M. Gaughan. Having died on hunger strike in an English jail his body was stolen and defiled by the pro British Dublin government of the day. The truth for which he lived will blossom when his remains are reburied with the Republicans of Mayo. Erected by his Comrades and family.'
The Guards maintained a round-the-clock watch on the grave. But after about a year they realised that it was a waste of garda time and resources. So, instead of the vigil they poured about four tonnes of concrete on top of the grave.
It was Gerry Ginty who suggested the plan to George for the removal of Frank's remains.
The story of that remarkable event is told by George in Hunger Strike—Reflections.