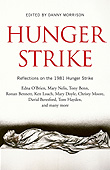 Hunger Strike: Reflections on the 1981 Hunger Strike – edited by Danny Morrison, contributions from Edna O'Brien, Tony Benn, Ken Loach, Christy Moore and many more.
Well-known novelists and poets, former prisoners and activists reflect upon the deaths of the ten republican hunger strikers which proved a turning point in relations between Britain and Ireland. Most of the pieces here were specially commissioned, and while they differ greatly, what they have in common is a sense of the intensity of the experience of the hunger strike at the time, and the intensity of the impression made by it even now, twenty-five years later.
Contributors also include David Beresford, Tom Hayden, John Montague, Roy Greenslade, Eugene McCabe, Ulick O'Connor, Nell McCafferty, Peter Sheridan, Medbh McGuckian, Robert Ballagh, Shane Connaughton, Timothy O'Grady, Christy Moore, There are less familiar names, too: William Brown, an ecumenical Christian; Mary Doyle, a former hunger striker; Sorj Chalandon, a French journalist; Frank Durkan, an American human rights lawyer; Mary Nelis, an activist and mother of two prisoners; Pedram Moallemian, a former Iranian student.
The book is published on the twenty-fifth anniversary of the ending of the hunger strike.
Author Danny Morrison is a novelist, playwright and former editor of An Phoblacht/Republican News.
Available online at the Sinn Féin Bookshop.