Last Saturday night, after Mass at the Church of St Malachy in Camlough, a commemoration in memory of IRA Volunteer Raymond McCreesh, who died on hunger strike thirty-five years ago, was attended by a large number of relatives, comrades, friends and neighbours in the adjacent graveyard. Conor Murphy (Sinn Féin MLA) chaired the event which included the playing of a lament at the lowering of the flags and a moving recital of the Ballad of Raymond McCreesh by the Daly sisters from Crossmaglen. Later, the crowd marched behind St Joseph's Pipe Band to the republican monument on the Newry Road.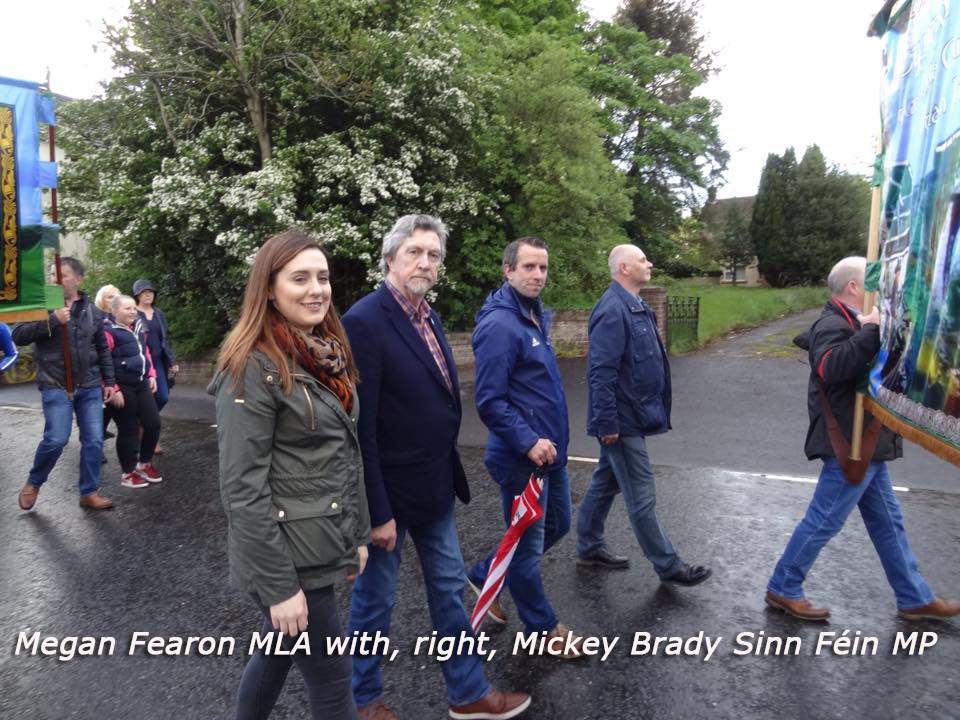 The main speaker at the commemoration was Sinn Féin MLA Megan Fearon, the youngest member of the Assembly, who was born in 1991, just three years before the IRA ceasefire. This is her speech:
Ba mhaith liom fáilte a chur roimh achan duine agus is mor an onoir a bheith anseo inniu.
I want to extend my own warm welcome to the families of our patriot dead; we are forever indebted to you.
It's a huge honour to be here this evening with so many of Raymond McCreesh's friends and family.
It was on this day, in 1981 that the Republican Movement lost one of its proudest sons, Raymond McCreesh. Yes, he was a soldier and an exemplary one at that. However, he was also a son, a brother, a friend, and a role model to many.
Raymond and his comrades were ordinary young men and women, who rose to the challenge of the extraordinary times they lived in.
Raymond McCreesh, born to James and Susan on 25th February 1957, attended St Malachy's Primary School and St Colman's College in Newry. A schoolmate of his recalled how, somewhat prophetically, they hung over the old school wall to watch the funeral of veteran republican Jack McElhaw pass by.
For many, it is Raymond's smile that has left an indelible mark on their memory. He was quiet, good-natured with a mischievous sense of humour. It was a shock to many when it became known at my own uncle's funeral, Jim Lochrie, that he was a volunteer in Óglaigh na hÉireann as he stepped forward for the guard of honour.
Beneath his smile there lay the many qualities that made him a capable, dedicated and highly respected volunteer. He had joined na Fianna Eireann in 1973 and later became a member of the IRA. It's said that Raymond and Dan McGuinness were never too far apart, they would have been in the village every Saturday night to enjoy the craic along with Oliver Doran and James Lennon. So it came as no surprise when they were captured together on active service, along with Paddy Quinn, in June 1976. They were charged and remanded in Crumlin Road Jail before being sentenced and sent to the H-Blocks, where Raymond immediately joined the blanket protest. He continued his resistance to criminalisation with conviction right up until 1981, when he took the courageous and unimaginable decision to join the hunger strike, where he and his nine comrades would make the ultimate sacrifice.
His death was and remains a tragic blow to his family, and a huge loss to the Republican Movement. He will always be remembered as a heroic and selfless young person, and I hope his memory will inspire others as it has done for me.
The late Cardinal Tomás Ó Fiaich said: "Raymond McCreesh was captured bearing arms at the age of 19 and sentenced to 14 years' imprisonment. I have no doubt that he would have never seen the inside of a jail but for the abnormal political situation. Who is entitled to label him a murderer or a suicide?"
Cardinal Ó Fiaich was alluding to the fact that Raymond had the misfortune to be born into one of the most heavily militarized areas anywhere in the world, to be born into the Orange state, one-party rule and institutional discrimination. He was, effectively, born into the belly of the beast where the worst excesses of partition were visible daily. Young people living in South Armagh were met with constant harassment from the RUC and the British army. Faced with the watchtowers, faced with the British Army patrols and faced with British brutality, Raymond, like generations of Irish republicans before him, decided to face down those conditions.
Comrades, Raymond was my age when he gave his life on hunger strike. 24 years old. He was just an ordinary young man. He could have chosen another way, taken an easier path but he didn't. He chose to stand up for this community, for the people he loved and who loved him.
And it is because of the dedication and sacrifice of people like Raymond McCreesh that I was fortunate to be born into an entirely different political dispensation. My generation of young republicans are separated from him only by time.
Thirty five years on….the political landscape is vastly different. Our struggle continues in a new way. Young nationalists and republicans have no fear of second-class citizenship today as we continue to grasp the opportunities we have been afforded as a result of the sacrifice of those who went before us.
The progress we have made would not have been possible without Raymond and his comrades. This political phase of struggle means that no one, man or woman – young or old – need ever again risk imprisonment, injury or death in pursuit of our goals. All that is asked of us now is our time – how can we possibly do any less?
There is still much work to be done to achieve our ultimate goal of a 32-County Socialist Republic. Thirty five years on from Raymond's death the vision of republicans' remains vibrant and viable.
It is viable but it is not inevitable. We are the generation charged with ending partition and establishing a new Republic. We must become reinvigorated & build the republican struggle into the mass political movement required to achieve our goals.
1916 witnessed a coming together of republicans, Irish language activists, trade unionists and the women's movement in the cause of an independent Irish republic.
As we enter new mandates in both the Dail and Stormont, this is our template, as we seek to build alliances for that same cause, and effect change on our island. The 1916 Proclamation remains our mission statement, our guide, as it was for republicans in every decade since. No regressive or revisionist force will hold us back.
I also want to make this very clear – We will not allow the memory of Raymond McCreesh to be denigrated by unionism, by the media or indeed by elements of so called "progressive" nationalism.
Raymond McCreesh is an Irish hero.
He knew that freedom is never voluntarily given – it must be taken.
He knew that the men and women of 1916 were right.
AND we know that the men & women of 1981 were right.
It was and remains republic against empire, republicanism against imperialism.
As we stand here today by the graves of our volunteers, let us be clear – a real 32 County Republic is the only fitting monument to their memory.
And let us be equally clear that the Irish republicans of 2016 are as determined to achieve those objectives as those we honour here today.
For Raymond and his comrades, this was never about the past. They were always looking to the future.
And that is the legacy handed down through generations – from 1916, to the men in H-Block cells and the women in Armagh Gaol – and to us here today.
This is not about the past. This is about the future.
Together, we, and only we, can make the vision of Raymond McCreesh a reality.
Let's make him proud.
Beidh and bua againn go fóil.