Cumann Rothaíochta Kieran Doherty TD set out on their journey last Saturday, 21st September, in memory of Kieran. This year's cycle was later than usual, having been postponed following the death of Kieran's mother, Margaret, in early August.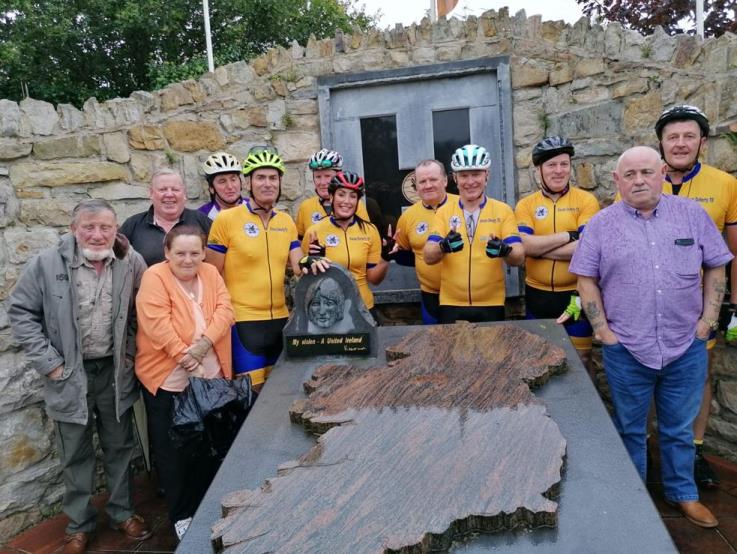 The group of cyclists comprising of members of the Doherty family (Kieran's brother Terry and niece Bronagh), republican activists and former prisoners, left Commedagh Drive, in Andersonstown at 7.30am on their journey to Ballyconnell, County Cavan – part of the Cavan/Monaghan constituency where Kieran was elected as TD. The long, ninety-mile journey included some stopovers in Armagh, Monaghan town and Clones, with the group arriving at the Kieran Doherty TD monument in Ballyconnell at 2.15pm.
This year the cyclists had taken on an additional challenge and on Sunday morning they began the seventy-seven mile journey to Ballina, County Mayo, to pay tribute at the graves of hunger strikers Michael Gaughan and Frank Stagg, both of whom died in English prisons. At Leigue Cemetery, Ballina, the group were met by Mayo Sinn Féin activists, members of the Stagg family, including George (Frank's brother, who is featured in the updated book, Hunger Strike – Reflections) and his son Proinsias (named after Frank) and Senator Rose Conway Walsh.
George Stagg said: "It was quite emotional to meet Kieran's brother Terry. We discussed what happened in those prisons all those years ago, but for the families it was only yesterday. It's a wonderful thing what this club is doing and it just shows the different and imaginative ways that our patriot dead can be commemorated and people can pay their respects by such dedicated visits to places like this."
Earlier, last May, the same group cycled around all the 1981 hunger strikers' graves, over two days of cycling, beginning in Belfast, visiting Bellaghy, Dungiven, Derry, Galbally and Camlough.
And, in May 2018, the cyclists, over three days, cycled to Cork to visit the grave of Terence MacSwiney.
Former blanket men and personal friends of Kieran Doherty, Jas Mc Cann and Sean Lennon, have participated in all of the Club's journeys to date.
"This has been a fantastic experience," said Jas McCann, "and to share this with members of Kieran's family and other republican activists has been a truly memorable and fitting way to remember Kieran's life."
Kieran's brother, Terry Doherty, who has been involved in leading much of the intensive training sessions over the past number of months said: "Once again I would like to thank all the cyclists who have been pumping in the miles in all weathers in preparation for this weekend.
"It is really nice that we are not only remembering my brother Kieran but this year we are paying tribute to, and honouring, Mayo republicans Michael Gaughan and Frank Stagg who also gave their lives for Ireland as political prisoners but in English prisons in 1974 and in 1976, respectively."