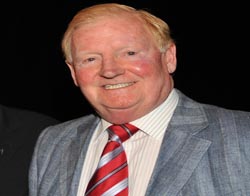 The man who acted as an intermediary between the British government and representatives of the leadership of the Republican Movement during the 1981 hunger strike has spoken about the negotiating process he was involved in.
Derry businessman Brendan Duddy, who also spoke at a meeting last weekend organised by the Republican Network for Unity, has stated that "Nothing was ever communicated on paper to the IRA." He also said that all that was on offer to the prisoners was already published in the book, 'Ten Men Dead', and that he agrees with the former leader of the women in Armagh during the 1981 protest who in a letter to the 'Irish News' had stated that there was an offer but no deal.
"Sile Darragh got it spot on," he said.
Brendan Duddy was interviewed by Brian Rowan and the feature is available in full at the website of the 'Belfast Telegraph'.