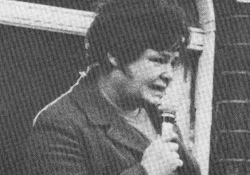 The death has occurred in Belfast of veteran republican Marie Moore, a founding member of the Bobby Sands Trust. Marie's remarkable life story [see below] was recorded in the book of Hunger Strike essays published in 2006. Marie was buried in St Joseph's cemetery, Hannahstown, last Tuesday, 24th March, after Requiem Mass in St Paul's, alongside her husband Jack who predeceased her by twenty years. Former PoW, and member of the Bobby Sands Trust, Sinn Fein MLA, Carál Ní Chuilín chaired the ceremony at the cemetery. The oration was given by Sinn Fein President Gerry Adams [see 'An Phoblacht'].
Deepest condolences were expressed to Marie's children, Brian, Eileen and Kieran, her grandchildren and great grandchildren on behalf of the Trust, on the death of Marie (an bhean uasal, to the prisoners), our friend, comrade, veteran republican, ex-Armagh prisoner, founder member of the Bobby Sands Trust and Sinn Fein Councillor.
Smuggling the Comms
By Marie Moore
When I was a child, like everyone else I had no idea of what lay before. The community I was born into had suffered a grievous wrong through the crime of partition and was kept in place through sectarian discrimination and fear. Most nationalist people kept their heads down, suffered in silence and voted for political parties which had no power or influence. But a small minority within the nationalist community, the republicans, refused to be humiliated and passed down the torch of resistance from generation to generation. So, within the nationalist tradition there were these two cultures, the political and the physical force, neither of which was strong enough to bring about change.
One thing that was constant was that there were always arrests being made and there were always people in prison for their views or activism.
My introduction to republicanism was a shocking experience. It was Easter 1942. I was four years of age and was with my Granny and Granda, Mary and Frank O'Brien. We were in the living room of their Cawnpore Street home in the Clonard area of Belfast when suddenly a group of men ran into the kitchen.
There was a lot of shouting and commotion. Then suddenly there were these loud bangs, more screams and shouting. Shots were being fired all around us and I was terrified. My granda grabbed me in his arms. Then there was more shooting, more shouting. Men ran past us and ran up my granny's stairs. They were carrying someone who had been shot. He was covered in blood. Another man was lying on the ground in my granny's kitchen.
He had also been shot.
Other men wearing black uniforms and carrying guns – RUC men – were all around us.
The two men who were shot in my granny's house were Tom Williams and an RUC Constable Patrick Murphy.  Tom was badly injured but survived only to be hanged later for the killing of the RUC man.  Joe Cahill was with Tom Williams and the others.
An RUC man grabbed me and my grandfather. He put a gun to our heads. He was screaming at the men upstairs to come down or he would shoot us. It seemed like for ever and then we were thrown out into the street. My granny and granda were arrested and I was taken to a neighbour's house.
Looking back on those years I'm not surprised I became a republican activist. My grandparents were republicans. I knew as a girl growing up about discrimination by unionists. I knew that my mother and grandmother were denied their right to vote and that more than likely so would I. My father and grandfather could vote because they were house holders. Married and single women generally were not. I also experienced discrimination in employment. Despite being qualified I was bypassed for jobs with the old Belfast Housing Corporation and the Electricity Office.
In 1968 I joined the Belfast branch of the Civil Rights Association and went to as many meetings and demonstrations as possible. I was married in 1969 and was living beside Bombay Street. On the afternoon of the 15th August 1969, the day after the Falls had been attacked and burned by the RUC, B-Specials and loyalist paramilitaries, the priests in Clonard Monastery rang the bells calling on the people of the area to come to their aid and protect the Monastery after the British army had ran away. Loyalists from the Shankill were trying to raze it to the ground. The people flocked in their hundreds, even though they were defenceless, apart from a few shotguns and air rifles. I helped evacuate people from their burning homes, carried screaming children and family possessions from blazing houses. Fifteen-year-old Gerard McAuley, who was in Na Fianna Eireann, was shot dead defending the people.
After a short time it was obvious that the British army had not come in to protect us but to defend unionist rule and 'the union' with Britain. They quickly turned their guns on us for continuing to demand our rights.
I was shot by a British army raiding party in the early 1970s. I was with a group of women and teenage girls out on what we called 'hen patrol', shadowing what was then called 'duck patrols' by the British Army. We were banging bin lids and creating as much din as possible, alerting local people to their presence. They opened fire on us and I was hit on the foot.
The strange thing about me being shot is that it happened in Cawnpore Street. And what is even stranger is that the woman's house where I was taken to be given first aid was the same woman, Eileen McNally, who looked after me when my granny and granda were arrested some thirty years previously.
At the time I was shot I was a married mother with two children. I was first taken to Belfast's Mater Hospital but then quickly moved from there and brought to Monaghan Hospital where I was kept for six weeks. The British army had issued a statement saying that they had shot an IRA gunman dressed in women's clothes. This was their excuse for opening fire on women and children. I'm sure I would have been arrested and charged had I not been moved. I was maimed for life by the shooting and I have been left with a slight limp.
The next twenty years was an epic story of repression and resistance, suffering and defiance. The Brits introduced internment and tortured those they had arrested. They murdered those on Bloody Sunday who were on an anti-internment march.
When internment was coming to an end the Brits were building the H-Blocks for the next phase of their assault on the struggle – the criminalization of Irish republicanism and resistance to British rule.
In the early 1970s I had joined and become prominent in Sinn Fein. We were targets of loyalists and targets of the RUC. In 1978 the entire officer board of Belfast Sinn Fein and the editorial staff of Republican News were arrested and charged with conspiracy to pervert the course of public justice: that is, 'Treason', which amazingly was still a capital offence on the statute books!  I was among those charged and ended up in Armagh Jail where the women were on protest against the withdrawal of political status. The charges were dropped in early 1979.
I was, by then, also a member of the Relatives Action Committee. I was never at home, I was away every weekend marching, but Jack, my husband, was very supportive and he and my mother looked after the kids.
These were awful days. Hundreds of prisoners were on the blanket protest in the H-Blocks and dozens of women in Armagh Jail were also held in appalling conditions. The prison authorities were obsessed about isolating the prisoners and preventing information emerging about their living conditions.
I had visited Kieran Nugent when he started the blanket protest. Before the hunger strikes I also visited Bobby Sands, Raymond McCreesh and Tom McElwee. Their families were very generous. They could only see their son or daughter once a month but gave their visits to us.
Later, I took over from Tom Hartley at the H-Block Information Centre, organizing the communication system with the protesting prisoners. We needed information out of the prison and the prisoners needed information from the leadership of the Republican Movement on the outside. It was all done through 'comms', tiny messages written usually on cigarette paper and water-proofed by being wrapped in clingfilm (which had to be smuggled in as well).
The warders were aware that messages were being smuggled in and out through visits and were on constant alert. It was a nerve-wracking experience. There was a very brave group of women based in Belfast attached to Sinn Fein's PoW Department, among them, Mary Hughes (now deceased), Sile McVeigh, Maggie McCullough and Andree Leonard. They were the best smugglers I ever came across. For almost two years they brought messages in and out on a daily basis. Sometimes several times a day.
It was grueling for them. They were rigorously searched before meeting the prisoner. They were under constant scrutiny from warders while on the visit and very often they were searched after the visit. On top of that they had to deal with the emotion of the actual visit itself. I don't recall them losing one 'comm'.
They also smuggled in tobacco, pens, cameras, little crystal-set radios which fitted inside plastic tablet cases, miniaturized copies of Republican News, and other things on request from the prisoners.
I think this was the most difficult period in my life. Despite the effort we put into supporting the prisoners we all felt powerless when they started dying on the second hunger strike.
The hunger strike and the deaths of the ten men certainly changed the politics of the struggle and at a personal level it changed people like me who were close to events.
It opened up an electoral battle front and I became part of this new front when I was elected to Belfast City Council, then was elected Deputy Mayor of Belfast. I was the first Sinn Fein woman Deputy Mayor and the first republican to hold an official position on Belfast City Council in its history. And, of course, in recent times Sinn Fein has become the main party representing the nationalist people in the North. All from the election of Bobby Sands as MP for Fermanagh and South Tyrone in April 1981.
I am proud to have been close to the blanket men, the women in Armagh, the hunger strikers.
We lost ten brave men in '81. But the British lost the argument, and ultimately lost the conquest.