Today marks the fortieth anniversary of the death of Francis Hughes after fifty nine days on hunger strike. Frank, from Bellaghy, South Derry, joined Bobby Sands on hunger strike on 15th March, 1981.
Here is a link to a tribute to Francis Hughes, including contributions from his brother Oliver and his comrade Ian Milne.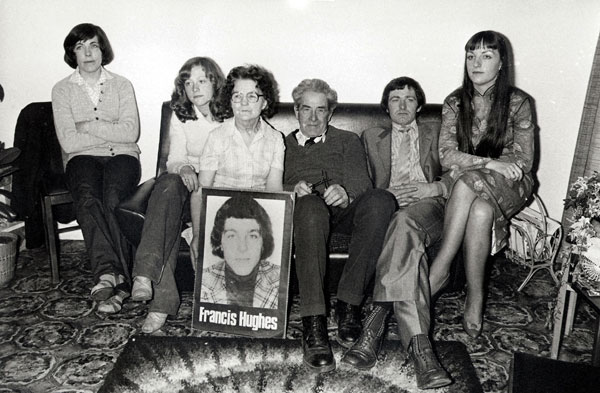 Frank was a man of action. His simple reply to the republican leadership on 30 January, 1981, speaks volumes:
'Comrade, in answer to Army Council comm of 25.1.81 regarding my position on the hunger strike my decision remains the same — Yes — I am prepared to see it through.'
In his bio he wrote:
'13.2.81.
'Name: Francis James Sean Hughes, Scribe Road, Tamladuff, Bellaghy, Co. Derry. D.O.B. 28.2.56. Schools: St. Mary's Primary, Bellaghy, and St. Mary's Secondary, Clady, Portglenone. Employment: Painter and Decorator apprenticeship. Doctor: Dr. Glancy, Castledawson Road, Bellaghy. Medical: Gunshot wound to left leg, thigh bone one and a half inches short. Arrested 17.3.78. Spent ten months in Musgrave Park Hospital. Then taken to Castlereagh and charged after six days…
'Sentenced 18.2.80. I'm not sure of the exact number of years I got, but I got a rake of life sentences plus a few other years here and there. Solicitor: Kevin Agnew, Maghera. He will assist you in any way he can concerning my case… My family support me and my actions and will give their assistance in any way possible. Ask for my brother Oliver. They'll be reluctant to talk over the phone. If I can be of any further assistance to you let me know and in the meantime, take care, God bless.'
Frank Hughes died on this day forty years ago. Fuair sé bás ar son saoirse na hÉireann
Here is a link to Christy Moore's tribute to the boy from Tamlaghtduff