Hugh Doherty is a former IRA POW who was sentenced to 30 years imprisonment after his and his comrades' arrest in London in 1975. Now a successful artist, samples of Hugh's works are currently being exhibited in the new Culturlann gallery on the Falls Road. In this feature, which appeared in the Irish News, Jim Gibney writes about the prisoner-turned-painter:
Hugh Doherty was 32-years-old when he lifted a paint brush to paint a landscape for the very first time. He was being held in the Special Secure Unit (SSU) in Parkhurst Prison in England. An SSU was a prison within a prison where the prisoner's every waking movement was monitored and scrutinised. The SSUs were designed to crush the prisoner's will.
Hugh Doherty's baptism as a landscape and seascape painter began in an SSU. It was the backdrop against which Mr Doherty's latent, and unknown to him, talent emerged.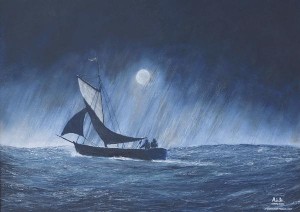 Hugh is well-known in republican circles. His brother Pat is the MP and MLA for West Tyrone. Hugh arrived on the public scene in very particular and dramatic circumstances in 1975 when he and a group of other republicans were besieged by London's police in a flat in Balcombe Street.Those arrested became known in the tabloid press as the 'Balcombe Street Gang'. At their trial the judge sentenced them to life in prison with a thirty-year recommendation.
In 1998 the British Home Secretary, not satisfied with the severity of this sentence, imposed his own, without due process, 'never to be released'.
As he left the governor's office in Whitemoor Prison after being informed of this decision, Hugh Doherty shrugged his shoulders and said, "Such is life". He and his comrades believed they would 'go home when the war was over.'
Less than a year later, as a result of the deal the British government made with Sinn Féin prior to the Good Friday Agreement, Hugh, Edward Butler, Harry Duggan and Joe O'Connell were back in Ireland, free men, at home with their families.
They spent nearly 24 years behind bars in English jails – the last year was spent in Portlaoise Prison in the south.
Hugh Doherty was born in the Gorbals in Glasgow into a Donegal Irish community of emigrants waiting to return home. And home for Mr. Doherty was Carrigart.
Back then his only interest in painting was to admire the work of great painters, especially Van Gogh, but his eyes were taken by the beauty of the Donegal land and seascapes, Mount Errigal, and the power of the sun as it shone over Sheephaven Bay.
He pays tribute to the man who was his first big influence and did so much to awaken his interest in painting. His name is Peter Leath, a renowned maritime and seascape painter who lives on the Isle of Wight.
Peter Leath supervised art classes in the prison every week and developed Hugh Doherty's skill. He believes everyone has a talent waiting to be revealed. It very often depends on unforeseen circumstances and encounters before that talent is realised.
Ireland is the primary subject for Hugh's paintings. He relied on his memory of the Donegal terrain and the postcards his brother Pat sent to him over a twenty-year period from Pat's travels around Ireland as he ploughed the republican furrow.
He saw Pat and his son Daniel for the first time in 20 years in 1995 on a special visit when he, Gerry Kelly MLA and Caoimhghín Ó Caoláin TD arrived to update republican prisoners on the IRA's decision the previous year to call a ceasefire.
Over the years Hugh has used oils, water colours and acrylics to portray his mindscape. In 1986 he ventured into abstract painting which he said allowed him to comment on political issues such as the Irish Famine (an Gorta Mór), the protests at Drumcree, the exclusion of Sinn Féin from talks at Stormont in the late 1990s and Barack Obama's election.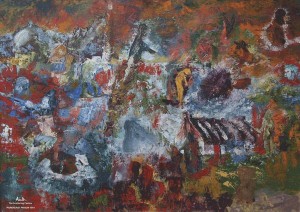 In 1990 a debate raged in the British House of Commons because a painting of Hugh's, which appeared in a public gallery in Birmingham, annoyed the local Tory MP – an example of the power of the paintbrush!
Hugh built a studio onto his family home at Carrigart where he paints most days. He currently has an exhibition in Belfast's Cultúrlann and regularly travels around Ireland exhibiting his works.
Of his decades in prison and as a painter he said, "I went in a republican and came out a republican and a painter. We are what we are." And Hugh is above all loyal to his beliefs and his flourishing craft. Hugh Doherty website here.