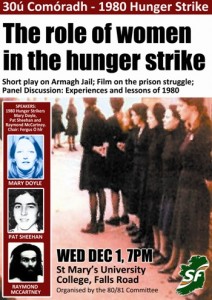 Events to commemorate the 30th anniversaries of the 1980 and 1981 hunger strikes continue next Wednesday in Belfast. On December 1st 1980 three women prisoners in Armagh Jail joined seven hunger strikers from the H-Blocks in an escalation of the protest demanding political status.
The three were Mary Doyle, Máiréad Farrell [later assassinated by the SAS in Gibraltar] and Margaret [Máiréad] Nugent.
In St Mary's University College, beginning at 7pm, there will be a short play, the showing of a film, followed by a panel discussion which will include Mary Doyle, Raymond McCartney [1980 hunger striker] and Pat Sheehan [1981 hunger striker, and recently selected as an Assembly member to replace Gerry Adams], chaired by Fergus Ó hir [formerly, National Smash H-Block/Armagh Committee].
"We are prepared to fast to death, if necessary, but our love for justice and our country will live forever" – Máiréad Farrell, Máiréad Nugent, Mary Doyle, Armagh Prison, 1st December, 1980