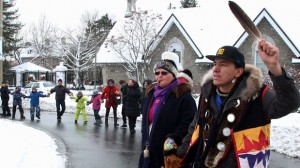 L A T E S T – On January 11th there will be a Global Day of Action for Idle No More. On twitter, the hashtag is #J11. There is also a Facebook page here with more information.
In Canada, Chief Theresa Spence is continuing her hunger strike and despite a lot of requests by opposition Members of Parliament, Prime Minister Harper still refuses to meet with her or other First Nations leaders to discuss treaty rights affected by Bill C-45 which was recently passed.
Two other First Nation elders, Emil Bell (72) and Raymond Robinson (51), both started hunger strikes in solidarity with Spence on December 12th. Emil Bell is of Cole Bay First Nation in Saskatchewan and Raymond Robinson is of Cross Lake First Nation in Manitoba.
There have been several rail line blockades set up as well in support of Spence and the Idle No More movement.
The Seton Lake Indian Band erected a blockade of a CN Rail mainline near Lillooet, BC starting Friday December 28th at approximately 3pm and ended it Sunday evening.
About three dozen Mohawks from Tyendinaga blocked the main rail line between Toronto and Montreal for several hours Sunday, December 30th.
The longest blockade of a rail line is at Sarnia, Ontario which has been going on since December 20th. The Aamjiwnaang First Nation and the Sarnia Chief of Police have been served with contempt of court, for failure to remove the blockade of CN Rail and are to appear in court tomorrow.
There have been several blockades of highways as well in various places across Canada to raise awareness of the issue.
The Canadian media – just as in Ireland during the early stages of the hunger strikes – hasn't given much coverage to Chief Spence or the Idle No More movement. News of the fast and solidarity actions comes mainly through social media such as Twitter and Facebook. There has been a lot of good support from the United States and there have been rallies in many cities there as well.