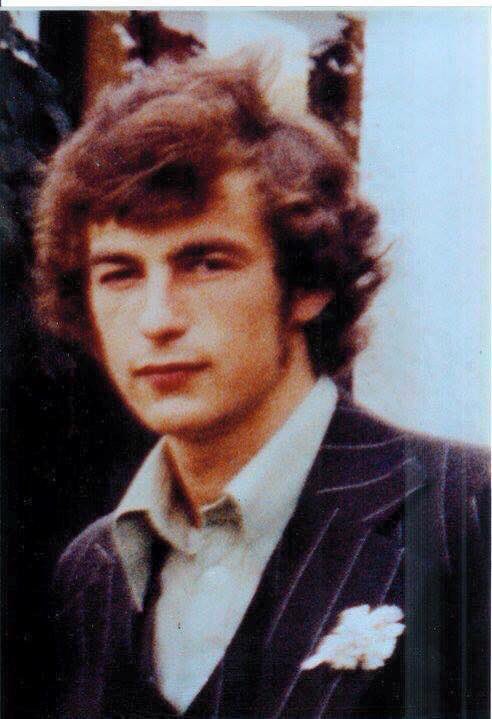 On Sunday, 7th August, the day before the 35th anniversary of the death of Thomas McElwee, people, some in period costume representing 1916, gathered in Bellaghy to pay their respects to the young 23-year-old who died on hunger strike after sixty two days. After a march through the town the commemoration was held just outside the gates of St Mary's graveyard where both Thomas and his cousin Francis Hughes are buried.
Excerpts from Padraig Pearse's oration at the funeral of O'Donovan Rossa were enacted by Sean Kerr which was followed by personal reminiscences from Thomas's friend and comrade, Colm Scullion, who was on active service with Thomas at the time of their arrest in October 1976.
"During the blanket protest," said Colm, "Tom embraced the Irish language and education programmes conducted by, among others, Bobby Sands and Tommy McKearney. He actively took part in all debates and saw the necessity of politics side by side with armed struggle.
"Thomas was also was known as the hard man of the wing. The screws called him 'Punchy McElwee'. He took no nonsense from them despite the vast odds. I remember the screws coming around with the dinner. One screw threw Thomas's plate on the urine-covered floor. Thomas said nothing then punched him as hard as he could and he was punished with being sent to the boards for a month.
"Thomas was also a very devout Catholic. He never missed the Rosary and always carried the prayer books sent in by his mother, Alice. He was very anti-sectarian and expressed a wish to work among the Protestant community and show them that we could share this island as one people without English interference.
"Thomas joined the hunger strike on Monday 7th June. He was kept in our wing for about three weeks. The morning he left was terrible. He came to our cell door, we wished each other good luck. The men all got to their doors to bid him farewell. He walked up the wing to the gates and shouted, 'All the best, Colm'.
"The screws then took him to the prison hospital in a van. We stood at our cell windows watching him wave out the window as we cheered and roared.
"That was the last time I saw 'Big Tom'."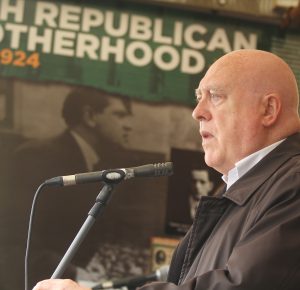 Recalling 1981
Danny Morrison, the former Sinn Féin Director of Publicity, was the last speaker. He had given the oration at Thomas's funeral in August 1981 and he recalled the hunger strike period. He said:
"In my experience the damage inflicted on us by the sectarian six-county state and the British occupation was compounded by partition and the Free Statism of the southern establishment. When RTE covered Bobby Sands going on hunger strike, or Thomas McElwee going on hunger strike what they covered was their Diplock court convictions.
"They never covered the men's political or moral convictions because that would have gone against the desire to criminalise our struggle which was much easier to do than confront the power of Britain and British intransigence.
"1981 was the longest year in my life – but what must it have been like for the families of comrades dying a slow death?
"I do believe 1981 was 'our 1916'. After 1981 all was changed utterly. After the Easter Rising, within a few weeks the British had executed the leaders, but here in the North the hunger strike deaths took place over a seven month period.
"In the middle of the hunger strike we thought a breakthrough was possible. We had been told that the British government was interested in settling it. I was allowed into the prison on Sunday 5th July to meet with the hunger strikers. I can still see those men around that table in the canteen of the hospital wing. On my left Kieran Doherty, then Kevin Lynch, then Thomas, Thomas McElwee, who by that stage had already completed 1,300 days in a H-Block cell on protest. Martin Hurson was too ill to attend. At the bottom of the table was Paddy Quinn. On the right was Laurence McKeown, then Micky Devine, then sitting beside me in a wheelchair was my old friend and comrade Joe McDonnell who would be dead within three days. They all spoke, including Tom who was adamant that their demands must be met.
"Just before the first hunger strike, in 1980, ended the British government was full of promises – that they would introduce an enlightened, progressive and liberal prison regime. But as soon as the hunger strike ended, and the pressure was off, the British reneged on their commitments, refused to budge and their bad faith triggered the second hunger strike.
"This experience of bad faith was what was foremost in the minds of the men around that table. They said they wanted to see what the British government was offering and they wanted it confirmed in a way that the British could not subsequently repudiate. The Irish Commission for Justice and Peace similarly asked the British to send in an official to explain what, if anything, was on offer.
"I left the hunger strikers to go to the doctor's office where I was in telephone contact with Gerry Adams on the outside. He was liaising with Martin McGuinness who was liaising with Brendan Duddy the British contact. It was no way to do business and was open to misrepresentation and distortion. But as I was waiting to see what the British would say, a deputy governor, John Pepper, burst into the office and ordered me out and I never saw the hunger strikers again. The ICJP six times called upon the British to send in a representative to meet the prisoners but they never replied.
"After Joe's death Michael Alison, the prisons minister, was asked to give the British position. He compared talking to hunger strikers as like talking to hijackers: 'you continued talking while you figured out a way to defeat them,' he said.
"And that was the policy that was to lead to the deaths of Martin Hurson, Kevin Lynch, Kieran Doherty, Tom McElwee and Micky Devine.
"I stood here 35 years ago and was honoured to give the oration at Tom's funeral just as I am honoured to be here today in the presence of his noble family.
"Back then the British army and the RUC occupied and took up positions on surrounding roads. They were protected by not one but by six helicopters. Benny, who was also in prison on the blanket, arrived just in time from the H-Blocks on a 10-hour parole. Tom's coffin was carried from the house by his sisters. At the end of the lane IRA Volunteers stepped forward and fired a volley of shots over his coffin.
"A piper played the H-Block song and many people quietly sang:
     I am a proud young Irishman,
     In Ulster's hills my life began,
     A happy boy through green fields ran
     And I kept God's and man's laws.
"Among the mourners was Dinny Gleeson, a veteran of the War of Independence who had been in a Flying Column and had fought the British army and the Black and Tans – a real connection with 1916 and our long struggle for freedom.
"Chairing the graveside ceremony was veteran republican John Davey, who had been interned in the 1950s, 1960s and again in the 1970s. Indeed, it was in Long Kesh Internment Camp that he and I became friends. John himself was later to die in violent circumstances when he was assassinated coming from Council business to his home in Gulladuff.
"I wish to repeat what I said that day 35 years ago. Thomas McElwee was invincible from beginning to end, in life as well as in death.
"His dying words remain powerful and indeed were extremely prescient and are even more relevant today. Thomas said: 'I bear no animosity, no ill-feeling towards anybody. I would like to live among the people… and promote peace and harmony among Catholics and Protestants and also with the British.'
"I have always found it remarkable that the oppressed are always more forgiving than their oppressors. It is very tempting to feel bitterness.
"The British were full of great spite and great cynicism. Their position was: 'We know we cannot defeat you. But we will make sure you die.'
"I say they were cynical because not long after the hunger strike they conceded the five demands. When I was imprisoned in the H-Blocks some years later – and I see men here today whom I was with – I and those comrades had political status, prison conditions won for us by Thomas and his comrades.
"But the hunger strike was bigger than that. It inspired a new generation who put manners on the British, brought thousands more into republicanism, empowered the people, and created a political momentum which is unstoppable, a political movement in Sinn Féin which will un-partition Ireland.
"So we draw courage and great inspiration from Thomas McElwee and his example. He towers over the people who hunted him, arrested him, charged him, judged him, convicted him, stripped him, beat him, and the system that killed him.
"He towered over every one of them, and he was only twenty three.
"What a man.
"What a soldier.
"What a hero.
"What a son.
What a brother.
"Thomas McElwee."
Sixty years ago next Sunday, 9th March, Bobby Sands was born in Rathcoole on the outskirts of North Belfast. Bobby died on hunger strike on 5th May, 1981, at the age of 27, followed by nine more comrades: Francis Hughes, Raymond McCreesh, Patsy O'Hara, Joe McDonnell, Martin Hurson, Kevin Lynch, Kieran Doherty TD, Thomas McElwee and Mickey Devine.
Around the world the name of Bobby Sands has become synonymous with the struggle of the weak against the strong, the oppressed against the oppressor, and his and his comrades' example have been taken up by many other political prisoners from India to Palestine to Kurdistan.
Today's Guardian newspaper publishes in its Reel History series an analysis of Steve McQueen's breakthrough film, Hunger, loosely based on Bobby Sands' last days. That films numerous awards include: the prestigious Caméra d'Or at Cannes in 2008; Gucci Group Award – Mostra del Cinema di Venezia 2008; Discovery Award – Toronto International Film Festival 2008; the Sydney Film Prize; best picture from the Evening Standard British Film Awards, receiving two BAFTA nominations, winning one; and winning six out of eight awards at the 2009 Irish Film and Television Awards.
At the time of Nelson Mandela's death, Russia Today, compared the ANC leader with Bobby Sands. Last October a translation of Bobby Sands' diary won the Italian Cultural Association LETTERATURE DAL FRONTE (Cassino) prize.
And so it continues – the memory of our comrade, who would have turned sixty years of age this week, his and his comrades' sacrifices and influence reverberate to this very day!
Here is a link to a tribute to Bobby Sands by his comrade, former blanket man Colm Scullion, which was recorded two years ago.
This weekend, Sunday the 5th May, is the thirty-second anniversary of the death on hunger strike of Bobby Sands, IRA Volunteer, blanket man, MP, whose life, whose writings, are an inspiration to thousands upon thousands of oppressed people and political prisoners across the world. Last year the Trust posted a video of former prisoner Colm Scullion who reflected upon his friend and comrade as he visited Bobby's grave in Milltown Cemetery. It was a poignant and moving film and celebratory of the inspiration a great man instilled in friends and comrades.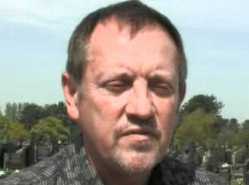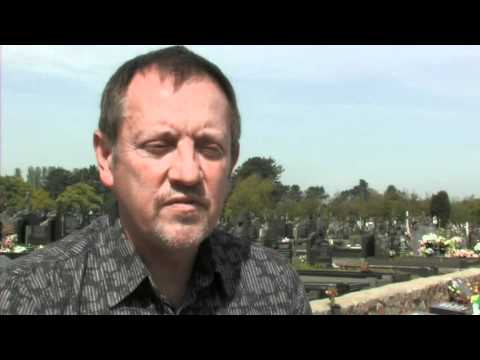 On this the 31, anniversary of the death on hunger strike of Bobby Sands, his friend and comrade, former IRA prisoner Colm Scullion from South Derry, recalls first meeting Bobby while on remand in Crumlin Road Jail. Colm had been injured in a premature explosion at the time of his arrest in October 1976 along with his fellow comrade Tom McElwee, the ninth republican to die on the hunger strike, on 8th August 1981. Colm was later sentenced, and in the H-Blocks met up with Bobby again and there in H-3, during some of the darkest days of the protest, they shared a cell. Here, the quiet South Derry republican speaks about Bobby Sands' humour, his humanity and his concern for especially the younger prisoners as the blanket men entered their fifth year of beatings on the protest for political status.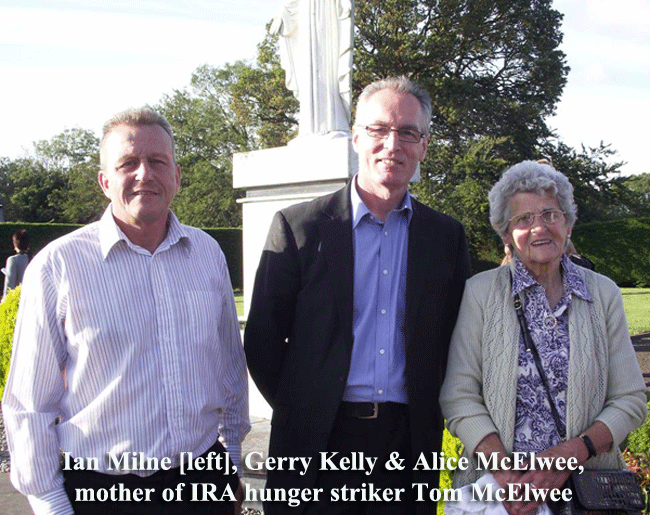 Last Sunday a commemoration was held in Bellaghy in honour of Tom McElwee, the ninth republican prisoner to die during the 1981 hunger strike. The parade assembled at McElwee's home place in Tamlaghduff and was led by a group of ex-POWs carrying photographs of the hunger strikers, followed by local bands and a band from County Donegal. The parade went through Bellaghy village, and then gathered at St Mary's Cemetery where Tom and his cousin Frank Hughes are buried. Local Sinn Féin Councillor Caoimhe Scullion chaired the commemoration. Comrades of the two hunger strikes were prominent in the ceremony: Ian Milne laying a wreath on behalf of the Republican Movement and Sean McPeake on behalf of the ex-POWs. Deputy First Minister Martin McGuinness was in attendance and former IRA escapee Gerry Kelly MLA gave the main oration. Colm Scullion, another close comrade of Frank and Tom, gave a personal tribute, which we publish below.
"Friends, during the week Ian Milne asked me if I could put together a few words on Thomas McElwee. He said, 'Colm, if you can, include the personal side of Thomas, which perhaps most people won't know but would love to hear.'
"It made me think of not only the sad times in the H-Blocks, but also the laughs and happier times of normal teenagers in a very abnormal society.
"I suppose our first introduction to protest or resistance was the civil rights protests in Bellaghy. I remember attending, like many others, with our parents. Thomas and Benedict would also be there listening to, among others, Bernadette Devlin.
"The protesting would continue, this time it was the anti-internment demonstrations. Benedict had broken his ankle and attended on crutches aided by his big brother. On one occasion a car drove through the protest and headed up Castle Street chased by Thomas! And, fortunately for the driver, he got away!
"A somewhat normal life did exist during the turmoil. We like other youths of our age were frequenters of the local dance scene in Moneyglass, Ardboe and Dungiven. Cars weren't in abundance but Thomas was always there to offer a lift.
"As a Volunteer in the IRA Thomas never backed away from any operation no matter the risk. On one occasion when a car couldn't be obtained Thomas used his own, the important thing to him was get the job done.
"It was during this time that South Derry, under the command of Dominic, Francis and Ian, led the fight against the British forces. Some would claim that the area was virtually a no-go area.
"On the morning of October 9th 1976 we were part of a bombing team attacking commercial targets in Ballymena. Thomas, Benedict, Sean Mcpeake and myself had reached our destination. In the car we had four bombs. Myself and Sean were seated in the back of the car while Benny and Thomas were in the front. I remember a blinding flash and explosion then a panic to get out of the car. Outside the car Sean was lying on the ground covered in blood, Thomas was standing covering his face with his hands, blinded. I had tried to run away and it was only then that I saw the extent of my injuries. I collapsed on the ground and woke up the following day in hospital.
"We spent over two months in hospital. Although we were in different rooms in the security ward of Musgrave Park we contacted each other by writing notes. I remember Thomas sending me a homemade birthday card entilted, 'A joiners mishap' and on it was a drawing of me scratching my head and looking at a door hung upside down.
No matter how bad or serious the situation Thomas would always see the lighter side even at his own expense. On remand in the canteen it wasn't unusual for Tom to put his artificial eye in someone's cup of water, anything for a laugh.
"During the blanket protest he embraced the Irish language and education programmes conducted by, among others, Bobby Sands and Tommy McKearney. He actively took part in all debates and saw the necessity of politics side by side with armed struggle.
"Thomas was also was known as the hard man of the wing. The screws called him 'Punchy McElwee'. He took no nonsense from them despite the vast odds. I remember the screws coming around with the dinner. One screw threw Thomas's plate on the urine-covered floor. Thomas said nothing then punched him as hard as he could and he was punished with being sent to the boards for a month.
"One Sunday while coming from Mass the screws were sticking their fingers in our mouths in a so-called search. Bobby and I had reached our cell and Bobby shouted out to the men what was happening in case someone was carrying a note or tobacco. We watched the men come up the wing through a small space on the door. Thomas approached the screw hands raised for the search, as soon as the screw attempted to search his mouth Tom punched him in the face about half a dozen times. The screw dropped to the ground screaming for help. Tom was marched to the boards again.
"Thomas was also a very devout Catholic. He never missed the rosary and always carried the prayer books sent in by his mother, Alice. He was very anti-sectarian and expressed a wish to work among the Protestant community and show them that we could share this island as one people without English interference.
"Thomas was kept in our wing for about three weeks on hunger strike. The morning he left was terrible. He came to our cell door, we wished each other good luck. The men all got to their doors to bid him farewell. He walked up the wing to the gates and shouted, 'All the best, Colm'.
"The screws then took him to the prison hospital in a van. We stood at our cell windows watching him wave out the window as we cheered and roared.
"That was the last time we saw Big Tom."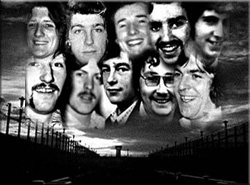 A former blanketman from West Belfast, Seamus Kearney, has come up with a novel idea for a reunion of all those prisoners who took part in the H-Blocks and Armagh Jail protests and has taken it upon himself to fund and organise a reunion.
"Thirty years have passed since the hunger strikes and the horrors of the H-Blocks and Armagh," said Seamus. "This year there proudly have been commemorations held nationally and locally, exhibitions, debates and discussions. But I believe there is room and merit in organising another major event – a reunion of everyone who was involved regardless of which organisation they subscribed to or supported or were members of. Something around which we can unite and reminisce to honour our fallen comrades.
"I have been in touch with a variety of friends and comrades – such as Colm Scullion (Bellaghy), Freddie Toal (Armagh), Tony Millar (Derry) and former hunger striker Laurence McKeown – who are supportive of this initiative and so I am sending out a general invitation.
"My plan is to be all-inclusive and at the event I will just say a few words about the historic role we played in the struggle. I hope this unique reunion will be a time for reflection and an opportunity to meet former comrades in the same spirit we shared many years ago.
"Given how many former prisoners have since died this will probably be the first and only opportunity for us to come together.
"And to uplift us a little, on the night we shall finish with a disco of all the pop music we never got to dance to when we were young in the 1970s and 1980s!"
Admission will be confined to former blanketmen /Armagh women and their families. The reunion will be held in the Devenish Arms, Finaghy Road North, Belfast on Saturday 8th October, beginning at 7pm sharip. Tickets are £7 each with all profit to be donated to a cancer charity.
For further information contact Colm Scullion – colm519@btinternet.com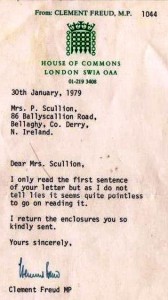 The death occurred in London last week of Clement Freud, the former Northern Ireland Liberal Party spokesperson (and grandson of psychoanalyst Sigmund Freud) who once visited the H-Blocks either during the blanket protest or hunger strike – former prisoners are not quite sure.
What they are sure about is that he showed no sympathy to their plight. Indeed, this can be gleaned from a letter he wrote to the mother of one blanket man, Colm Scullion from Bellaghy, from where hunger strikers Francis Hughes and Thomas McElwee both hailed.
As part of a concerted campaign in the late 1970s and early 1980s prisoners' relatives wrote to personalities and political figures across the world describing the beatings that were taking place and the horrific conditions in the H-Blocks. Mrs Scullion wrote about what her son and his comrades were going through. In his reply to Mrs Scullion, Clement Freud wrote: "I only read the first sentence of your letter but as I do not tell lies it seems quite pointless to go on reading it."
His reply was dismissive and effectively contemptuous.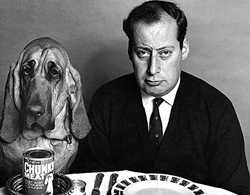 Many of the prisoners would have been off a generation that remembered Freud's first claim to fame in his idiosyncratic pet food commercials in the 1960s with his dog Henry – feeding him Chunky Meat – before his political career began in 1973 – at a time when men and women were interned without charge or trial in Long Kesh and Armagh Prison.
Interestingly, although Freud made no public protest about conditions in the H-Blocks, a writer to the website of the whistle-blower and former diplomat, Craig Murray, wrote last week: "My third memory is of his arriving just before a [Liberal Party] meeting and – without the usual pleasantries – blurting out to me, 'Hello, Gerard. I've just spent a fact-finding day at the Maze Prison and I'm in a state of complete shock. It's absolutely horrific. The prisoners – both Loyalist and Republican- are all sane. It's the guards who are mad."
Perhaps this was a Freudian slip?
During the Second World War Freud joined the Royal Ulster Rifles and acted as an aide to Field Marshal Montgomery. According to Wikepedia he worked at the Nuremburg Trials and later married June Flewett (the inspiration for Lucy Pevensie in C. S. Lewis's children's series the Chronicles of Narnia).
Clement Freud's brother, the artist Lucien Freud, refused to speak to Clement for over fifty years. In an interview with The Sunday Telegraph he said: "I was offered a knighthood, but turned it down. My younger brother has one of those. That's all that needs to be said on the matter."
Lucien went on: "Why on earth would I want to speak to him or see him again? Do you know, Clement put it about years ago that I was illegitimate, which is a bit odd as I was the middle child."
Died August 8th, 1981
Sincere, easy-going and full of fun
The tenth republican to join the hunger strike was twenty-three-year-old IRA Volunteer Thomas McElwee, from Bellaghy in South Derry. He had been imprisoned since December 1976, following a premature explosion in which he lost an eye.
He was a first cousin of Francis Hughes, who died after fifty-nine days on hunger strike, on May 12th.
One of the most tragic and saddening aspects of the hunger strike was the close relationships between some of the hunger strikers.
Joe McDonnell following his friend and comrade Bobby Sands on hunger strike and then into death, both having been captured on the same IRA operation in 1976.
Elsewhere, similar close ties, parallels, between one hunger striker and another: the same schools; the same streets; the same experiences of repression and discrimination.
And for those families, relatives and friends most acutely conscious of the parallels there is of course an even more intense personal sadness than for most, in the bitter tragedy of the hunger strike.
But of all those close relationships, none was surely as poignant as that between Thomas McElwee and his cousin, Francis Hughes: two dedicated republicans from the small South Derry village of Bellaghy, their family homes less than half-a-mile apart in the townland of Tamlaghtduff, who were close friends in their boyhood years and who later fought side by side in the towns and fields of South Derry for the freedom of their country.
It came then as no surprise to those who knew them when Thomas and Francis stood side by side again in the H-Blocks (along with Thomas' younger brother, Benedict) in taking part in the thirty-strong four-day fast at the end of the original seven-man hunger strike last December.
And when the deaths of Bobby Sands and Francis Hughes, on the subsequent hunger strike, only months later, failed to break the Brits intransigence, the McElwee family were already certain that either Thomas or Benedict, both of whom had volunteered, would soon be joining the hunger strike as well.
QUALITIES
What are the qualities that make a twenty-three-year-old South Derry man ready to die a painful death on hunger strike, in defence of his political principles and to end, for himself and for his comrades, the horrors of the H-Blocks in which he had already spent almost four years?
The story of Thomas McElwee is not of a uniquely courageous, or uniquely principled young man, any more than were any of the hunger strikers unique in some way.
But it is the story of a fairly typical young Derryman, kind and good-natured, full of life, and with a craze for cars and stock-car racing who is also filled with a love of his country and its way of life, who (like many others) had watched that country overrun by foreign and hostile troops, torn by sectarianism and discrimination, and who had spent over half of his young life striving to achieve the liberation of his country.
Within those few years he had become part of a tradition of the resistance of ordinary Irish people, that will never be criminalised.
CHILDREN
Thomas McElwee, the sixth of twelve children, was born on November 30th, 1957, into the small, whitewashed home built by his father, along the Tamlaghtduff Road in the parish of Bellaghy.
His father, Jim (aged 65), a retired builder, has lived in Tamlaghtduff all his life, coming from a family of farmers which settled in the area at the turn of the century. One of his sisters, Margaret, married into the Hughes family, and is the mother of the late Francis Hughes. Thomas' mother, Alice (aged 56), lived in Philadelphia until she was seven years old, her family having moved there from County Derry but later returning, and she has lived in Bellaghy for most of her life.
Jim and Alice married in 1950 and had twelve children, the oldest thirty, the youngest fourteen. They are: Kathleen, the eldest; Mary; Bernadette; Annie; Enda; Thomas; Benedict; Joseph; Nora; Pauline; Majella; and the youngest James. Even within the Irish countryside where strong family bonds are the rule, the McElwee family are considered to be particularly close and considerate to one another, and there are strong ties too between them and the Hughes family.
As children, Thomas and Benedict and Francis Hughes, along with other neighbours' children, used to walk together each day to the bottom of the Tamlaghtduff road to catch the bus to school, returning home again each evening. They went to St. Mary's primary in Bellaghy, and then to Clady intermediate, three miles away.
Thomas got on pretty well at school. His favourite subjects were English and Maths, and he was also good at Geography and History.
At home he was quiet, very good natured and sincere, and particularly good towards his mother, helping out around the house and with jobs like cutting the hedge and putting up fencing.
He was also, however, very much an outdoor person, and although more serious than Benedict (who would usually have started off the devilment the pair got involved in), he was full of fun, with a strong sense of humour and adventure.
One of the pranks they sometimes got up to along with other local lads, earning them the temporary wrath of neighbours, was climbing on to the roof of a house, blocking the chimney, and then watching as the smoke began to appear in the kitchens. "They weren't too popular when that happened", remembers one of their sisters, laughing.
NEIGHBOURS
But frequently too, Thomas was out-at week-ends and during school holidays – helping neighbours, including Protestant farmers, with their crops and machinery. He also used to go to work, picking gooseberries, at the monastery in Portglenone, staying there for maybe ten days at a time, during school holidays.
He had always been a determined person, arguing his point of view with his sisters and brothers, and if he wanted something, often a present for a member of his family, he would work hard to earn enough for it.
From the time he was eleven Thomas had an intense interest in working with cars and all types of machinery. On one occasion his mother brought a lawn mower which Thomas immediately dismantled, to see how it worked. When he reassembled it, it worked, but perhaps not just quite as well as before!
As he grew older, his fascination for engines grew stronger. He got his driving license as soon as he was old enough, and got his own car. He used to travel all over the place to watch stock-car racing, particularly at Aghadowey near Coleraine, in North Derry, and once he even got his own stock-car for a while.
At weekends he used to go to local dances in neighbouring towns and villages such as Ardboe and Clady. Usually, if it was ceilidh dancing, he had to be dragged along, but he enjoyed it once he was there.
REPUBLICAN
Yet, though full of life, there was a serious, reflective side to Thomas too.
He enjoyed playing records, often of traditional music, sometimes of republican ballads, at a time when the 'troubles' had barely begun. Even before 1969, the McElwees, including Thomas, would sometimes go to folk concerts in the village where many of the ballads recalled the tradition of resistance to British mis-rule.
Given that background and Thomas' personal qualities of courage and concern for his neighbours it was not surprising that he joined na Fianna Eireann when he was only fourteen, and subsequently joined the independent unit led by his cousin, Francis Hughes, which concentrated on defence of the local area and ambushes of British forces, before it was recruited in its entirety, after a period of time, into the IRA.
The following few years, before Thomas' capture in October '76, were active ones in the South Derry area with a succession of successful bomb blitzes of the commercial centres of towns like Magherafelt, Bellaghy, Castledawson, and Maghera, and a high level of ambushes and booby-traps which made the British forces reluctant to wander into the country lanes surrounding Bellaghy.
Thomas had a reputation of a dedicated and principled republican who knew what he was about, and knew moreover what he was fighting to ultimately achieve. He was particularly interested in local republican history and knew what had happened in Bellaghy and the surrounding areas over the past fifty years.
COLLEGE
Because of his discretion as a republican, and, doubtless, good luck as well, Thomas – unlike Francis Hughes – was not forced to go 'on the run' and continued to live at home.
After leaving school he had gone to Magherafelt technical college for a while, but later changed his mind and went to Ballymena training centre to begin an apprenticeship as a motor mechanic. But harassment from loyalist workers there forced him to leave and he then went to work with a local mechanic.
Although not 'on the run' Thomas was still subject to the extreme harassment at the hands of the Brits and the RUC that began to be felt in the area in the mid-seventies, even before the IRA's military campaign in the South Derry countryside, led by Francis Hughes, began to bite deep against the occupation
forces.
Like many young men, whenever Thomas went out he was liable to be stopped for lengthy periods of time along empty country roads, searched, maybe threatened, and abused.
RAIDS
There were also house raids
The McElwees' home was first raided in 1974, and Thomas was arrested under Section 10, for three days. That time it was over twenty-four hours later before the family learned that Thomas was being held in Ballykelly interrogation centre. On another occasion, both he and Benedict were arrested, and taken to Coleraine barracks, after a raid on their home.
The last time that the family would be together, however, was on the evening of October 8th, 1976. That evening the 'Stations' took place in the McElwees' home, a country tradition where Mass is said in one house in every townland during Lent, and during the month of October. That month in Tamlaghtduff it was taking place in the McElwees's and most of the neighbours were there as well. After the Mass there was a social evening, with food and music.
The following afternoon – Bernadette's birthday – at 1.30 p.m. on October 9th, Kathleen answered the phone, to be told that both their brothers Thomas and Benedict were in the Wavery hospital in Ballymena following a premature bomb explosion in a car in the town, shortly beforehand.
EXPLOSION
In the explosion, Thomas lost his right eye, while two other Bellaghy men were also injured: Colm Scullion, losing several toes and Sean McPeake, losing a leg.
Benedict McElwee, fortunately, suffered only from shock and superficial burns. Following the explosion, several other republicans in the town were arrested, later to be charged. These included Dolores O'Neill, from Portglenone, Thomas' girlfriend, and Ann Bateson, from Toomebridge, both of whom joined the protest in Armagh women's jail.
Thomas was transferred from the Ballymena hospital to the Royal Victoria Hospital in Belfast for emergency surgery to save his remaining eye. It was three weeks, however before he was able to see at all.
After six weeks he was transferred again, this time to the military wing of the Musgrave Park hospital, where Benedict also was. One week before Christmas, both brothers were charged and sent to Crumlin Road jail.
At their subsequent trial in September 1977, having spent over eight months on remand in Crumlin Road, Thomas was convicted, although he made no statements, not only of possession of explosives but also of the killing of a woman who accidentally died in a bomb attack elsewhere in Ballymena that day and with which other republicans were also charged.
That 'murder' conviction was, on appeal, reduced to manslaughter but a twenty-year sentence remained, and Thomas returned to the blanket protest he had joined immediately after his trial, in the H-Blocks of Long Kesh.
BRUTALITY
Their imprisonment was particularly harsh for the McElwee brothers who were frequently singled out for brutality by prison warders, outraged at the stubborn refusal of the two to accept any form of criminal status.
For a while they were able to keep in touch with each other as they were both in H6 Block, but they were split up and had hardly any opportunity to see each other at all for over two years.
Both Thomas and Benedict have been frequently mentioned in recent years in smuggled communications detailing beatings meted out to blanket men. On one occasion Thomas was put on the boards for fourteen days for refusing to call a prison warder 'sir'. In a letter smuggled out to his sister Mary, one time, Benedict wrote of the imprint of a warder's boot on his back and arms after a typical assault.
Throughout, though, the brutality and degradation they had to endure served only to deepen yet further, and harder, their resistance to criminalisation.
The McElwee family weren't surprised last December when they discovered that both Thomas and Benedict had joined the thirty-strong hunger strike, as Sean McKenna neared death, but even then the partial breakdown in communications between H Blocks at that critical time meant that the family learnt first that Benedict was going on hunger strike, only to be informed an hour and a half later that Thomas was going on the fast too.
HUNGER STRIKE
Speaking of the hunger strike and her sons and their comrades during Thomas' strike, Mrs. McElwee said: "I know Thomas and Benedict would be determined to stand up for their rights. In the Blocks one will stand for another. If this hunger strike isn't settled one way or another they'll all go the same way. There'll never be peace in this country."
Thomas McElwee died at 11.30 a.m. on Saturday, August 8th. Indicative of the callousness of the British government towards prisoners and their families alike neither had the comfort of each other's presence at that tragic moment. He died after 62 days of slow agonising hunger strike with no company other than prison warders – colleagues of those who had brutalised, degraded and tortured him for three-and-a-half years.