Marking Bobby's Anniversary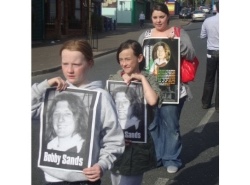 This Tuesday is the 34th anniversary of the death on hunger strike of Bobby Sands. Many events, some private, some public, will be held in nationalist areas to commemorate Bobby Sands and the sacrifices of his comrades, Francie, Raymond, Patsy, Joe, Martin, Kevin, Kieran, Thomas and Mickey over those grim seven months of 1981.
Tuesday, 5th May – White line pickets, Connolly House, West Belfast; Dairy Farm, Twinbrook; Sevastopol Street/Falls Road; Whiterock Road, West Belfast; and Antrim Road, North Belfast.