National Hunger Strike March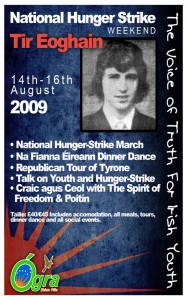 For the first time the National Hunger Strike march will be taking place in County Tyrone, remembering all the hunger strikers and in particular Tyrone's Martin Hurson who was the sixth prisoner to die, on the 13th July, 1981. The march will assemble in Galbally at 3.30pm and is part of a commemorative weekend that includes a Youth Weekend.
The weekend is open is open to young republicans aged 16 – 29, and will include the march, public talks, a republican tour, Na Fianna dinner dance, plaque unveiling to Na Fianna, and craic agus ceol with Poitín and 'The Spirit of Freedom'.
The cost of the weekend has been kept to an absolute minimum of £40/45E which needs to be paid no later than Friday 31st July. Hostel accommodation and all meals and entertainment (including dinner dance) are provided as part of the weekend cost, though people are asked to bring a sleeping bag. All those attending who are not marching as part of a band are asked to bring a white long sleeve shirt, black trousers and black shoes/boots (we will provide Green Beret and yellow neckerchief) as Ógra will be forming up as a large Na Fianna Éireann contingent for the National Hunger Strike March. For more information, contact Kerry McColgan on 07885569940, or email osfnational@yahoo.ie