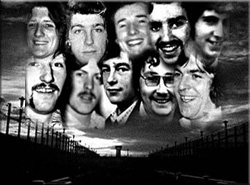 A former blanketman from West Belfast, Seamus Kearney, has come up with a novel idea for a reunion of all those prisoners who took part in the H-Blocks and Armagh Jail protests and has taken it upon himself to fund and organise a reunion.
"Thirty years have passed since the hunger strikes and the horrors of the H-Blocks and Armagh," said Seamus. "This year there proudly have been commemorations held nationally and locally, exhibitions, debates and discussions. But I believe there is room and merit in organising another major event – a reunion of everyone who was involved regardless of which organisation they subscribed to or supported or were members of. Something around which we can unite and reminisce to honour our fallen comrades.
"I have been in touch with a variety of friends and comrades – such as Colm Scullion (Bellaghy), Freddie Toal (Armagh), Tony Millar (Derry) and former hunger striker Laurence McKeown – who are supportive of this initiative and so I am sending out a general invitation.
"My plan is to be all-inclusive and at the event I will just say a few words about the historic role we played in the struggle. I hope this unique reunion will be a time for reflection and an opportunity to meet former comrades in the same spirit we shared many years ago.
"Given how many former prisoners have since died this will probably be the first and only opportunity for us to come together.
"And to uplift us a little, on the night we shall finish with a disco of all the pop music we never got to dance to when we were young in the 1970s and 1980s!"
Admission will be confined to former blanketmen /Armagh women and their families. The reunion will be held in the Devenish Arms, Finaghy Road North, Belfast on Saturday 8th October, beginning at 7pm sharip. Tickets are £7 each with all profit to be donated to a cancer charity.
For further information contact Colm Scullion – colm519@btinternet.com