This week Al Jazeera broadcasted a documentary on Palestinian prisoners held in Israeli prisons and the tactic of hunger striking. The film, which was made by Al Jazeera Arabic/Focus film is about the tactic of 'open' hunger strikes which have often been used in different parts of the world to draw attention to political and humanitarian causes.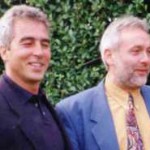 The film examines the strategic use of individual or group-initiated hunger strikes, what motivates hunger strikers, their survival under sustained pressure, and the mistreatment of detainees.
Interviewees include 1980s Irish hunger striker Pat Sheehan (pictured left) and IRA leader Brendan McFarlane (right).