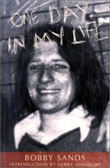 One Day in My Life is available online at the Sinn Féin Bookshop.
Introduction by Gerry Adams
Bobby Sands was 27 years old when he died. He spent almost nine years of his life in prison because of his Irish republican activities. He died, in prison, on 5 May 1981, on the sixty-sixth day of his hunger strike at Long Kesh Prison, outside Belfast. This book documents a day in the life of Bobby Sands. It is a tale of human bravery, endurance and courage against a backdrop of suffering, terror and harassment.
It will live on as a constant reminder of events that should never have happened – and hopefully will never happen again.
You can find many items relating to Bobby Sands and the Hunger Strikes available online at the Sinn Féin Bookshop, 58 Parnell Square, Dublin 1, Ireland. Tel. 00 353 18148542. Email: sales@sinnfeinbookshop.com
Republican Merchandising Belfast Ltd.,
52/53 Falls Road, Belfast, BT12 4PD, Ireland. Tel [028] 90243371
Mercier Press Ltd., Unit 3, Oak House, Bessboro Rd, Blackrock, Cork. Phone 00353214614700. email – info@mercierpress.ie