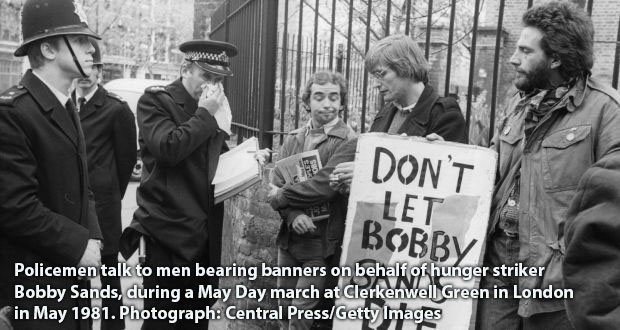 The Irish Times this week has quoted from newly released British government papers relating to the 1981 hunger strike which includes an important interview given by Sir John Blelloch to author/historian Padraig O'Malley five years after the deaths of ten Irish republicans in the H-Blocks of Long Kesh.
Blelloch, the deputy under-secretary at the Ministry of Defence (in reality, a senior MI5 officer), had been the key advisor to Prisons Minister Michael Allison during the hunger strikes.
Blelloch bluntly says 'No' to the question of whether there was scope for an accommodation, stating that there was too huge a gulf between the Thatcher government's position and the prisoners' demands.
This interview was in fact first published in an exclusive by the Bobby Sands Trust in March 2009, but was ignored by the mainstream media because it contradicted claims made by Richard O'Rawe that the republican leadership had squandered 'a deal' on the eve of Joe McDonnell's death. That untruthful claim deeply hurt the families of the hunger strikes whose appeals to O'Rawe to desist were ignored.
In the interview, Blelloch rubbished such claims that the British government compromised or softened its position before the death of Joe McDonnell. He said:
"I think I would like to come back to the fundamentals here. There was absolutely no change in the government's position on why it stood where it was, what was available to the prisoners and, insofar as one could say this in advance, what would happen as the protest ended. That position remained in all material respects, unchanged."
The Irish Times story can be read here
The full Blelloch interview can be read here at the Trust's website.