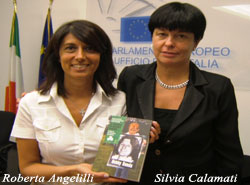 The Vice-President of the European Parliament, Roberta Angelilli MEP, launched a book about Bobby Sands last Thursday, July 15th, at the European Parliament Offices in Rome. 'Il diario di Bobby Sands. Storia di un ragazzo irlandese' is the translation by Italian journalist Silvia Calamati of a book first published in Ireland a few years ago by Denis O'Hearn and Laurence McKeown. That book, 'I Awoke This Morning – A Biography of Bobby Sands for Younger Readers', has also been published in Irish – 'D'éirigh mé ar maidin: Beathaisnéis Roibeaird Uí Sheachnasaigh do Léitheoirí Níos Óige'.
Welcoming the publication, the secretary of the Bobby Sands Trust, Danny Morrison, said: "Once again we see international recognition of  and respect for the struggle by Irish political prisoners, in particular the hunger strikers and that of the name Bobby Sands. Their sacrifice has stood the test of time and what they came through in the H-Blocks of Long Kesh is an indictment of successive British governments. But when one looks at the tense situation in Maghaberry it is clear that the British government is slow to learn from its past mistakes. I would like to congratulate Silvia Calamati on the publication of this book and her ongoing commitment to covering events in the North of Ireland."
Footnote: many streets around the world have been named after Bobby Sands. In 1981 the Iranian government officially changed the name of Winston Churchill Boulevard where the British Embassy is based to Bobby Sands Street. The response of the British was to seal the entrance to their embassy on Bobby Sands Street and knock through the wall into Ferdowsi Avenue, which is now their new address. In 2001, a memorial to Bobby Sands and the other hunger strikers was unveiled in Havana, Cuba.
Silvia Calamati will be appearing in An Chulturlann, Falls Road, on July 31st, as part of Féile an Phobail. She will be launching 'Scéalta Ban ó Thuaisceart na hÉireann', an Irish language version of her book, 'Women's Stories From The North of Ireland'.