Today saw the burial in Derry of Peggy O'Hara, veteran republican and mother of INLA hunger striker Patsy O'Hara who died in the H-Blocks of Long Kesh on May 21st 1981 after 61 days.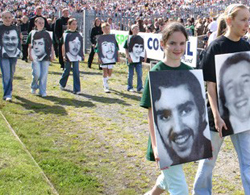 Peggy, who was 88-years-of-age, had campaigned valiantly on behalf of imprisoned republicans, bringing the story of the blanket protest and the hunger strike to many corners of the world.
Recalling that period she had said: "My feelings at the start, when he went on hunger strike, were that I thought that they would get their just demands, because it is not very much that they are asking for. There is no use in saying that I was very vexed and all the rest of it. There is no use me sitting back in the wings and letting someone else's son go. Someone's sons have to go on it and I just happen to be the mother of that son."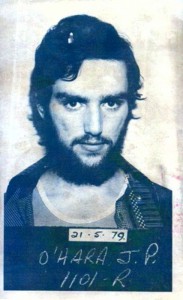 Sinn Féin President Gerry Adams and Martin McGuinness have expressed their condolences to the family.
Gerry Adams said: "I was deeply saddened to hear of the death of Peggy O'Hara and I want to extend on my own behalf, and that of Sinn Féin and of Irish republicans everywhere, our deepest regrets and condolences to Sean Seamus, Tony and Elizabeth, and the entire family circle and friends.
"Peggy O Hara was a strong woman and a strong mother. Like all of the parents and families of the hunger strikers she demonstrated enormous courage during the very difficult days of Patsy's 61 days on hunger strike.
"Throughout the hunger strike and in the years since Peggy continued to demonstrate the courage and resilience that marked those difficult days in 1981."
Speaking when the news broke, Martin McGuinness said: "I was saddened to hear of the death this morning of Peggy O'Hara, mother of hunger striker, Patsy.
"Peggy, along with the parents and families of the other Long Kesh martyrs, suffered long agonising days of torment as they watched their sons die in order that their comrades would be treated as political prisoners.
"Peggy watched for 61 days as Patsy's life slowly ebbed away and showed tremendous courage by acting in accordance with his wishes." He added: "The death of Peggy O'Hara will be received with sadness by all who knew her and within the wider republican family."