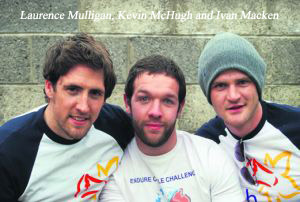 Last August three Irish men, Kevin McHugh, Ivan Macken and Larry Mulligan set out on a 40,000km cycle across five continents hoping to raise £50,000 in aid of the Irish Cancer Society. Their astonishing journey has been posted on the internet. In this post, from Iran, Larry discovers that the name of Bobby Sands not only lives on but that the story of his struggle and sacrifice is taught in the schools.
"The border is positioned in a valley on a hill and it overlooks the town of Bazargan. We rolled down into the town shouting and laughing, delighted to be in the country and found a hotel. Later to our surprise, as we ate shish kebab, rice and grilled tomato, we learned that people in Iran know a little, if not more, about Ireland. The man who owned that restaraunt informed us of the Iranian knowledge of Bobby Sands!! Lots of people know of Bobby Sands and his story. Not just a figurehead, they are aware of his past, his camapign, his time in prison and his death. We were stunned by this and smiled as if now we felt even more welcome. It turns out that his story is on the curriculum in schools and particularly the older generation admire and respect him a lot. They speak proudly of him as if he was one of their own. They love his story!!! It seems that his legend spans to other countries that border Iran including Armenia and Azerbaijan."
For more information about this charity cycle in aid of the Irish Cancer Society see here.
To contact Kevin email kevin@endurecyclechallenge.com