Veteran republican Gerry O'Hare did time, both as an internee and a sentenced prisoner, in Crumlin Road Jail between 1971 and 1973.  He also served sentences in Long Kesh, Mountjoy Jail and Portlaoise Jail. Here he reviews 'The Crum' by Patrick Greg.
I have never read a book before written from the perspective of a prison officer/screw (choose your own term) so, confronted with 'The Crum' I was instantly interested.
Having being a reluctant guest of the Queen on two occasions, as an internee and a sentenced prisoner, I already had some experience of the inside of HMP Crumlin Road, including both its inhabitants and the people whose function it was to see it was run in an 'orderly' manner.
I confess, however, for the life of me, I could never understand the mentality of anybody who joined the prison service.  Somebody has to do it I can hear you say but there have got to be better ways of earning a crust …
But I decided to temporarily conquer my obvious dislike for screws and tried to imagine if I could, if it was at all possible, to see inside the mind of the author.
First, though, some words about the author, to set the scene of this particular screw's background and mindset.
Patrick Greg first set foot inside Crumlin Road in July 1985.  It was where all recruits were sent for a two-week stint as part of their training.
"From the moment I stepped inside the main prison, with its highly polished floors, and myriad of iron gates, I was captivated", he writes – with a somewhat unfortunate turn of phrase.
"The noise, the smells, the organised confusion.  It was seven-thirty in the morning, and the tension emanating from the wings was almost palpable as I entered the large circle area where the day staff were paraded.
"There was a constant stream of officers milling around, some with obvious purpose, and others grudgingly heading to take up a post somewhere in the bowels of the jail.
"Chains were clanking and keys jangling, a cacophony of metal on metal, deeply unsympathetic to the ear at such an early day" (so far, so 'Porridge').
And so he sets the scene for a screw's day.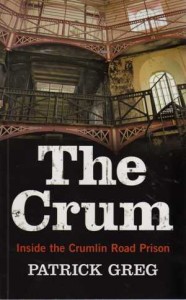 Meanwhile others truly captivated, the prisoners, are of course waiting to be unlocked for slop-outs, a wash and breakfast before being sent off to their daily chores.
Over the years their work included the wood yard, the tailoring shops, shoemaking, metal works and craft shops.  Prisoners were also involved in gardening, bricklaying and general repairs in the kitchens and cleaning out the landings.
Many considered the work demeaning, likening it to slave labour whilst others considered it the perfect way to get through their time.
A historical note here.  By July 1985, all convicted political prisoners had been moved from the Crum to Long Kesh and Maghaberry, so Greg did not experience interned or sentenced republican or loyalist prisoners but political remands.
However, he goes out of his way to make up for this shortcoming by interviewing, amongst others, Gusty Spence and Martin Meehan, to try and grasp the importance of Crumlin Road's role in the seventies. Greg, however, is unable to write about the earlier hunger strikes for political status, led by Billy McKee, which is a pity as an interview with Billy would have been enlightening.
The author is speaking about his own direct experiences when, after two weeks there, he states: "Every day of the two weeks launched me on a steep learning curve into the many aspects of the cat and mouse game played out by screws and cons.
"And every post within the jail was continually being tried and tested, poked and prodded, in an attempt to find the chink. When you came to realise that, your senses were sharpened and you began to think like a con, which was the most valuable lesson of all."
The author gives us a detailed and important early history of the Crum and tells us that the architect was Sir Charles Lanyon, a railway and civil engineer hailing from Eastbourne in Sussex.
Among his other major projects was the building of the Larne to Portrush Coast Road and the Belfast-Ballymena and Belfast-Bangor railway lines.  He is better known, though, for building Belfast's Custom House, Queen's University, Queen's Bridge and the Ormeau Bridge.
It must have been a new and exciting experience to be asked to build a prison in Belfast.
He drew heavily on the plans for Pentonville Jail built in 1842 in London.  Its main architect was Colonel Joshua Jebb who had, in turn, taken the concept of a 'panopticon' from Jeremy Bentham.
Bentham, an English philosopher, had conceived the concept of a prison allowing an observer to watch (-opticon) all (pan-) prisoners without the prisoners being able to tell whether they are being watched.
The devilish idea was to give prisoners what one architect has called the "sentiment of an invisible omniscience". Bentham himself described the panopticon as "a new mode of obtaining power of mind over mind".
It consisted of a central hall with five radiating wings (the Crum has only four) and was copied by a further 54 future jails over the next six years where the theory was put into practice of a perfect round-the-clock surveillance machine so to induce a state of discipline in the prisoner through mental uncertainty.
Not much changed over the 150 years of the Crum's history.  Greg says the only way to see such changes there were is by walking round the outside of A-wing where you can see the contrasting blocks and bricks showing the later extensions.
"At its best", we are told, the Crum housed some 640 cells.  Victorian reformers believed in strictly one person per cell, in adherence to solitary confinement.
The cost of keeping a prisoner in jail for one calendar year in the early 1930s was £67.70 and in 1931 there were 2,356 prisoners.  That shows the 'one person per cell' policy had been well and truly binned.
Earliest records for births and deaths date back to 1867.  The first recording of a death is for Mary J. Long, a 31-year-old housekeeper.  She had eight records on her sheet, a prison number, date and place of death, sex, condition (whether married, bachelor or widow), age, profession and details of inquest.  She was described as a 'lunatic'.
 Such descriptions were commonplace and showed the authorities arrogance and laziness. "One can only imagine that these were people who were either criminally insane on entry to prison, or had suffered insanity as a consequence of incarceration", writes Greg.
He says the daily routine of a screw is usually predictable and mostly boring, admitting to a pet hate.  The evening shift was the most anti-social, he says. Particularly Sunday, when activity in the Crum "was at a bare minimum and the day seemed to drag by, making it an almost constant struggle to stay awake".
A particular duty he found scary was checking out the condemned cell in C-wing at night-time.  We learn that there were 17 executions in all at the Crum since 1854, the last being in 1961.
Five were hung from various scaffold-type gallows and the rest in the condemned cell in C-wing.  All were buried in what was known as the 'Lime Pit' just beyond the hospital and between A and B wings.
The first to be hanged was a soldier, Robert O'Neill, who had murdered another soldier.  The execution took place in May 1854.  The last to be hung was Samuel McGladdery, who was found guilty in 1961 of the murder of Pearl Gamble from Newry.
He lists all the executions and gives us a detailed description of the condemned men's last days waiting for he hangman.  Not pretty reading but there you go.
On a recent visit to the Crum I was shown the restoration work at the double 'hanging' cell in C-wing.  Some in our group happily posed beside the noose.
Greg speaks of the grisly tools of the 'Hangman's Box' and its contents and we see a graphic picture of the hangman's list which reads:
EXECUTION- BOX – NO. 2
CONTENTS:
ROPES x 2
BLOCK FALL x 1
STRAPS x 2
SANDBAG x 1
MEASURING ROD x 1
PIECE OF CHALK x 1
PACK, THREAD x 1
COPPER WIRE x 1 PIECE
CAP x 1
TOTAL = 11
A second photo shows us, in detail, the actual No. 2 box with its deadly tools.
Immediately after execution the body was quickly brought to the grave and buried with only a mark on the jail wall and a number to indicate where.
The last days of the condemned man are described along with the duties of the screw's details for the 'Death watch'.  And, of course, the most famous hangman of them all gets an airing.
Albert Pierrepoint, who hailed from Clayton in Bradford, Yorkshire, dispatched over 400 victims.  Unbelievably, we read, the bold Albert trained like an athlete for the task and boasted a time of just seven seconds between grasping the condemned man's hand, leading him to the gallows and sending him to his maker.
For a day job, Pierrepoint ran a pub called 'The Poor Struggler'.  Ho. Ho.
Only two men who were hanged in the Crum were removed from their prison graves by relatives and buried elsewhere. Tom Williams' body was re-interred in Milltown Cemetery after a sustained campaign by his former colleagues in the Republican Movement, as is well-documented.
However, the remains of Michael Pratley, hanged in May 1924, were also claimed by his family.  Identifying him was assisted by the fact he had a wooden leg.
The only two inscriptions on the grave wall carry the initials 'S. McL.' (for Samuel McLaughlin), marked 1961, and 'H.C.', marked in 1933 for a Harold Courtney.
The screws' lot was not easy during the Troubles.  In all 29 were killed by both loyalists and republicans between 1974 into the late nineties.
Surprisingly, we don't get a list of his dead colleagues, but he does describe the inherent dangers of living on the outside and coming into contact with loyalist ex –prisoners.
Offered a drink by a leading loyalist he refused on his own and his wife's behalf.  The next time he went on duty, loyalist prisoners shouted out his personal details, including his car registration, from the landings.
Already unhappy with his lot, it gets worse when he comes face to face with Michael Stone, describing Stone's murderous acts at the Milltown Cemetery funeral of the Gibraltar 3, Mairead Farrell, Sean Savage and Dan McCann.
Stone was isolated from other prisoners for fear they would kill him and placed in the annex in D-wing.  Greg describes arriving for night duty, along with other vetted screws, and being sent to the annex.
Stone struck up a conversation with the author, and was keen to know if he had seen the television clips and how close he got to Gerry Adams.
"With nothing to lose", writes Greg, "he remained unpredictable. I found that disconcerting in many ways and can safely say I was unnerved when in his company.
"Even though we would have short conversations which bordered on the mundane, I never lost sight of the fact that he was a dangerous and calculating sociopath".
He later watched Stone, interviewed on television after his first release, on the 'Facing The Truth' programme (when he was confronted by the family of one of his victims). 
Stone, writes Greg, stood apart from other interviewees in the same series, portraying all the signs of a person with serious mental health issues.
Has Stone any regrets, Greg asked him once?  Stone's response was chilling.  He told Greg he was only sorry that a cap he liked, and which he had bought in the days before the Milltown Massacre, had blown off as he ran towards the M1 trying to escape those who were running after him.
One can sense Greg's disillusionment with his job but it was another four years before he quit.
There is more to 'The Crum' than just the history and stories about 'HMP' Belfast.
The author expands on life within other prisons where he served, but for the purposes of this review I have stuck to just 'The Crum.'
In other chapters, we hear about his life outside his job, his views political and non-political.  He dwells briefly on other infamous prisoners, such as Ian Paisley  and Ken Maginnis from the Unionist side of the divide and gives the reader an account of a very entertaining interview with Martin Meehan, who describes his own escape and times in the jail.
Did I like the book?  Grudgingly, I admit I did.  Ex-prisoners will find it a good read. How his fellow screws will feel, I don't know. I read it twice and it gives the reader a good sense of the prison's role in the history of Belfast.
In his opening Greg quotes George Bernard Shaw: "A life spent making mistakes is not only more honourable, but more useful than a life spent doing nothing."
I prefer a quote from Oscar Wilde from his 'Ballad of Reading Gaol':
"I never saw a man who looked
With such a wistful eye
Upon that little tent of blue
Which prisoners call the sky,
And at every drifting cloud that went
With sails of silver by."
The Crum: Inside the Crumlin Road Prison. By Patrick Greg, Gill & Macmillan. Illustrated. Paperback. Gerry O'Hare did time, both as an internee and a sentenced prisoner, in Crumlin Road Jail between 1971 and 1973.  He also served sentences in Long Kesh, Mountjoy Jail and Portlaoise Jail. He later lived in Dublin, becoming a journalist with the Irish Press Group and rising to become its Deputy News Desk Editor.  He is currently Managing Editor of Ireland's largest travel newspaper, 'Travel Extra.