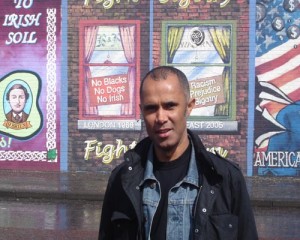 A memoir by Tim Brannigan, a former republican prisoner from the Falls Road, describing in vivid detail what it was like growing up black in Belfast during the conflict has been showered with praise and has been featured prominently on radio and all the major newspapers in Ireland and Britain.
'Where Are You Really From?' is a fascinating and powerful memoir but also a major tribute to Tim's mother Peggy (nee Brennan) and tells how a year after his birth and while he lived in St Joseph's Baby Home (run by the Nazareth Sisters) she plotted to adopt the child that her relatives believed had been stillborn.
The reason for the subterfuge was that Peggy, who was married to a Belfast man, was pregnant to a young Ghanaian doctor at the RVH with whom she had had an affair.
Growing up as an 'adopted' child Tim remembers hearing stories about his grandmother Kitty Brennan.
"Granny was born in Sailortown," he says. "She was staunchly nationalist and would sit Mum on her knee and sing old Irish laments to her. Family lore has it that, as a young woman, Granny was arrested and fined for waving one of the first Irish tricolours ever seen in Belfast in support of the men captured during the Easter Rising. The prisoners were taken by ship to Belfast from Dublin and, as they left the docks, they were marched past Granny's house. It was then that she showed her true colours, defiantly waving her flag."
As well as being a moving story about Peggy Brannigan and her love for her black son Tim, the book also covers Tim's time in the H-Blocks as a republican PoW (he was sentenced to seven years for possession of weapons), his later work as a journalist and his journey to meet his biological father.
For the older people of Belfast's Carrick Hill it will represent a trip down Memory Lane, when they played host to a regiment of US soldiers during the Second World War when they were based in a derelict factory called Marsh's Buildings, only yards from Peggy's house. Ironically, these soldiers were part of an exclusively black regiment and caused something of a stir in a community where many people had never seen 'coloureds' before!
"A powerful memoir," is how the author Danny Morrison described it. "Well-written, full of humour and pathos, you just can't put it down. Fair play to Tim for it takes a lot of courage to be so open, honest and frank about one's life. But there is no doubt that the character who stands out in this book, who triumphs over life's adversities is Peggy Brennan from Carrick Hill."
'Where Are You Really From?' by Tim Brannigan is published by Blackstaff Press, £9.99