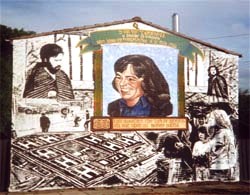 A series of anniversary vigils will take place across Belfast on Wednesday, 8th July, to mark the 28th anniversary of the death on hunger strike of IRA Volunteer Joe McDonnell. Joe, a 30 year old married man with two children from the Lenadoon area of West Belfast, died after sixty-one days on hunger strike and was the fifth hunger striker to die.
Former POW and West Belfast Sinn Fein MLA Jennifer McCann in a tribute said: "Joe McDonnell was a deeply committed IRA Volunteer. He was a loving father to his children and a good friend and comrade to many, many people.
"Joe was interned twice in the early 1970s and was arrested again while on active service in 1976 along with Bobby Sands and a number of others. He was sentenced to 14 years and upon entering the H-blocks he refused to wear the prison uniform and joined his comrades on the blanket protest.
"On 9th May, 1981, he commenced his hunger strike, taking the place of his friend and comrade, Bobby Sands, who had died four days earlier on 5th May. In June 1981, during his hunger strike, Joe stood as a candidate in the Sligo/Leitrim constituency during the general election and came very close to being elected.
"Joe McDonnell was a great Irishman and today his name and the names of all the other hunger strikers inspire people in Ireland and across the world. He was a brave and courageous volunteer and that is why we will remember him with pride on Wednesday. I would encourage members of the community to come out and attend the vigils."
The assembly points for the Joe McDonnell anniversary vigils on Wednesday, July 8th, are:
Falls Road Sinn Fein Centre – 5pm
Bottom of Whiterock Road – 5pm
Connolly House Sinn Fein office, Andersonstown Road – 5pm
Stewartstown Road (Front of Dairy Farm Centre) – 5pm
Top of New Lodge Road/Antrim Road junction – 5.30pm
Mountpottinger Road/Short Strand – 5pm