Print This Article
The Bobby Sands Trust has sent a letter of solidarity to the Palestinian prisoners currently on hunger strike and to their families, expressing support for their cause and wishing them success in achieving their just demands. These include the right to family visits which Israel, on paper, allows but then refuses permits for families to cross into Israel.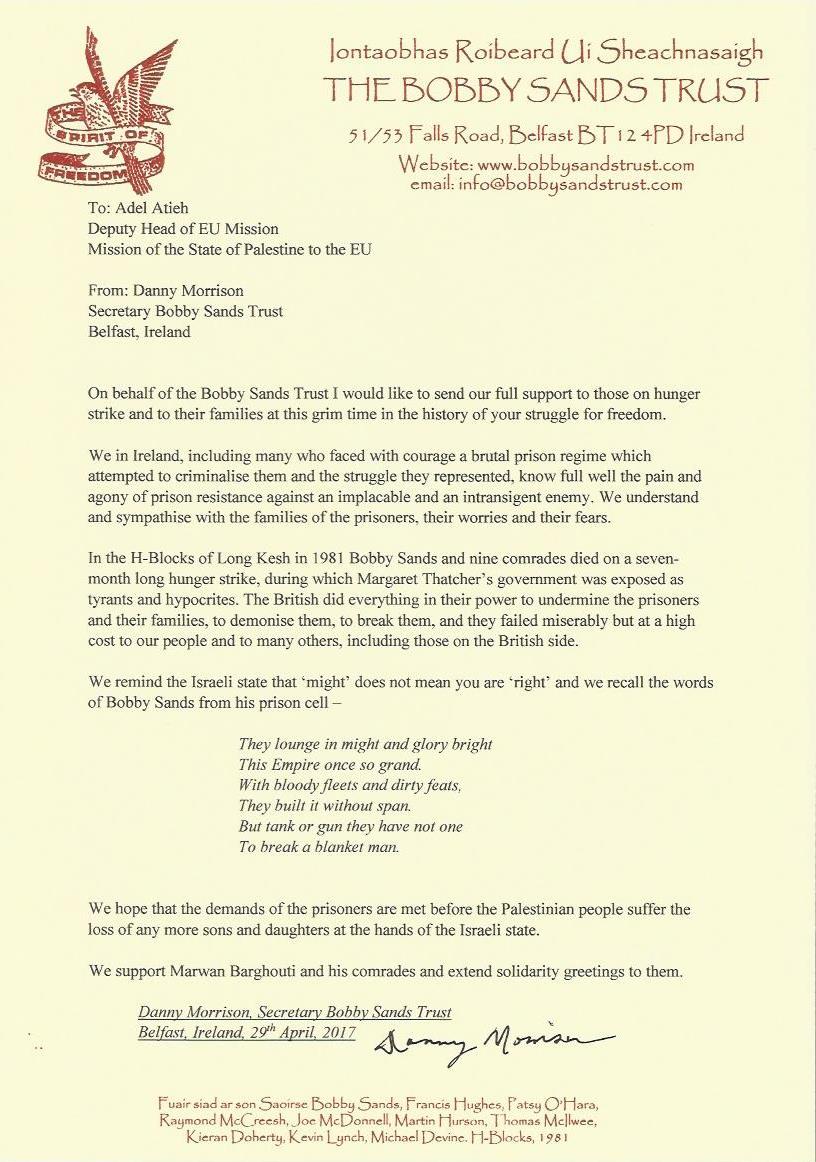 This is the text of the letter for those who wish to quote from it:
To: Adel Atieh
Deputy Head of EU Mission
Mission of the State of Palestine to the EU
From: Danny Morrison
Secretary Bobby Sands Trust
Belfast, Ireland
On behalf of the Bobby Sands Trust I would like to send our full support to those on hunger strike and to their families at this grim time in the history of your struggle for freedom.
We in Ireland, including many who faced with courage a brutal prison regime which attempted to criminalise them and the struggle they represented, know full well the pain and agony of prison resistance against an implacable and an intransigent enemy. We understand and sympathise with the families of the prisoners, their worries and their fears.
In the H-Blocks of Long Kesh in 1981 Bobby Sands and nine comrades died on a seven-month long hunger strike, during which Margaret Thatcher's government was exposed as tyrants and hypocrites. The British did everything in their power to undermine the prisoners and their families, to demonise them, to break them, and they failed miserably but at a high cost to our people and to many others, including those on the British side.
We remind the Israeli state that 'might' does not mean you are 'right' and we recall the words of Bobby Sands from his prison cell –
They lounge in might and glory bright
This Empire once so grand.
With bloody fleets and dirty feats,
They built it without span.
But tank or gun they have not one
To break a blanket man.
We hope that the demands of the prisoners are met before the Palestinian people suffer the loss of any more sons and daughters at the hands of the Israeli state.
We support Marwan Barghouti and his comrades and extend solidarity greetings to them.
Danny Morrison, Secretary Bobby Sands Trust
Belfast, Ireland, 29th April, 2017

Print This Article
Palestinian prisoners' leader Marwan Barghouti, who has spent fifteen years in jail under Israel's brutal regime, has spoken about the mass hunger strike currently taking place, now into its fifteenth day. Barghouti said: "Having spent the last 15 years in an Israeli prison, I have been both a witness to and a victim of Israel's illegal system of mass arbitrary arrests and ill-treatment of Palestinian prisoners. After exhausting all other options, I decided there was no choice but to resist these abuses by going on a hunger strike."
(Click here for a bio of Marwan Barghouti, written in 2003 by Danny Morrison, Secretary of the Bobby Sands Trust.)
The Bobby Sands Trust is indebted to Lisa Gleeson (Green Left) for this updated report.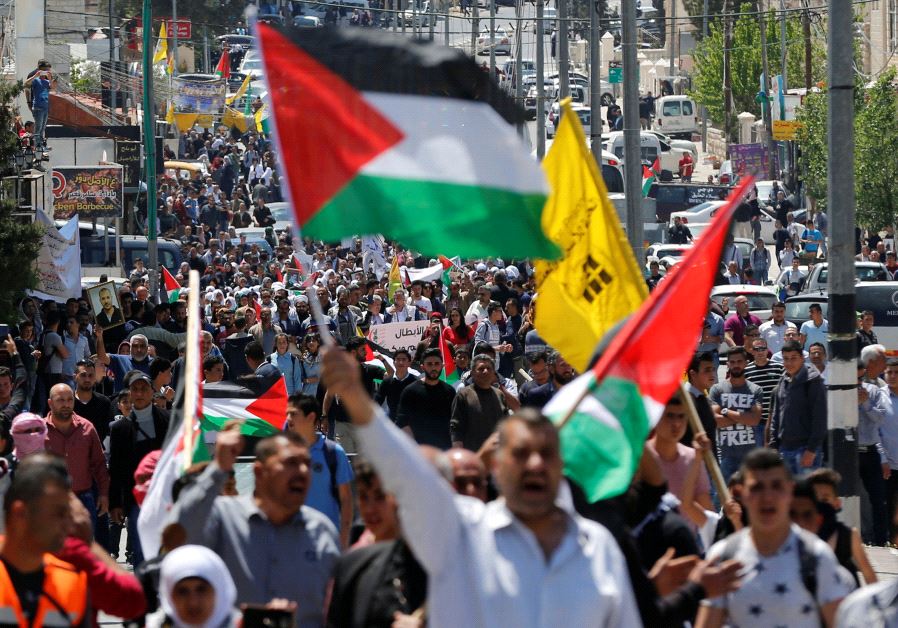 Support for the more than 1500 Palestinian prisoners on hunger strike, which began on April 16, continues to grow across the Occupied Palestinian Territories, despite the more than 1500 prisoners on hunger strike getting almost no reaction from mainstream media.
On April 27, thousands of Palestinians launched a general strike in solidarity across the occupied West Bank and East Jerusalem, shutting down their public transportation services, shops, businesses, banks and schools, TeleSUR English reported.
The Ma'an news service reported that on the day of the strike, the streets were so empty, they were reminiscent of the First Intifada ("uprising"), which started in 1987, when Palestinian general strikes were part of a coordinated civil disobedience campaign against Israeli forces.
The next day, more than 50 Palestinians were injured in clashes with Israeli forces in protests across the West Bank as part of a "Day of Rage" called by Palestinian party Fatah.
Gazans are also protesting in support of the hunger strikers "Freedom and Dignity" campaign, with many camping in the streets of the territory still subjected to a cruel Israel siege.
Meanwhile, there are reports that the health of hunger striking prisoners continues to deteriorate. Some have reportedly begun refusing water.
TeleSUR English reported on April 26: "According to the Media Committee for Palestinian Prisoners' Hunger Strike, a joint committee formed by the Palestinian Prisoner's Society and Palestinian Committee for Prisoners' Affairs, a number of prisoners being held in solitary confinement in Ramla prisons had stopped drinking water.
"According to Qaraqe, Israel Prison Service [IPS] officials have continued to punish participating prisoners for their strike, including preventing them from accessing commissaries to purchase salt — as some prisoners are only consuming salt and water — giving them only dirty sheets and covers and carrying out provocative search raids of prisoners' rooms."
As well as placing identified leaders in solitary confinement, the IPS is separating out hunger strikers as much as possible, and has removed all personal belongings from those taking part.
It is safe to say that, at the very least, the treatment of Palestinian prisoners does not measure up to the so called "Nelson Mandela rules" established by the UN on the minimum standards for the treatment of prisoners. After nearly two weeks on strike, prisoners were starting to be transferred to hospitals and prison clinics.
The hunger strike's leader, Marwan Barghouti, remains in solitary confinement in deteriorating health. Far from being a last resort, solitary confinement is a punishment tool regularly used by the Israeli Prison Service (IPS).
On April 16, an opinion piece by Barghouti entitled "Why We Are on Hunger Strike in Israel's Prisons", was published by the New York Times, and syndicated in other publications.
Barghouti wriote: "Having spent the last 15 years in an Israeli prison, I have been both a witness to and a victim of Israel's illegal system of mass arbitrary arrests and ill-treatment of Palestinian prisoners. After exhausting all other options, I decided there was no choice but to resist these abuses by going on a hunger strike …
"Decades of experience have proved that Israel's inhumane system of colonial and military occupation aims to break the spirit of prisoners and the nation to which they belong, by inflicting suffering on their bodies, separating them from their families and … In spite of such treatment, we will not surrender to it."
The decision of the NYT to run the piece outraged the Israeli media, claiming Barghouti was a murderer and terrorist.
Pressure from Israel led to a later version of the piece, which was only published online, being amended to list the crimes Barghouti was jailed for (murder and belonging to a terrorist organisation).
Barghouti's op-ed aside, mainstream media outlets are otherwise mostly remaining silent. However, international solidarity with the hunger strikers continues to build. A statement of support was issued by former Robben Island prisoners in South Africa, the infamous jail where the Apratheid regime jailed opponents, including Mandela.
In a statement, the Ex-Robben Island Political Prisoners Veterans Association (EPPA) said: "We unconditionally support all the demands made by our brothers and sisters in those dark prison cells and strongly condemn the illegal detention of women and children, as well as all political prisoners incarcerated in Israeli prisons."
On the other hand, Israeli Defense Minister Avigdor Lieberman condemned the hunger strike. Ominously, Lieberman commenting on social media that he would treat the hunger strikers the same way that the British government treated Irish political prisoners who went on hunger strike in the early 1980s.
In 1981, the intransigence of Britain's Margaret Thatcher government, which publicly stated its "refusal to negotiate with terrorists", led to the death of 10 men on hunger strike.
It seems clear the minister has no interest in addressing the prisoners' immediate concerns, nor the implications for stability should Palestinian prisoners die.
His attitude is echoed in the actions of Israeli extremists, reportedly from the youth-wing of Lieberman's right-wing National Union party, held a BBQ outside Ofer prison on April 20 to taunt Palestinian prisoners. The authorities made no attempt to stop the BBQ.
By contrast, widespread arrests of Palestinian civilians across the West Bank have taken place since the hunger strikes began. Arrests and home invasions are a daily occurrence in the Occupied Territories, but the rate appears to be spiking.