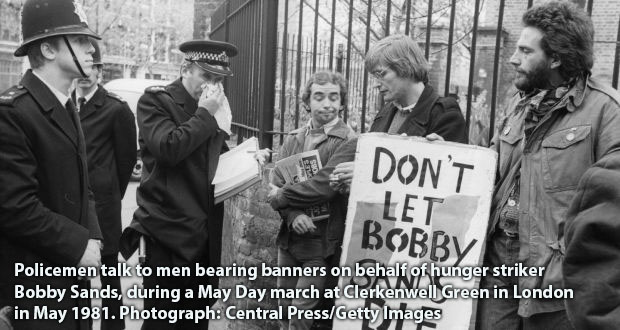 The Irish Times this week has quoted from newly released British government papers relating to the 1981 hunger strike which includes an important interview given by Sir John Blelloch to author/historian Padraig O'Malley five years after the deaths of ten Irish republicans in the H-Blocks of Long Kesh.
Blelloch, the deputy under-secretary at the Ministry of Defence (in reality, a senior MI5 officer), had been the key advisor to Prisons Minister Michael Allison during the hunger strikes.
Blelloch bluntly says 'No' to the question of whether there was scope for an accommodation, stating that there was too huge a gulf between the Thatcher government's position and the prisoners' demands.
This interview was in fact first published in an exclusive by the Bobby Sands Trust in March 2009, but was ignored by the mainstream media because it contradicted claims made by Richard O'Rawe that the republican leadership had squandered 'a deal' on the eve of Joe McDonnell's death. That untruthful claim deeply hurt the families of the hunger strikes whose appeals to O'Rawe to desist were ignored.
In the interview, Blelloch rubbished such claims that the British government compromised or softened its position before the death of Joe McDonnell. He said:
"I think I would like to come back to the fundamentals here. There was absolutely no change in the government's position on why it stood where it was, what was available to the prisoners and, insofar as one could say this in advance, what would happen as the protest ended. That position remained in all material respects, unchanged."
The Irish Times story can be read here
The full Blelloch interview can be read here at the Trust's website.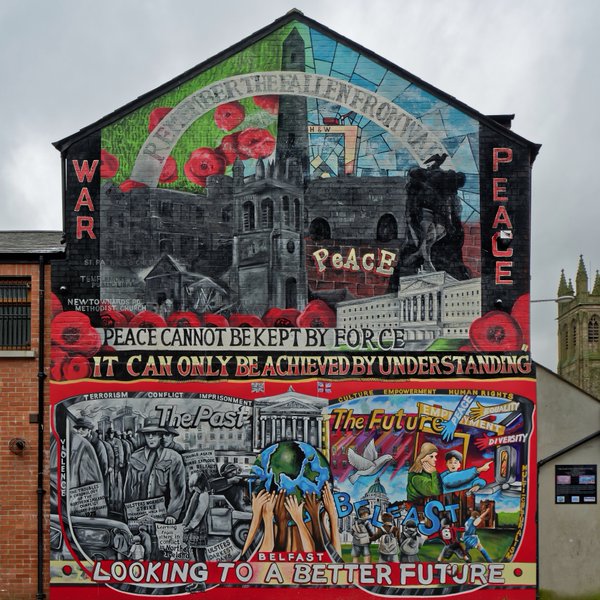 Stuart Borthwick's book, The Writing on the Wall: A Visual History of Northern Ireland's Troubles, was given its Belfast launch during Féile an Phobail last week. Danny Devenny, an ex-political prisoner who served time in Cage 11 with Bobby Sands, is a former graphic designer of An Phoblacht/Republican News and is one of Belfast's best-known muralists. In this very personal review he talks not just about the book and murals but also Bobby Sands and The Beatles!
I first met Stuart when I and young Mark Ervine (son of the late David Ervine, leader of the PUP) were invited to 'Ireland's second capital' in 2008. A group of Liverpudlians, led by big Peter Morrison, had visited Belfast the previous year to attend a Damien Dempsey concert at the Odyssey Arena. While in Belfast they did a tour of the murals and were so affected by their power and vividness that they decided to offer us an invitation to cross the Irish Sea and create a series of Beatles' murals as part of Liverpool's selection as European Capital of Culture.
When a Belfast newspaper reported on the proposed project I was criticised for declaring my delight to be afforded the opportunity at last to paint my real hero, John Lennon! My critics' logic was because I had painted another great hero, Bobby Sands on the famous Falls Road mural, I was undermining his memory by naming the famous mop top Lennon as my hero!
If only my accusers knew!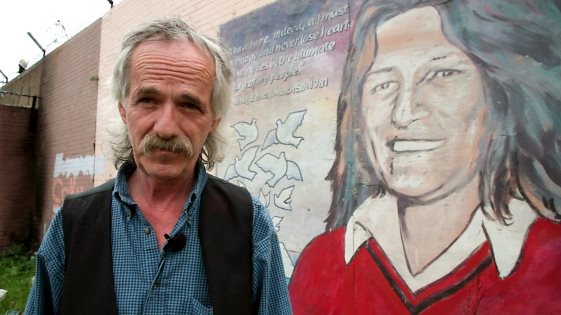 Bobby was a big Beatles fan, particularly of Lennon. So, let's rewind to 1975, Cage 11, after we were back in huts after 'the Fire' of October 1974, when we burnt down Long Kesh. Among the LPs sent in was a replacement copy of Wings' Band on the Run. Next door to mine and Dee's 'cell' was that of Tomboy (Loudon), Roon (Gerard Rooney) and Bobby's. And it was there, guitar in hand, that Bobby proceeded to play in a loop the entire album, determined as he was to learn every track off by heart!
Which brings me to another Liverpool mural visit connection! (I will get to your book in a moment, Stuart!) Thanks to Stuart we were invited by Peter Morrison and Phil Hayes, and others, back to the lovely city to launch another mural to celebrate the city's Irish connections. And it was there that I was introduced to Mike McGear, Paul McCartney's younger brother who played with Scaffold (and got to Number 1 in the pop charts with Lily the Pink in 1968). Mike used the stage name McGear so that he could not be accused of trying to piggyback on the name of his famous brother. Now a practicing photographer he was very interested in the visual impact of murals and mural culture here in Ireland. Our conversation developed into the subject of Irish Liverpool solidarity down the years and he seemed real chuffed to highlight his father's pride in his Irish roots. Inevitably, our conversation moved on to the Troubles and to the prison conflict. Mike was genuinely interested and truly amused when I told him how Bobby in his perfectionism had eventually taught himself the chords of the entire album, Band on the Run, and had treated us to a six-hour rendition of Mamunia (normal duration 4mins 50 secs – I just Googled it!), till he got it right.
That was Bobby – a perfectionist. Mike was intrigued by this story. He said it was his favourite track too, and said he wanted to learn more about Bobby and the hunger strike. Interestingly, for all you McCartney fans – what was the name of one of the best-loved nighttime stories among the blanket men that Bobby would tell, out through the narrow crack in his H-Block cell door, and which features in the film 66 Days?
You got it – Jet! from Band on the Run.
Ah, good memories.
I must also mention the night in Cage 11 Bobby sang Rod Stewart's Mandolin Wind, accompanied by Big Rab and Tomboy on mandolin. Everyone who was there remembers the magic of that moment – when none of us knew of the nightmare ahead.
Bobby Sands, codladh sámh.
And so, to Stuart's book. Before I proceed I have to put my hands up and admit that before I turned a page I was totally delighted with this publication. Many times I've enjoyed Stuart's fine company and consider him a friend. His book is a remarkable work and testimony to the possibilities of art being used as a weapon. Mandela said, "Education is the most powerful weapon which you can use to change the world."
Well, this book educates, and more.
The layout is superb. I say that as a one-time 'cut-and-paste' graphic artist for An Phoblacht/Republican News back in the day, and as someone familiar with the skills of blending written word and imagery to create a single narrative. I'm momentarily back in Cage 11 again as I recall the first time I got interested in this. We had received a lot of Palestinian books and pamphlets from some friendly supporters on the outside (possibly Danny Morrison and Tom Hartley). I was struck by their layout, so easy to consume, the visuals and written information slipping into the subliminal mind with the ease of Eine Kline Nacht serenading the senses. So unobtrusive. The perfect education tool.
And that, to his credit, is what Stuart has achieved here. His ability to fuse mural imagery – whether on the walls or, in this case, on the pages of his book – with his narrative, and subsequently trace the history of this British 'Troubled' but beautiful wee island from competing perspectives.
Stuart's masterly and perfectionist approach to his photography not only dumbfounded me but shocked many of his other Belfast friends with his totally insane excursions! He would alarm his hosts, rising pre-dawn, to go out to get the perfect camera angle or lighting effect! What he sought, I think you'll agree, was worth those inhospitable expeditions. The photographs stand alone as beautiful works of art regardless of the murals within.
Some of his work is so stunning that I felt a little pride in my own work… and to achieve that in another artist is remarkable.
And so, a final word. Looking back through Stuart's book you realise none of this was accidental. Every word, every photograph is premeditated, planned to perfection.
That is the talent of the little man from Hastings.
Keep on rockin', Stuart! Your day has come! Tá do lá tagtha!
The 35th anniversary of the 1981 hunger strike was commemorated nationally in a huge march and rally through West Belfast last Sunday. A video report on the parade and speeches can be viewed here.
Here are some photographs (courtesy Peadar Whelan) from last Sunday's march, and, another, taken thirty-five years ago.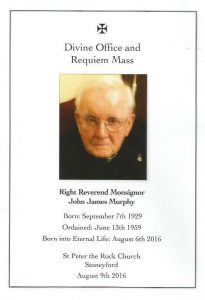 Father John Murphy, who was known affectionately to former political prisoners in the H-Blocks as 'Silvertop', 'Spud' or 'Murph', died last weekend and was buried on Tuesday in St Peter's graveyard at the Rock Chapel, Stoneyford. Former republican POW Jim Gibney, who served a 12-year-sentence in the H-Blocks in the 1980s, attended the funeral Mass and wrote this tribute.
Fr Murphy was deputy prison Chaplin to the late Father Toner and ministered to the prisoners from the earliest days of the prison protest for political status in 1976 until it ended in the deaths of ten republicans on hunger strike. He continued to minister to them until all prisoners were released as a result of the peace process and the Good Friday Agreement.
In the H-Blocks of Long Kesh, in the depths of the most difficult life-and-death struggle for political status, Fr Murphy was trusted by the protesting prisoners.
On Tuesday the 86-year-old priest was laid to rest in the graveyard adjacent to the Rock Chapel (St Peter's) where he served the surrounding community as he did the prisoners from 1976.
He told former political prisoner, Seanna Walsh, that on a number occasions he was offered significant amounts of money to tell his story of life in the H-Blocks during the epic struggle for political status but he declined, preferring to protect his respected relationship with the former prisoners through his commitment to confidentiality.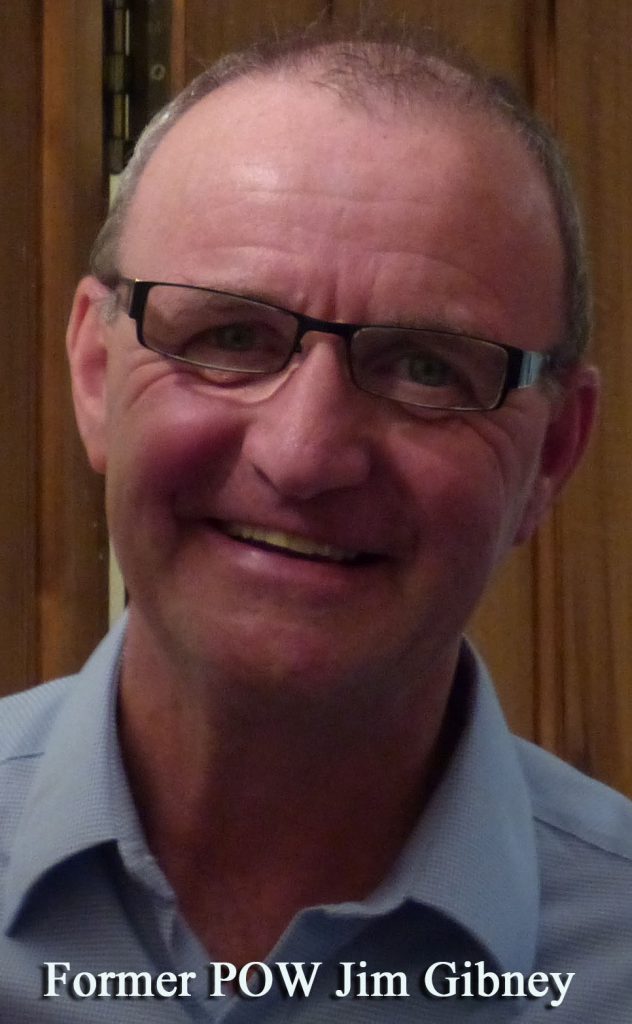 The chairperson of Coiste na nIarchimi, Michael Culbert, who attended Fr John's funeral Mass on behalf of former political prisoners and read a section during prayers for the faithful, described the priest as a "very decent, good and considerate man". In the midst of a very difficult situation, "He delivered difficult messages, to us, and we could be very difficult people to deal with, at a difficult time."
Michael Culbert found him compassionate and considerate, never negative. He spoke with the prisoners never at them.
He recalled Fr John's quiet determination being applied in a protracted struggle with the prison administration over their opposition to allowing the prisoners Irish language Bibles. He won that battle.
Raymond McCartney who was among seven republicans on the first hunger strike in 1980 recalled Fr Murphy as being, "Very sincere. He understood what the words pastoral care meant. He stayed out of the internal jail politics. Fr John visited us every day when we were on hunger strike. It was a rare day he didn't call in to see us."
At his funeral Mass tributes were paid to him by fellow priests, including Bishop Noel Treanor of Down and Connor diocese. I was not surprised to hear him being described as 'demure', reserved and discreet, but also passionate about things that mattered to him, including prisoners – all prisoners, political and non-political. He served on several Catholic Church committees with a pastoral responsibility for prisoners at home and abroad.
Seanna Walsh said that Fr John was comfortable with the prisoners and they were comfortable with him. He was a warm human being and was also trustworthy and you knew when you spoke to him in confidence that it would remain so.
Seanna recalled that Fr Murphy was distressed by the conditions that the prisoners were in and was very much involved in trying to resolve the blanket protest and hunger strike without loss of life. In that regard he was confident after the end of the first hunger strike that a resolution was possible. But he was then very disappointed at the intransigent attitude of the prison authorities.
Fr John Murphy was particularly concerned about the health of Sean McKenna in the hours leading up to the end of the first hunger strike. He said that Sean told him that he believed that he had died on the trolley taking him to an outside hospital. That he had a clear memory of an 'out of body' experience of looking down on himself lying on the trolley.
Sean McKenna never fully recovered from the physical impact of that hunger strike and Fr Murphy and Cardinal Tomás Ó Fiaich worked tirelessly to have him released early from prison.
During the second hunger strike Fr Murphy spent most of his time in the prison hospital with the prisoners, caring for them spiritually and supporting them in every way he could.
These were extremely difficult days for the prisoners and the priest.
But listening to those who knew him, speaking at his Mass, he was clearly a saintly man devoted to his religious beliefs who comforted those in need and gave himself strength to carry on through those harsh times.
I met him several times in prison and outside. I always found him encouraging and optimistic and very thoughtful for the person he was speaking to.
You left him feeling good about yourself and him.
Former political prisoners, Padraic Wilson and Paul Butler also attended the funeral. Danny Morrison, on behalf of the Bobby Sands Trust, laid a wreath at the grave, in respect of a man whose sense of duty to others was based on his respect for them as they saw themselves.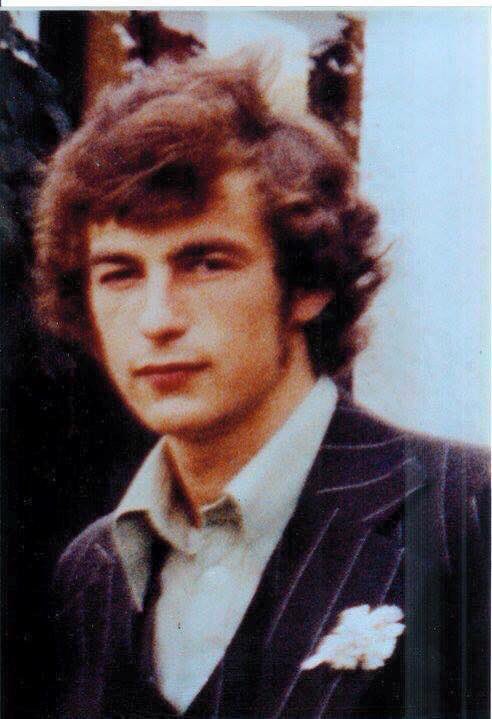 On Sunday, 7th August, the day before the 35th anniversary of the death of Thomas McElwee, people, some in period costume representing 1916, gathered in Bellaghy to pay their respects to the young 23-year-old who died on hunger strike after sixty two days. After a march through the town the commemoration was held just outside the gates of St Mary's graveyard where both Thomas and his cousin Francis Hughes are buried.
Excerpts from Padraig Pearse's oration at the funeral of O'Donovan Rossa were enacted by Sean Kerr which was followed by personal reminiscences from Thomas's friend and comrade, Colm Scullion, who was on active service with Thomas at the time of their arrest in October 1976.
"During the blanket protest," said Colm, "Tom embraced the Irish language and education programmes conducted by, among others, Bobby Sands and Tommy McKearney. He actively took part in all debates and saw the necessity of politics side by side with armed struggle.
"Thomas was also was known as the hard man of the wing. The screws called him 'Punchy McElwee'. He took no nonsense from them despite the vast odds. I remember the screws coming around with the dinner. One screw threw Thomas's plate on the urine-covered floor. Thomas said nothing then punched him as hard as he could and he was punished with being sent to the boards for a month.
"Thomas was also a very devout Catholic. He never missed the Rosary and always carried the prayer books sent in by his mother, Alice. He was very anti-sectarian and expressed a wish to work among the Protestant community and show them that we could share this island as one people without English interference.
"Thomas joined the hunger strike on Monday 7th June. He was kept in our wing for about three weeks. The morning he left was terrible. He came to our cell door, we wished each other good luck. The men all got to their doors to bid him farewell. He walked up the wing to the gates and shouted, 'All the best, Colm'.
"The screws then took him to the prison hospital in a van. We stood at our cell windows watching him wave out the window as we cheered and roared.
"That was the last time I saw 'Big Tom'."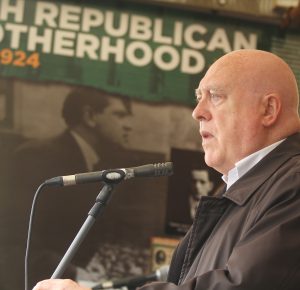 Recalling 1981
Danny Morrison, the former Sinn Féin Director of Publicity, was the last speaker. He had given the oration at Thomas's funeral in August 1981 and he recalled the hunger strike period. He said:
"In my experience the damage inflicted on us by the sectarian six-county state and the British occupation was compounded by partition and the Free Statism of the southern establishment. When RTE covered Bobby Sands going on hunger strike, or Thomas McElwee going on hunger strike what they covered was their Diplock court convictions.
"They never covered the men's political or moral convictions because that would have gone against the desire to criminalise our struggle which was much easier to do than confront the power of Britain and British intransigence.
"1981 was the longest year in my life – but what must it have been like for the families of comrades dying a slow death?
"I do believe 1981 was 'our 1916'. After 1981 all was changed utterly. After the Easter Rising, within a few weeks the British had executed the leaders, but here in the North the hunger strike deaths took place over a seven month period.
"In the middle of the hunger strike we thought a breakthrough was possible. We had been told that the British government was interested in settling it. I was allowed into the prison on Sunday 5th July to meet with the hunger strikers. I can still see those men around that table in the canteen of the hospital wing. On my left Kieran Doherty, then Kevin Lynch, then Thomas, Thomas McElwee, who by that stage had already completed 1,300 days in a H-Block cell on protest. Martin Hurson was too ill to attend. At the bottom of the table was Paddy Quinn. On the right was Laurence McKeown, then Micky Devine, then sitting beside me in a wheelchair was my old friend and comrade Joe McDonnell who would be dead within three days. They all spoke, including Tom who was adamant that their demands must be met.
"Just before the first hunger strike, in 1980, ended the British government was full of promises – that they would introduce an enlightened, progressive and liberal prison regime. But as soon as the hunger strike ended, and the pressure was off, the British reneged on their commitments, refused to budge and their bad faith triggered the second hunger strike.
"This experience of bad faith was what was foremost in the minds of the men around that table. They said they wanted to see what the British government was offering and they wanted it confirmed in a way that the British could not subsequently repudiate. The Irish Commission for Justice and Peace similarly asked the British to send in an official to explain what, if anything, was on offer.
"I left the hunger strikers to go to the doctor's office where I was in telephone contact with Gerry Adams on the outside. He was liaising with Martin McGuinness who was liaising with Brendan Duddy the British contact. It was no way to do business and was open to misrepresentation and distortion. But as I was waiting to see what the British would say, a deputy governor, John Pepper, burst into the office and ordered me out and I never saw the hunger strikers again. The ICJP six times called upon the British to send in a representative to meet the prisoners but they never replied.
"After Joe's death Michael Alison, the prisons minister, was asked to give the British position. He compared talking to hunger strikers as like talking to hijackers: 'you continued talking while you figured out a way to defeat them,' he said.
"And that was the policy that was to lead to the deaths of Martin Hurson, Kevin Lynch, Kieran Doherty, Tom McElwee and Micky Devine.
"I stood here 35 years ago and was honoured to give the oration at Tom's funeral just as I am honoured to be here today in the presence of his noble family.
"Back then the British army and the RUC occupied and took up positions on surrounding roads. They were protected by not one but by six helicopters. Benny, who was also in prison on the blanket, arrived just in time from the H-Blocks on a 10-hour parole. Tom's coffin was carried from the house by his sisters. At the end of the lane IRA Volunteers stepped forward and fired a volley of shots over his coffin.
"A piper played the H-Block song and many people quietly sang:
     I am a proud young Irishman,
     In Ulster's hills my life began,
     A happy boy through green fields ran
     And I kept God's and man's laws.
"Among the mourners was Dinny Gleeson, a veteran of the War of Independence who had been in a Flying Column and had fought the British army and the Black and Tans – a real connection with 1916 and our long struggle for freedom.
"Chairing the graveside ceremony was veteran republican John Davey, who had been interned in the 1950s, 1960s and again in the 1970s. Indeed, it was in Long Kesh Internment Camp that he and I became friends. John himself was later to die in violent circumstances when he was assassinated coming from Council business to his home in Gulladuff.
"I wish to repeat what I said that day 35 years ago. Thomas McElwee was invincible from beginning to end, in life as well as in death.
"His dying words remain powerful and indeed were extremely prescient and are even more relevant today. Thomas said: 'I bear no animosity, no ill-feeling towards anybody. I would like to live among the people… and promote peace and harmony among Catholics and Protestants and also with the British.'
"I have always found it remarkable that the oppressed are always more forgiving than their oppressors. It is very tempting to feel bitterness.
"The British were full of great spite and great cynicism. Their position was: 'We know we cannot defeat you. But we will make sure you die.'
"I say they were cynical because not long after the hunger strike they conceded the five demands. When I was imprisoned in the H-Blocks some years later – and I see men here today whom I was with – I and those comrades had political status, prison conditions won for us by Thomas and his comrades.
"But the hunger strike was bigger than that. It inspired a new generation who put manners on the British, brought thousands more into republicanism, empowered the people, and created a political momentum which is unstoppable, a political movement in Sinn Féin which will un-partition Ireland.
"So we draw courage and great inspiration from Thomas McElwee and his example. He towers over the people who hunted him, arrested him, charged him, judged him, convicted him, stripped him, beat him, and the system that killed him.
"He towered over every one of them, and he was only twenty three.
"What a man.
"What a soldier.
"What a hero.
"What a son.
What a brother.
"Thomas McElwee."
The RTE review of Brendan Byrne's film about Bobby Sands' hunger strike, 66 Days, is quite considered and sensitive and has given the documentary five stars, which is astonishing given the history of the station with regard to coverage of northern affairs. These are the opening comments:
"There are moments of terrible sadness in 66 Days, Brendan J Byrne's profoundly moving account of Bobby Sands' hunger strike in the so-called H Blocks of Long Kesh prison. The film alternates between an uneasy sense of futility and the spiritual triumph granted in part by by hindsight, the triumph that appears to trump the relentless despair. 66 Days incorporates the stories of Sands' nine comrades who also died in 1981, after hunger strikes which had lasted 217 days. Seven of the dead were members of the Provisional IRA and three were Irish National liberation Army (INLA) activists."
The rest of the review can be read here.
Two unionists, one the political commentator and broadcaster Alex Kane, the other the DUP MP Gregory Campbell, have seen the film 66 Days about Bobby Sands' hunger strike in 1981.
Here are their views on the film: Alex Kane's from The Newsletter and Gregory Campbell's also from The Newsletter.