Last Saturday night, after Mass at the Church of St Malachy in Camlough, a commemoration in memory of IRA Volunteer Raymond McCreesh, who died on hunger strike thirty-five years ago, was attended by a large number of relatives, comrades, friends and neighbours in the adjacent graveyard. Conor Murphy (Sinn Féin MLA) chaired the event which included the playing of a lament at the lowering of the flags and a moving recital of the Ballad of Raymond McCreesh by the Daly sisters from Crossmaglen. Later, the crowd marched behind St Joseph's Pipe Band to the republican monument on the Newry Road.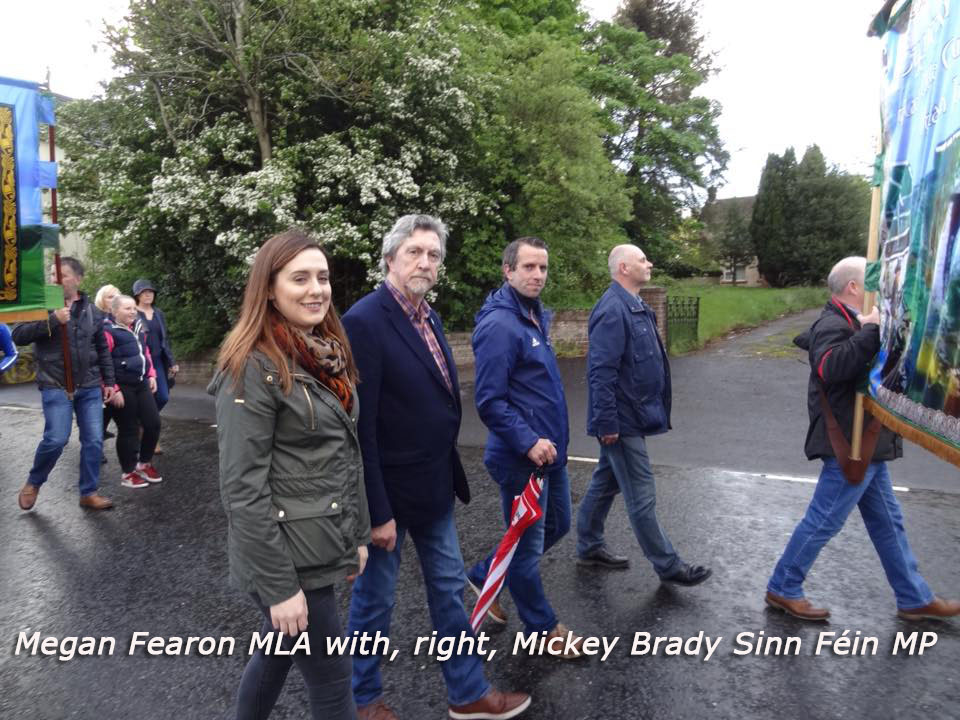 The main speaker at the commemoration was Sinn Féin MLA Megan Fearon, the youngest member of the Assembly, who was born in 1991, just three years before the IRA ceasefire. This is her speech:
Ba mhaith liom fáilte a chur roimh achan duine agus is mor an onoir a bheith anseo inniu.
I want to extend my own warm welcome to the families of our patriot dead; we are forever indebted to you.
It's a huge honour to be here this evening with so many of Raymond McCreesh's friends and family.
It was on this day, in 1981 that the Republican Movement lost one of its proudest sons, Raymond McCreesh. Yes, he was a soldier and an exemplary one at that. However, he was also a son, a brother, a friend, and a role model to many.
Raymond and his comrades were ordinary young men and women, who rose to the challenge of the extraordinary times they lived in.
Raymond McCreesh, born to James and Susan on 25th February 1957, attended St Malachy's Primary School and St Colman's College in Newry. A schoolmate of his recalled how, somewhat prophetically, they hung over the old school wall to watch the funeral of veteran republican Jack McElhaw pass by.
For many, it is Raymond's smile that has left an indelible mark on their memory. He was quiet, good-natured with a mischievous sense of humour. It was a shock to many when it became known at my own uncle's funeral, Jim Lochrie, that he was a volunteer in Óglaigh na hÉireann as he stepped forward for the guard of honour.
Beneath his smile there lay the many qualities that made him a capable, dedicated and highly respected volunteer. He had joined na Fianna Eireann in 1973 and later became a member of the IRA. It's said that Raymond and Dan McGuinness were never too far apart, they would have been in the village every Saturday night to enjoy the craic along with Oliver Doran and James Lennon. So it came as no surprise when they were captured together on active service, along with Paddy Quinn, in June 1976. They were charged and remanded in Crumlin Road Jail before being sentenced and sent to the H-Blocks, where Raymond immediately joined the blanket protest. He continued his resistance to criminalisation with conviction right up until 1981, when he took the courageous and unimaginable decision to join the hunger strike, where he and his nine comrades would make the ultimate sacrifice.
His death was and remains a tragic blow to his family, and a huge loss to the Republican Movement. He will always be remembered as a heroic and selfless young person, and I hope his memory will inspire others as it has done for me.
The late Cardinal Tomás Ó Fiaich said: "Raymond McCreesh was captured bearing arms at the age of 19 and sentenced to 14 years' imprisonment. I have no doubt that he would have never seen the inside of a jail but for the abnormal political situation. Who is entitled to label him a murderer or a suicide?"
Cardinal Ó Fiaich was alluding to the fact that Raymond had the misfortune to be born into one of the most heavily militarized areas anywhere in the world, to be born into the Orange state, one-party rule and institutional discrimination. He was, effectively, born into the belly of the beast where the worst excesses of partition were visible daily. Young people living in South Armagh were met with constant harassment from the RUC and the British army. Faced with the watchtowers, faced with the British Army patrols and faced with British brutality, Raymond, like generations of Irish republicans before him, decided to face down those conditions.
Comrades, Raymond was my age when he gave his life on hunger strike. 24 years old. He was just an ordinary young man. He could have chosen another way, taken an easier path but he didn't. He chose to stand up for this community, for the people he loved and who loved him.
And it is because of the dedication and sacrifice of people like Raymond McCreesh that I was fortunate to be born into an entirely different political dispensation. My generation of young republicans are separated from him only by time.
Thirty five years on….the political landscape is vastly different. Our struggle continues in a new way. Young nationalists and republicans have no fear of second-class citizenship today as we continue to grasp the opportunities we have been afforded as a result of the sacrifice of those who went before us.
The progress we have made would not have been possible without Raymond and his comrades. This political phase of struggle means that no one, man or woman – young or old – need ever again risk imprisonment, injury or death in pursuit of our goals. All that is asked of us now is our time – how can we possibly do any less?
There is still much work to be done to achieve our ultimate goal of a 32-County Socialist Republic. Thirty five years on from Raymond's death the vision of republicans' remains vibrant and viable.
It is viable but it is not inevitable. We are the generation charged with ending partition and establishing a new Republic. We must become reinvigorated & build the republican struggle into the mass political movement required to achieve our goals.
1916 witnessed a coming together of republicans, Irish language activists, trade unionists and the women's movement in the cause of an independent Irish republic.
As we enter new mandates in both the Dail and Stormont, this is our template, as we seek to build alliances for that same cause, and effect change on our island. The 1916 Proclamation remains our mission statement, our guide, as it was for republicans in every decade since. No regressive or revisionist force will hold us back.
I also want to make this very clear – We will not allow the memory of Raymond McCreesh to be denigrated by unionism, by the media or indeed by elements of so called "progressive" nationalism.
Raymond McCreesh is an Irish hero.
He knew that freedom is never voluntarily given – it must be taken.
He knew that the men and women of 1916 were right.
AND we know that the men & women of 1981 were right.
It was and remains republic against empire, republicanism against imperialism.
As we stand here today by the graves of our volunteers, let us be clear – a real 32 County Republic is the only fitting monument to their memory.
And let us be equally clear that the Irish republicans of 2016 are as determined to achieve those objectives as those we honour here today.
For Raymond and his comrades, this was never about the past. They were always looking to the future.
And that is the legacy handed down through generations – from 1916, to the men in H-Block cells and the women in Armagh Gaol – and to us here today.
This is not about the past. This is about the future.
Together, we, and only we, can make the vision of Raymond McCreesh a reality.
Let's make him proud.
Beidh and bua againn go fóil.
Twenty-three-year-old Patsy O'Hara from Derry city, was the former leader of the Irish National Liberation Army prisoners in the H-Blocks, and joined IRA Volunteer Raymond McCreesh on hunger strike on March 22nd, three weeks after Bobby Sands and one week after Francis Hughes.
Patsy died at 11.29 p.m. on Thursday, May 21st – on the same day as Raymond McCreesh with whom he had embarked on the hunger-strike sixty-one days earlier.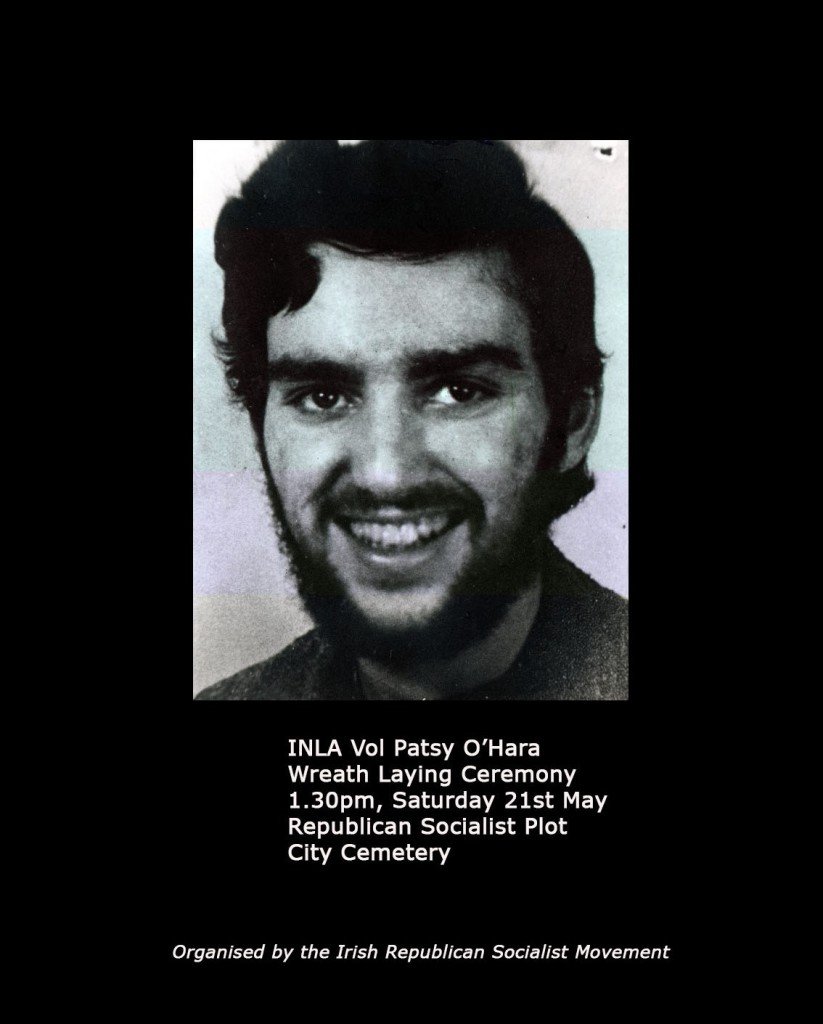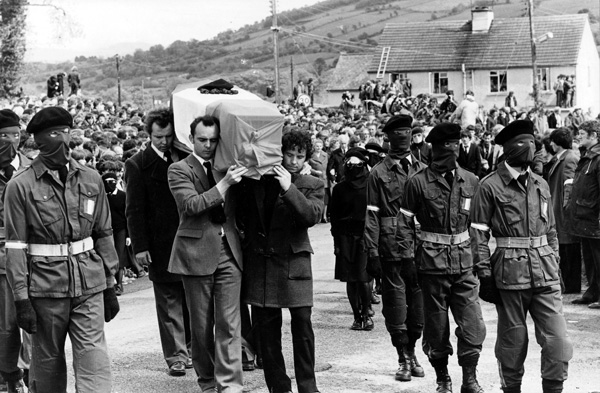 Here are some events taking place in the next two days to commemorate the 35th anniversary of the death on hunger strike of Raymond McCreesh who died at 2.11 a.m. on Thursday, May 21st, 1981, after 61 days on hunger strike.
Friday, 20th May: There will be a talk in Doyles Bar, Camlough at 9pm, at which Breandan O'Luaois, former comrade of Raymond's and former SF Councillor will reflect on his life. Michael McCreesh, Raymond's brother, will also read some of his letters from the H Blocks.
On Saturday evening, following 6.30pm mass in Camlough, there will be a commemoration in the graveyard where Megan Fearon MLA will be the main speaker. This will be followed by a parade from the chapel to the hunger strikers monument on Newry Road, Camlough. There will be a function and a showing of a 1981 CD in Shane O'Neills GFC afterwards.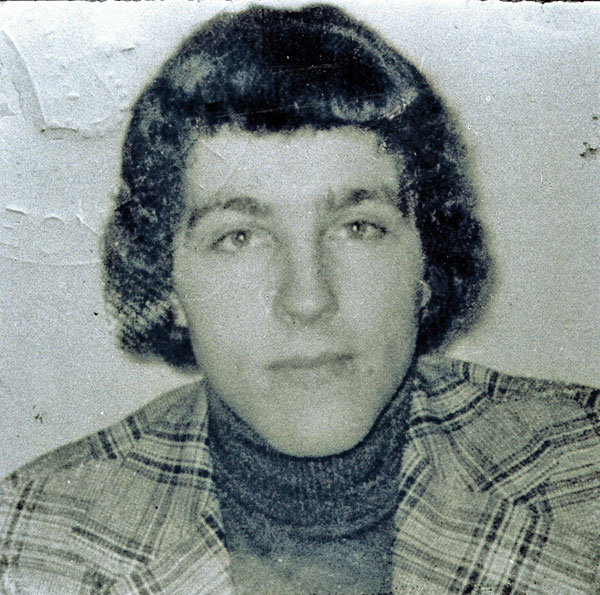 There was a large turn-out in Bellaghy, South Derry, to mark the 35th anniversary of the death of IRA Volunteer Francis Hughes. Supporters and relatives assembled at Gulladuff Road before parading behind bands through Bellaghy to the cemetery of St Mary's on the outskirts of the town where Francis is buried alongside his cousin and fellow hunger striker, Thomas McElwee.
Among those in attendance were Pauline McElwee (sister of Thomas McElwee); Bridie Lynch (sister of Kevin Lynch); Mary Davey (widow of John Davey, a former internee and Sinn Féin Councillor assassinated by British agents in 1989); John's daughter Pauline (a former Sinn Féin Councillor); Ian Milne MLA (former PoW); Sean McGlinchey (former PoW), Sinn Féin Councillor; former comrades of Francis, including Seanna Walsh, Tomboy Loudun and Peadar Whelan; and Danny Morrison (Secretary Bobby Sands Trust).
Outside the gates of the cemetery a large stage had been erected. Actors in period costume performed scenes from the Easter Rising, including a re-enactment of the court-martial and execution of James Connolly. The main speaker was Sean McGlinchey who spoke simply about the lives of young people, their innocent mischievousness, before the state brought the conflict to their lanes and roads and punished a community for seeking basic justice and civil rights. He paid tribute to the courage of Francis Hughes and his comrades, their sacrifice was the price paid for resisting British rule but inspiring the struggle that continues today for an end to British rule in Ireland.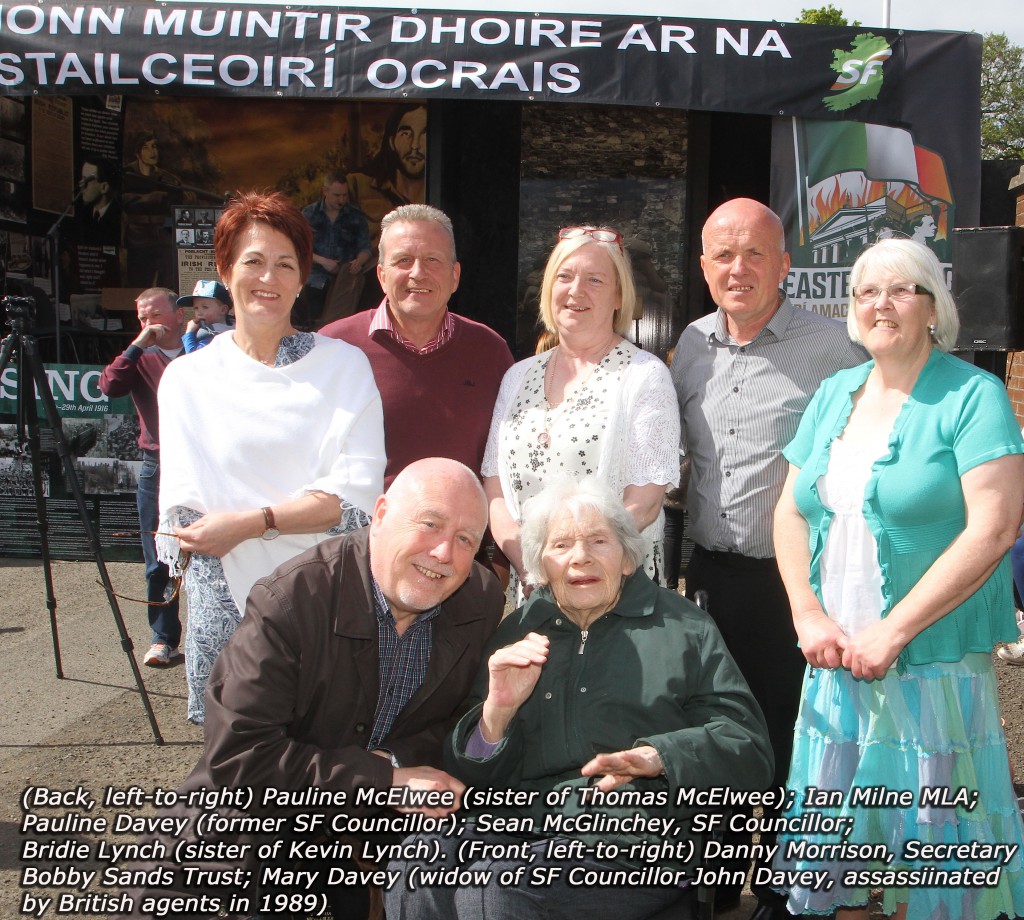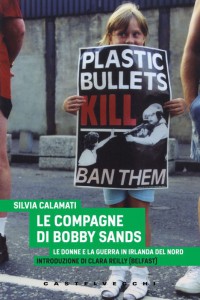 Congratulations to Italian writer and journalist Silvia Calamati who last month was given an international award for her book Bobby Sands' Companions. Women and War in Northern Ireland. The book is dedicated to Kathleen O'Hagan, a mother of five who when seven months pregnant was assassinated in her home in Greencastle, County Tyrone, by a UVF murder squad under Billy Wright who was working for British Intelligence.
The introduction to the book was written by Clara Reilly, Chairperson of Relatives for Justice.
The book was chosen over a list of 722 books from Italy and abroad.
In her acceptance speech for the International Literary Prize 'City of Cattolica 2016', Silvia carried a plastic bullet which she showed to the audience. The prize was awarded to her at the Queen's Theatre, Cattolica. Sponsored by the Presidency of the Italian Council of Ministers, the Emilia Romagna Region and the Municipality of Cattolica, it is considered as one of the most important in the Italian and international scene for literary excellence.
The book tells the stories of many women from the North who experienced deep suffering which they faced with strength and dignity, in a situation where violence, repression by state forces, murders and political persecution were further complicated by issues of poverty and unemployment.
"They deserve my dedication," said Calamati. "My thoughts, too, are for those who defended human rights which were violated, such as the lawyer Rosemary Nelson, blown up with a bomb placed under her car in 1999."
Silvia Calamati is the author of many other books, such as Northern Ireland. A Colony in Europe and Contemporary history of the War in Northern Ireland. She translated and edited One day in my Life by Bobby Sands and Renewing the Irish Church by Father Joe McVeigh.
Her translation of 'I arose this morning': A biography of Bobby Sands for Younger Readers, written by the former hunger striker Laurence McKeown and Denis O'Hearn, won the Alessandro Tassoni Award (2011) and the International Award 'City of Cassino (2013)'.
Calamati is also the author of Snow and mud to quench my thirst. The Diary of Sotiris Kanellopulos, a partisan of the Greek Civil War (1 March -17 May 1949).
Pilib O Rúnaí is a former blanketman and was a friend and comrade of Bobby Sands. In this film commissioned by the Bobby Sands Trust, Pilib talks about the men with whom he was in prison, his last days with Bobby and what he feels is the legacy of the 1981 hunger strike when ten men died over a seven-month period for their right to be treated as political prisoners.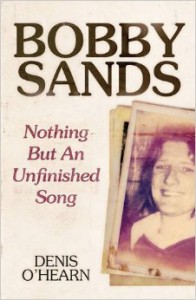 Pluto Press has just published a new edition of Bobby Sands: Nothing But An Unfinished Song, the best-selling biography by Denis O'Hearn that originally came out on the 25th anniversary of the 1981 hunger strike (see former edition on home page). For a limited time, the book is available at 50% off. All you need to do to apply the discount is to go to the Pluto Books website here.
In The Simplicity of His Defiance –
Kieran Nugent. A name that makes you proud to be from West Belfast. A name that was on our lips for years. So familiar. Yet, go back.
In truth, the Republican Movement in 1976 was very disorganised. One day a middle-aged man and woman, and their daughter, from Leeson Street, came into our offices at 170A Falls Road, the Republican Press Centre, and spoke to Tom Hartley. He took their details and called me down from the attic where I was editing the Republican News.
Their son had gone missing. They didn't know where he was. He had been sentenced to three years in jail a few weeks before. It's hard to believe but we hadn't followed the case. We knew about the Diplock Courts. We knew that anyone convicted for an offence committed after March 1st would not get political status – but it hadn't really dawned on people outside the jails.
But it had dawned on the remand prisoners. I think it was Sean Morris who had used the defiant headline in Republican News from a Crumlin Road comm, 'They'll Have To Nail It To My Back'. 'It' being the prison uniform. I don't know if it was Kieran Nugent who said it but at the time of the 1981 hunger strike I interviewed him for a video and he said that if they had thrown him a towel after they stripped him of his clothes he would have started 'the towel protest'.
As it was those cocky prison administrators tossed a blanket into this man's bare cell on September 14th 1976, expecting him to "see sense" in a short period, or see their fists. And the rest is history. Bitter. Sore. Angry. Defiance. Our 1916. Giving rise to defiance and courage.
So here was Mr and Mrs Nugent and their daughter in our office trying to find out if we knew anything about their Kieran. A few weeks before, the British army had shot dead IRA Volunteer Danny Lennon at the wheel of a car which had then careered across Finaghy Road North and crashed into Mrs Anne Maguire and her kids. Joanne (8) and Andrew (six weeks old) died instantly and John (2) died the following day. Out of this incident the controversial Peace People were formed and the confusion and low morale within working-class nationalist areas meant that the blanket protest and, indeed, the first two years of the H-Block and Armagh protest movements on the streets were seriously retarded.
Yet, from the jails names emerged. We began to hear that a Ned Flynn was on the blanket, and, later, that Fra McCann, Gerard Murray, Jimmy Duffy and Joe Maguire were on the blanket in the Crum. Those were lean days. Uphill battles. Poor publicity.
There is a great description in Peter Taylor's book, Beating The Terrorists, of the gung-ho atmosphere in the Monday morning briefings in Stormont Castle involving direct-ruler Roy Mason, RUC Chief Constable Kenneth Newman and the GOC of the British Army. Each of them became orgasmic as the statistics of the previous week's arrests, interrogations and chargings were outlined. But in our Falls Road office we were receiving smuggled statements from the jails about the beatings in Castlereagh and Gough, about how this one had his ear perforated or a finger broken or an eye blackened or a rib cracked. Could we get the media to carry these statements! Could we get the SDLP to protest! Four years. No letters. No books. Batons. Beatings. Forced scrubbings. It would make you, even now, want to murder.
Kieran Nugent. The first blanket man. Tom Hartley gave a fine oration and talked about the simplicity of his defiance. Just before that, Fra McCann had described Kieran, who died suddenly and shockingly last week, as 'larger-than-life'. And wasn't it poignant that he should leave this earth on the nineteenth anniversary of the death of his comrade, Bobby Sands.
I have a few memories of Kieran. There is film of him on the day he got out of jail. Pale white face – not having seen the sun in three years. Later, he stood on a platform opposite Dunville Park and clenched hands with that other hero of prison protest, Billy McKee, whose 1972 hunger strike won political status recognition.
One night in 1983 Kieran, Fra McCann and myself were on the Dublin-to-Belfast train, returning from a Sinn Fein meeting. I was recognisable from my public appearances. A rugby club from Portadown was also on the train and some of them spotted me and started giving us abuse at the bar (well, where did you think we would be). One of them said, "Get Big Stevie. He'll sort the bastards out!" So the word went down the train, "Get Big Stevie!" Big Stevie had to bend down four feet to get through the door and became quite cannibal, salivating when he spotted me and started growling now that we were passed Kilnasaggart.
Kieran set his bottle of beer on the table and said, for everyone to hear, "First one to touch you, Dan, loses an eye with this." Big Stevie grunted and groaned, huffed and puffed, bent down four feet to retreat, and to this day can see his kids.
So, we buried Kieran Nugent last Saturday. Friends and family. Comrades. A guy who didn't have a lot. Who life messed about. The first H-Block blanket man.
Kieran Nugent.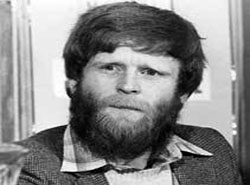 Father Daniel Berrigan, the radical priest whom, along with former US Attorney General Ramsey Clark, the British government banned from visiting Bobby Sands on his hunger strike, has died.
Daniel Berrigan visited Ireland on many occasions. His record on civil rights and in defying oppression is legendary. He was jailed for his opposition to the Vietnam War. He believed, fundamentally, that racism and poverty, militarism and capitalist greed were interconnected, were pieces of the same big problem, resulting in an unjust society.
For more see here – http://www.nbcnews.com/news/religion/jesuit-priest-peace-activist-daniel-berrigan-dies-94-n565456