Print This Article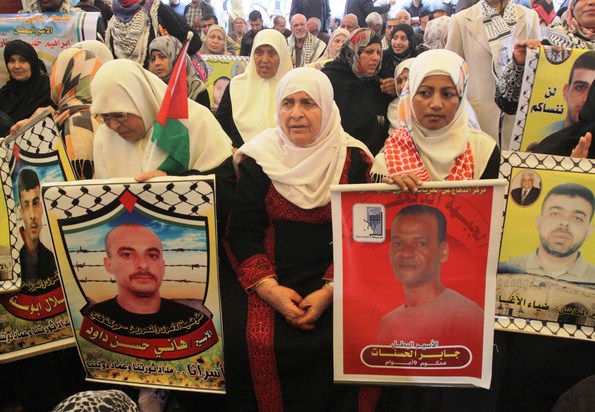 Palestinian prisoners are ready to mount a mass hunger strike, according to The Electronic Intifida, over the continuing Israeli policy of 'administrative detention', which is really internment without charge or trial.
Speaking from Gaza Strip's Jabaliya refugee camp, Ibrahim Baroud, freed from Israeli captivity a year ago after twenty-seven years of imprisonment, was critical of a key failure of the Palestinian leadership to raise the issue of prison releases during the Oslo talks twenty years ago.
"Prisoners were never mentioned in the Oslo accords," referring to the peace agreement signed by Israel and the Palestine Liberation Organization twenty years ago. "This was a disappointment to us, and a failure of the Palestinian leadership."
Nearly two hundred Palestinian administrative detainees, held indefinitely without charge or trial on Israeli military court orders, announced plans to launch a mass hunger strike for their freedom beginning today. The news came as demonstrations across Palestine and events worldwide commemorated the 40th annual Palestinian Prisoners' Day.
Thousands marched from an exhibition at Saraya square, the former site of Israel's Gaza central prison, to rally outside the International Committee of the Red Cross' Gaza office.

Print This Article
In April 2013, shortly after the death of Margaret Thatcher, Tories in her constituency of Finchley invited residents to rename their street after her in the expectation that they would be queuing up in their droves (and their Drives!).
Instead, on the first anniversary of her death not one application had been received! The despised former British Prime Minister represented Finchley from 1959 until 1992.
"There must be a road full of Tories. We are looking for one to come forward," said Richard Cornelius, Barnet Council leader, sounding fairly desperate. "It will come. We will find somewhere."
It is now almost certain that the only way the council can get a road or street named after her is to impose it on one of the borough's new developments.
The Daily Telegraph speculated that, ironically, residents feared that a street named after Thatcher could have a negative impact on house prices!
One person said: "I understand the lack of interest, who would want to live on Privatisation Parade, Bankers Bonus Way, Milksnatchers Avenue or Belgrano Boulevard. It is an insane idea to commemorate someone who divided the country and lit the fuse for the disaster that has followed."
In comparison to Thatcher's legacy, those whom she killed continue to inspire freedom-loving people around the world. Songs and poems have been written about the 1981 Irish hunger strikers and memorials erected in their name from Cuba to South Africa. Streets and gardens have been named after Bobby Sands. As recently as two years ago Florence City Council voted by 33 to 34 to name a street after Bobby Sands who, unlike Thatcher in relation to her constituents in Finchley, was not even their MP!